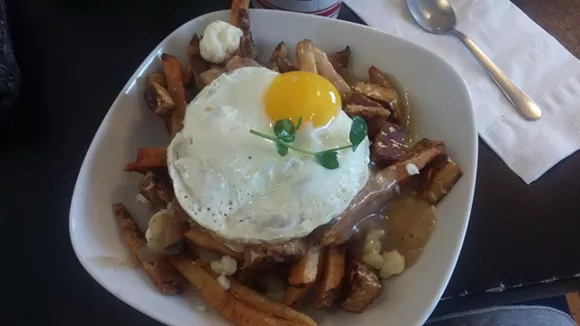 It's cold outside. Finally. Now we can finish off this otherwise unseasonably warm winter with just a few blasts of Arctic cold before we move on to the business of spring and then summer. And now that it's nice and chilly, we can dig into some soul-warming comfort food.
To that end, we turn to some classic French Canadian-style poutine from Brooklyn Street Local in Corktown. Launched in 2012 by Torontonians Deveri Gifford and partner Jason Yates, the duo have comfort built into their entire concept. The unassuming diner on Brooklyn Street at Michigan Avenue has a cozy, lived-in feel, with kitschy knick knacks accenting throughout. The serving staff are warm and unpretentious, quick to keep your hot cup of coffee or tea filled at all times. The typical crowd during lunch hours only adds to the bright, toasty vibe.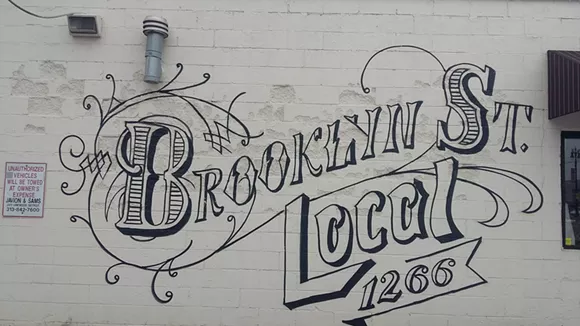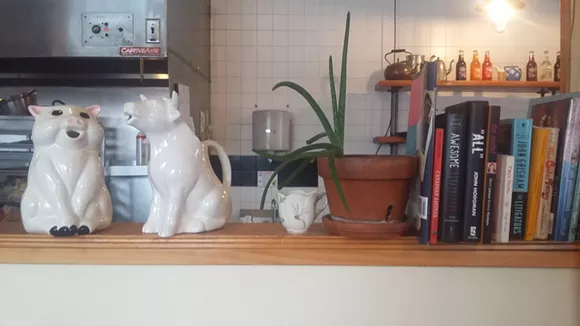 Cozy feels aside, we order a breakfast poutine, without hesitation. There's something so alluring about a pile of savory, crispy, skin-on fries, drenched in gravy, gooey and cheesy curds, and topped with an egg sunny side up. We get ours with mushroom gravy instead of the meat-based variety and a tempeh bacon (hey, we want comfort food, not guilt).
Gifford and Yates' approach to diner food is that it should be satisfying, whether you're a meat-eater or not. That means the mushroom gravy tastes like, well, actual gravy. The thick tempeh bacon bits are house-marinated, giving a slightly smoky flavor. The curds are generous and quickly melt so that cheesy goodness is incorporated into every bite. The egg gives the dish cohesion, little extra protein, and a brunch-y twist (let's be honest, the life of a food writer is filled with late-night dinner parties and cocktail tastings, so we're more inclined to wake up a little late, thus the mid-day breakfast cravings).
Diners who want to stay away from that rich, starchiness have a variety of hearty sandwiches and refreshing salads from which to choose. For us, when the temps are hovering around freezing we'll opt for that poutine, please.
Brooklyn Street Local is open 8 a.m.-3 p.m. Tuesday-Friday, 9 a.m.-3 p.m. Saturday and Sunday, closed on Monday. Address is 1266 Michigan Ave.