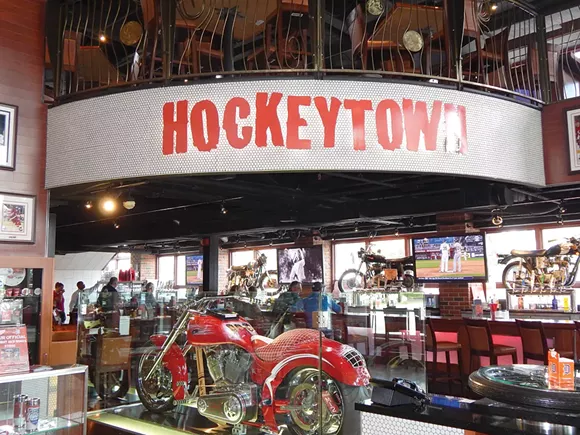 Hockeytown Cafe has been open for what seems like forever, and while the restaurant and bar doesn't offer the trendy and hip cuisines and craft cocktails that are so ubiquitous in Detroit this days, it's remained popular among those who frequent the city on game day or for some live music at the Fox or the Fillmore.
The bar is sort of like the Applebee's of downtown Detroit — it's familiar and friendly, and there's no pretentious sommelier on staff. The meal will fill you up and prepare you for an evening (or day) of drinking. There are are kid-friendly menu items, too — not always a given at restaurants downtown.
Hockeytown Cafe is part of the Olympia Entertainment empire and is under the same roof as the 400-seat City Theatre, making it a no-brainer for pre-show drinks and bites.
We contacted Olympia Entertainment hoping to speak with a manager — or anyone really — about the future of Hockeytown Cafe considering the arena buzz, but did not hear back.
Alas, changes are surely afoot at Hockeytown Cafe.
For now, the bar and restaurant hasn't changed or aged a day. Thanks to the wealthy Ilitches, the place is well-maintained. The walls are hung with sports jerseys from all of Detroit's professional sports teams, and motorcycles on display dot the venue.
The place is hung with a number of large flat-screen TVs that play sports exclusively, so tickets to a game are not required in order to catch the play-by-play while sipping expensive beer inside city limits.
Speaking of beer, Hockeytown Cafe's menu is palatable to just about every type of beer drinker. They have 50 beers in stock including plenty of national brands like Bud, Killian's, and Guinness. They do serve a small number crafts, but you shouldn't expect an overwhelming selection of local brews. Whatever. Beer is beer, people.
The menu is made up of traditional American dishes like mac and cheese, pizza, and burgers. They also serve sandwiches and homemade soups. It's nothing revolutionary, and that's the way we like it.