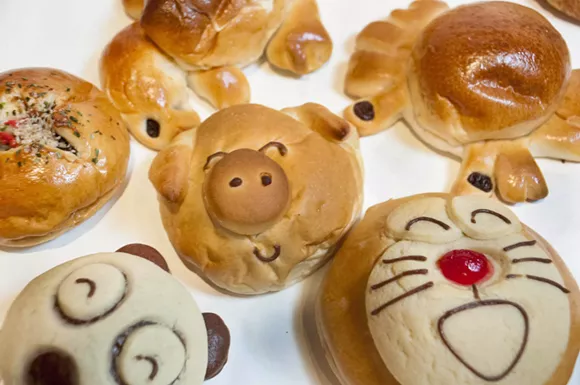 (Find photos of the hot dog doughnut and Hippos' other adorable desserts here.)
A hot dog doughnut is one of those items that can easily be classified as food critic bait, and most of the menu at Pastry House Hippo falls into that category.
While such items are sometimes wild just for the sake of being wild, the desserts and savory pastries at Hippos - a small Japanese/French bakery in your standard issue Novi strip mall - are eccentric, cute, and, most importantly, delicious.
Though Hippos stocks its cases with dozens of options, it's hard not to start with the hot dog doughnuts. One version offers encased meat encased in a soft, brioche-like, semi-sweet and sticky roll drizzled with a ketchup and mustard glaze. The other version is deep fried and more savory than sweet - not too far from a pasty.
Beyond the dogs, Hippos plumps adorable turtles, pigs, crabs, and jolly-faced men with chocolate custard, strawberry pie filling, different varieties of sweet-ish bean paste and other sweets. Even more exciting are the sweet and savory items - a curry doughnut, for example, and brioche-like buns stuffed with ginger-y octopus salad; red skin potato, dill, and mayo; corn and mayo; and much more.
Though the designs and fillings are the attention grabbers, the common thread, and perhaps the best part about Hippos, is the super soft, light, airy dough. Interestingly, it's a little sticky and sweet, but it interacts well with just about anything Hippos stuffs inside.
The owners declined to be interviewed, but we tried 19 of the bakery's offerings, which came out to a very reasonable $35.
Check out photos of each here.