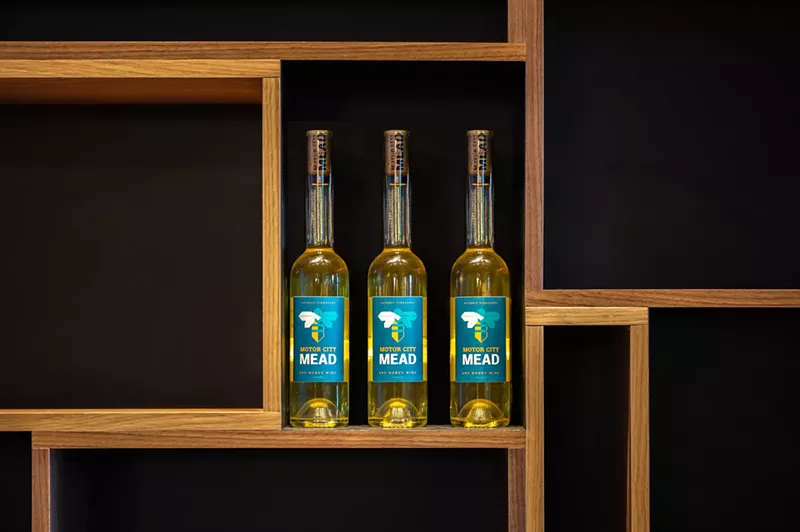 Blake Kownacki wants to see Detroit become a wine destination, and his latest venture is a step in that direction.
On Friday, Detroit Vineyards will open a tasting room in the former Stroh's Ice Cream factory on Gratiot Avenue near Eastern Market. It's a milestone for the company, which Kownacki co-founded in 2014. Kownacki has been producing wine in the city since 2016, making Detroit Vineyards the city's first winery in 60 years.
Kownacki, who grew up in Waterford, has nearly 15 years of experience in the industry as a winemaker and vineyard manager. He's worked with renowned winemakers Scott Hawley in California and Philip Shaw in Australia. He returned to Michigan in the early 2010s with the plans to start producing wine here. That started with a 1,200-square-foot micro-winery on Detroit's east side, but the business outgrew the space as its volume jumped. When he happened upon the empty Stroh's factory, he knew it was perfect.
"[This] was made for pre-production," says Kownacki, who has been producing wine in the 12,000-square-foot building since last year. "The height of the ceilings … the installation in the building … everything just screamed to me that I could do this and do a production area."
Inside, there are separate production and barrel storage rooms, both of which hold windows that allow customers to peek inside. Stroh's pumps, tanks, and piping were left in the now 3,000-square-foot tasting room, which includes a retail area on a wooden display. The bar is positioned in front of the production room's window. Leather couches are pushed up against a wall of exposed brick with a turquoise overlay. The room also holds floating tables and chandelier lights, as well as a performance area, dance floor, and an old, Detroit-made piano from the 1930s in front of the barrel room's window.
"Instead of us getting rid of everything, we've integrated with it," Kownacki says. "The question in my mind was, how do we go from this industrial vibe — which is prominent no matter what you do to it — how do we soften it up and create some elegance in here?"
In its wine selection, Detroit Vineyards will offer roughly 18 options split between whites, reds, and rosés. Everything is made 100 percent in-house. Kownacki says most of the fruit comes from southwest Michigan and the Lake Michigan Shore. He works with Arrowhead Vineyards and Lemon Creek Winery and Vineyards near Berrien Springs, Michigan, which has been growing wine grapes in Michigan for over 150 years.
"[The Lemon family has] a lot of California vineyards beat — hands down — in terms of how long someone's been growing wine grapes in a region," Kownacki says, adding that he also gets fruit from Traverse City.
Currently, Kownacki has 1.5 acres of vineyards in the city, mostly on the lower east side, with one vineyard each in the Jefferson-Chalmers neighborhood and in Islandview. Detroit Vineyards is also focused on building relationships with nonprofits, church clubs, and block clubs. On May 18, the business will host a community planting in the Morningside neighborhood.
Detroit has a "wonderful climate" for producing wine, even if there are a few challenges, Kownacki says.
"Our big issue here in Michigan is not getting fruit to ripen," he says. "Our issue is surviving our severe cold winter temperatures."
However, the climate allows Detroit Vineyards to take advantage of European-born varietals, particularly riesling and chardonnay. Customers can try the 2017 dry riesling, which has strong acidity with hints of citrus and tropical fruit. After being aged in French and Great Lakes oak barrels, the 2016 chardonnay is smooth and medium-bodied while being fruit-forward, with a lingering white pepper spice on the back palate.
Kownacki says he also gets to work with "cold, hardy varietals, which are types of wine that people typically have not heard of because they're newer to market."
One of those is the 2018 traminette, a semi-sweet white with floral aromas and a balance of sweetness and acidity on the palate, along with a mild spice finish. Traminette is a French-American hybrid grape that's well suited for Michigan winters.
"As a Michigan wine producer, we really like to take pride in wines that we make from these European varietals," he says. "What I'm trying to do is make wines similar to French wines as opposed to California-style wine."
Reds include a 2017 pinot noir, a medium-bodied, light version that is dry and fragrant with notes of dried cherries and rhubarb, along with dried strawberries and vanilla on the palate. There's also a 2016 cabernet sauvignon, a bolder, full-bodied red with aromas of red cherries and black raspberries integrated with hints of vanilla and subtle oak.
The standout of the rosé line is the 2018 merlot rosé, which is semi-dry and fruity with intense tart cherry and strawberry aromas.
"People that don't drink Michigan wine think that it's either going to be a sweet wine or that we don't know what we're doing here," Kownacki says. "I think this is a great place for people to come in and experience with an open mind because they [will] most likely have something that they will enjoy."
The grand opening will take place at 11 a.m. on Friday, May 3. Kownacki says it will be like any other day at Detroit Vineyards, except for food trucks outside. Guests can taste five wines for $10. There will also be ciders and meads available, which are both made in-house. Wine, cider, and mead can be purchased by the glass or bottle. Wine bottles range between $20 to $28.
So many restaurants, so little time. Find out the latest Detroit dining news with our weekly food newsletter delivered every Friday morning.