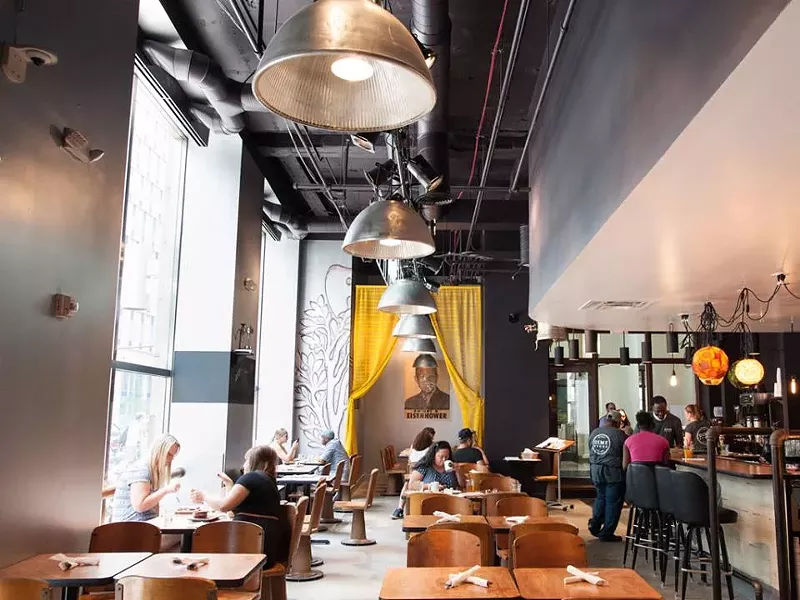 This morning finds
The Washington Post
featuring
a piece on Detroit dining
, and no
missteps
here. That's because it's by veteran Detroit writer Rebecca Powers, who was editor at
Hour Detroit
and
Detroit Home
. You can feel the home turf advantage in the way Powers alludes to sports, square pizza, and coney dogs.
But the meat of the article is embodied in those three important meals. It starts off with breakfast at the
Dime Store
, winner of
Metro Times Best Diner in the Detroit-Wayne County category
last year, and one of
MT's featured black-owned eateries
. For lunch, Powers foregoes the pleasures of Detroit deep dish for a visit to
Supino Pizzeria
, the better to show off historic Eastern Market. For dinner, it's
Selden Standard
, which, of course, was
last year's winner of Best Restaurant in the Detroit-Wayne County category
. (In 2016,
Hour
also named Selden Standard
tops in its field
.) Powers notes how diners approved of the vegetable carpaccio, featured in
MT
's
Flavor
guide ("Detroit dishes worth describing in detail") in December, and closes by noting Selden Standard's owners have
big plans ahead
.