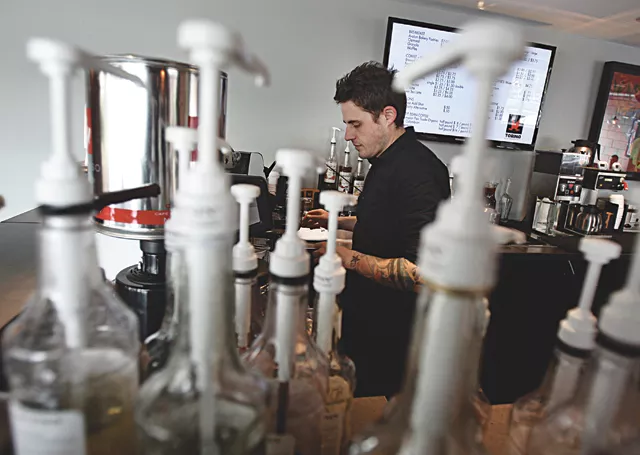 Torino Espresso + Bar
201 E. 9 Mile Rd., Ferndale
248-247-1370
torinoespressobar.com
Handicap accessible
Prices: $10-$30
Creating menus that are short in length but broad in appeal is an elusive skill — though the perfect café menu arguably strikes exactly that balance. Striving for that outcome is Torino Espresso + Bar, one of Ferndale's newest establishments.
Situated on Nine Mile Road just east of Woodward Avenue, arguably a perfect spot to join Ferndale's significant bar scene, Torino is clearly aiming to be more than just another café.
Inside, the walls are lined with colorful, contemporary art; dim lighting is provided by retro-styled, low-wattage bulbs; and contrasting wood tones accented by chrome comprise the majority of counters, chairs and tabletops. A single television, generally dedicated to Detroit sports, is mounted above the bar. Clean but casual, the decor seems quite suitable for both a trendy lunch stop and a vibrant nightspot.
You'll almost assuredly be greeted by polite, engaging folks: The staff is fun and chatty, and the owner, Samer Abdallah, is often tending bar or talking with customers, a refreshing change from the impersonal anonymity one feels in so many restaurants. Sit at the bar most nights and you'll have the pleasure of talking with Nicole Matos, a bartender, conversationalist and managerial figure who seems to know half the customers and lends palpable warmth to Torino.
Their focused food offerings have a distinctly Mediterranean influence. Among the starters are a small bruschetta plate ($10), a serving of hummus ($8), and a set of melon and prosciutto skewers ($10). The skewers are well-prepared with a nice balance of flavors: mildly bitter microgreens, salty ham and sweet seasonal melon. Atypically arranged with the meat wrapped around at least three pieces of melon on a single stick, they may require a fork to avoid an embarrassing mishap, but they're a tasty way to begin a meal.
Consider one of the salads ranging from the expected, such as a classic Caprese with tomatoes and mozzarella ($10, $13 with prosciutto), to the unexpected, such as a Caesar with spicy cashews ($10, $13 with chicken). Torino aims to use local vegetables and meats, a principle illustrated in the apple and manchego salad ($10), which utilizes Royal Oak spinach along with apples, cheese and walnuts.
One of Torino's selling points is a self-proclaimed European style of dining, ostensibly synonymous with café culture. A centerpiece of that approach is a series of charcuterie platters, each expertly arranged. These range in size from an $18 half-plate with two meats and two cheeses to a sizable chef's platter ($42) with several meats and cheeses as well as fruits and veggies. Each arrives with artichokes, olives and greens as well as accompaniments that include tapenade and honeycomb.
Prosciutto di Parma, cappicola, speck and mortadella are among the featured proteins. All are of good quality for an area café, though none stand out. The Beemster aged Gouda is a staff favorite among the cheeses — and for good reason. It shows all the classic qualities one expects: caramel smoothness, grainy crystals, orange-ish color. Other options include mozzarella, Parmiggiano Regiano, manchego and a blue cheese.
Platter portions are sizable. Even the smallest is suitable for splitting among a few people. Those in the mood for something apportioned for a single serving may be interested in one of the panini.
Each panini is made with a choice of Avalon bread: ciabatta, white or multi-grain. Ask the staff if they're offering a special, or choose from the five standards. The classic panini ($10) is what one might expect: prosciutto, tomato, cheese and pesto. But they also offer a sandwich with ham, manchego, apple and honey as well as a few vegetarian options. The pesto chicken seems to be popular, andand in keeping with Torino's aim to stay local, the chickens are from a distributor in the northern metro region..
The commitment to local, carefully raised produce and meats is admirable — and they've also partnered with Ferndale's micro-creamery Treat Dreams — but the approach doesn't extend to their coffee.
Drip coffee distributed by Cadillac Coffee Company, headquartered in Madison Heights. Despite using Guatemalan fair trade organic whole beans for drip coffee, it still doesn't produce a great cup. But at $1.75 per cup, the price is right.
The espresso is made from freshly ground beans provided by Illy, the behemoth Italian company. While the $1.50 price tag for a double is again inexpensive, the techniques and quality are behind the curve of Detroit's rapidly advancing coffee scene.
Similarly, the wine list doesn't show much creativity. Most are what one might find at any generic wine retailer or restaurant. That's not to say that they're bad, but nothing jumps out as interesting or worth a wine lover's attention.
Torino has, however, put some effort into their cocktail menu. They won't challenge the best cocktail bars in town, but the results are solid.
When our party visited, the staff was transitioning from a summer to a fall list — a positive sign in and of itself — and drinks from both menus were good. They've also made their own pineapple- and jalapeno-infused tequila, delicious on its own and downright dangerous in their oversized margarita. Among the fall options were a well-balanced Sidecar variation using port in lieu of Cointreau and a tasty cider and bourbon concoction.
Torino Espresso + Bar isn't a perfect café, but the friendly, casual approach fits just perfectly in Ferndale.
Open 6 a.m.-11 p.m. Sunday-Wednesday, 6 a.m.-2 a.m. Thursday-Saturday.