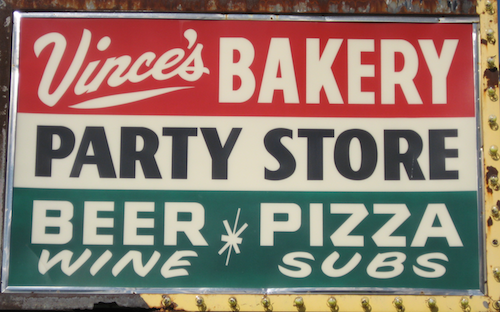 It was just nine days ago that
we bid a heartfelt goodbye to the longtime east-side fixture Vince's Bakery and Party Store
. It was one of those sad occasions where we said our goodbyes to a neighborhood institution, but we were still grateful to get a tribute in before the place was totally forgotten. And denizens of the east side neighborhood were quick to share our links to the story, making it one of the most heavily read stories of the day.
For those who missed the bittersweet tale, the family patriarch, Vince Cucci, had come in pretty much every morning for 45 years to bake the bread for Vince's amazing sandwiches. And you got the sense that his kids, Paul and Sam, were eager to get on with life beyond the family store. Sam, in fact, reportedly left the shop for a day job, and the word on the street was that Paul kept at it just because his father wouldn't quit.
When Vince finally began to have health problems serious enough to impair his ability to work a few weeks ago, the place was abruptly locked up tight, and folks at a neighboring business told us the place had quickly been sold. Given the fact that people aren't breaking down any doors to tough out running a party store in Detroit anymore, we figured it would sit dormant for some time, though the idea that it had been swiftly sold puzzled us a bit.
We weren't alone in that: One of our regular commenters, "javierjuanmanuel," considering the rumored sale, said, "Not sure how much Eight Mile stores cost that are not on a major intersection. You can buy little stores on Mack, or Warren all day for 12 grand. Triple storefront, with two lots of parking, could the place be worth 200k-250k with the name, liquor license, everything."
Anyway, imagine our reaction when we were combing through
the list of applications for dispensary licenses, provided by the city of Detroit to the Detroit Free Press
, when we noticed a familiar-sounding address connected to an application. It was one of two applications from VK Real Estate Holding III LLC. Both were on Eight Mile Road, but one was for 12800 E. Eight Mile Rd., Detroit: the address for Vince's Party Store.
It was like seeing that perfect missing piece of a puzzle fall into place: Here was a way to swiftly sell the place while the zoning requirements for dispensaries had yet to be written in stone, all while likely spinning off the liquor sales license, and taking advantage of a location that doesn't have a whole lot of churches or special-use properties.
It's still early days for both the proposed new dispensary rules and the entrepreneurs hoping to stake their claims. But it seems a strange turn of events to potentially have a new crop of business owners showing up every morning to ensure that something quite different (and yet tasty) is on sale.