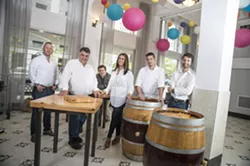 Downtown will get its first wine-centric restaurant Oct. 19 when Vertical Detroit opens its doors in the Ashley building at 1538 Centre St. With Chef Alex Knezevic at the helm, the restaurant is to feature locally-sourced small plates and appetizers to pair with the spot's 52 wines by the glass. Guests will also be able choose from more than 500 bottles.
Owners Jim and Remy Lufty (they're father and daughter) want the space to host special events, wine tastings and be a happy hour option for the downtown dinner crowd. The happy hour will commence Nov. 1, Monday through Friday from 4 p.m. to 6 p.m. and feature $5 glasses of select wines and $1 off of specialty cocktails. The wine bar will also feature a retail space, where customers can purchase bottles, glassware and other wine accessories. The duo also plan to host monthly educational seminars and etiquette training led by industry experts. And, if you're the type who enjoys being introduced to a variety of wines, you can sign up for a monthly wine club for $29.99, and get two bottles of pre-selected varieties.
As we've reported, the Lutfys have been in the wine game for decades. Owners of Fine Wine Source in Livonia, the elder Lutfy got his start selling wine in his family's store, Cloverleaf Market.
The tasting room and restaurant will be open at 4 p.m. daily, with varying closing times. The retail shop will open at 12 p.m., Monday-Saturday.