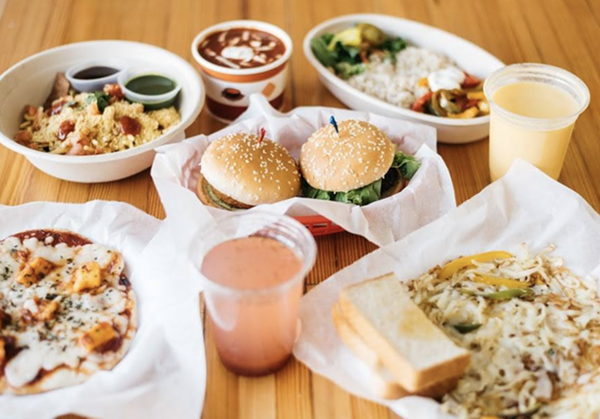 A new vegetarian international "street food" restaurant is hosting an April 10 grand opening in Canton.
It's the second location for Veg-O-Rama, which is introducing a bigger menu than its Ypsilanti shop. The bulk of the items hold Indian flavors, but the restaurant gets a little more "international" with dishes like a Cuban sandwich and pierogi.
Co-owner Prafulla Kharkar says he and his family are trying to turn the concept
into a fast food chain
that rivals McDonald's. The menu includes a range of vegan dishes, vegan smoothies, and vegan milkshakes — Kharkar notes that all but four items are vegan.
The restaurant's main attraction is its burgers, with options like the Golden Crunchy Bird's Nest Burger, which is a patty of coleslaw, chickpea flour base, and Cajun spices; The Love Seed Beet Them All is prepared with shredded beets, roasted sunflower seeds, flax seed, buckwheat, chickpea flour, and spices; and the Golden Crunchy Potato Burger is made with potatoes and Indian spices then topped with tamarind and cilantro-mint chutney.
Subs include options like the tamarind BBQ jackfruit sandwich and a section devoted to "pizza/bowls/wraps" built around options like butter
chic'n
, butter paneer, and orange
chic'n
.
The new restaurant is located at 44930 Ford Rd. in Canton.
So many restaurants, so little time. Find out the latest Detroit dining news with our weekly food newsletter delivered every Friday morning.