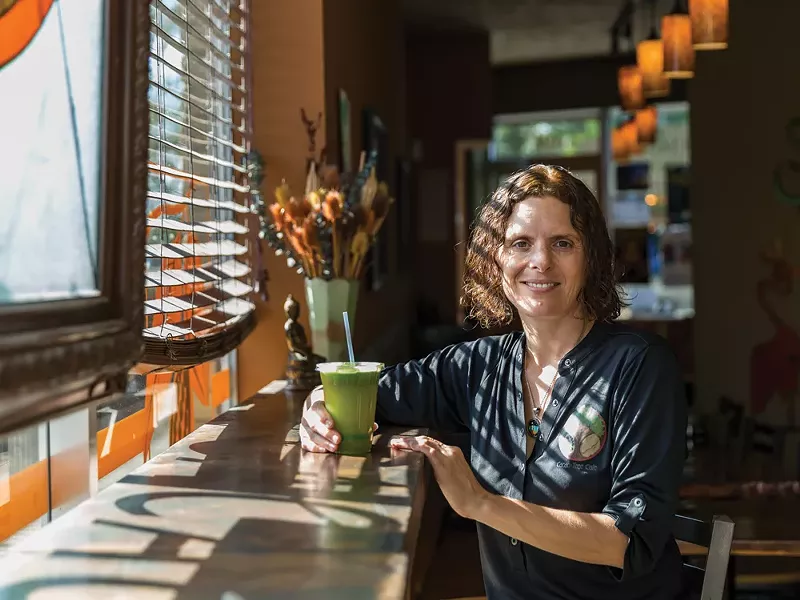 The future is unclear for The Clean Plate, a Shelby Township vegeterian restaurant that built up a customer base by being one of the area's only options for healthy, plant-based cuisine.
Owner
Amber Poupore
— who also owns Royal Oak's Cacao Tree, consulted for GreenSpace, does vegan cooking demos at corporate events, and is a nutritionist who works with plant-based diets — unexpectedly received a letter from her landlord three weeks ago informing her that she has to leave her space when her lease expires at the end of September. The Clean Plate's last day at 45629 Hayes Rd. will be Sept. 26.
Poupore tells
Metro Times
that she intended to stay in the location for years to come, but there was a problem with her lease. When she signed it in 2012, she hired a lawyer to go over the complex new contract with a fine-tooth comb. It included two five year renewals, but the attorney either forgot or didn't notice a clause that required Poupore to renew her lease in writing 90 days ahead of the expiration of her first five year deal. He also missed notices the management company sent him in recent months.
That's deeply frustrating for Poupore, who is watching six years of success disappear before her eyes. She recently paid off all the debt associated with The Clean Plate, and doesn't have the money to build out the restaurant's infrastructure at a new space.
Poupore says Detroit, Ferndale, and Royal Oak are too saturated, so she has a real estate agent looking for restaurant-ready spaces in the Bloomfields, Shelby Township, Rochester, Troy, and other cities. She'll move if she finds the right space.
"I don't have the money, so if I find something realistic that I can move into for very little investment, then I'll do it," she says.
To help with the costs, she's
launched a GoFundMe campaign
.
And if she doesn't find the right space?
"At this point I would consider selling Cacao Tree to focus on something new. It is going to depend on whats out there," Poupore says.
"My attitude is going to manifest whatever is going to come my way, so I'm trying to keep my head up and say that there's some opportunity that wants to present itself, and this needs to close so it can open," Poupore tells us. "I have faith — I truly do. It's my faith that keeps me going, always. At the end of the day through all the struggles, I believe in the laws of the universe, and I'm not going to fight this. I'm tying to be really open, and going to see what it is that is going to unfold."
So many restaurants, so little time. Find out the latest Detroit dining news with our weekly food newsletter delivered every Friday morning.