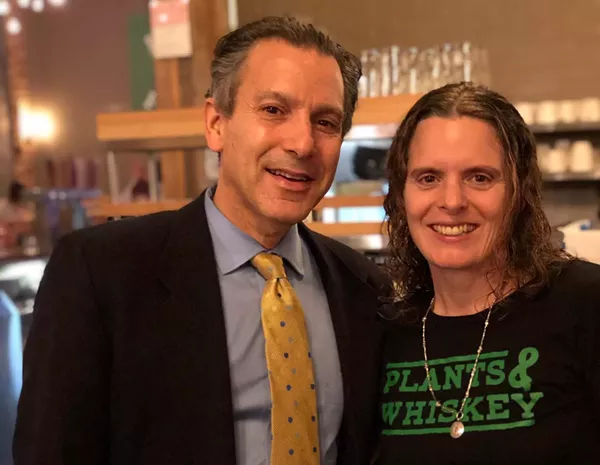 Chef Amber Poupore's Shelby Township vegan restaurant the Clean Plate only shut down a few months ago and Poupore still owns Royal Oak raw eatery Cacao Tree, but she's already onto her next project — running the kitchen at GreenSpace Cafe and fully redeveloping its menu.
When the new menu launches on Tuesday, diners will find that Poupore eliminated the faux meats and other processed foods. Instead, it will be built around whole ingredients, and full of options that are oil-free, soy-free, gluten-free, and otherwise generally on the healthier end of vegan cuisine.
"I feel like, overall, people are gravitating toward the comfort foods .... but I'm not big on faux meats," she says, adding that she prefers plates that are made with "simple and recognizable" ingredients. Her mashed potatoes and gravy with steamed broccoli and tempeh is one such example.
Poupore is also bringing over some of her customers' favorite dishes from the Clean Plate, like a pesto pasta, a black bean burger, a portobello burger, mushroom stroganoff, and arugula Alfredo. Parts of the GreenSpace's current menu will stay, but with upgrades. Poupore says she's keeping the flatbreads section but introducing all new toppings and flavor profiles. Other items, like the Big Max, will remain, but Poupore's version will hold a patty with more body and a better texture. She says the gnocchi is currently a little lackluster, so she's pepping it up with a vegan cream sauce, and adding more salads and fresh options to the roster.
Poupore previously worked as a consultant for the downtown Ferndale restaurant and spent four weeks in its kitchen, so she's no stranger to the operation, and she considers the Kahn family that owns GreenSpace to be her "family."
Part of the move also had to do with timing — Poupore says GreenSpace doesn't have a head chef, its staff is down, and the kitchen is in need of some new leadership. The pool of talented vegan kitchen help isn't deep, so she felt obligated to do it for the vegan community.
"The restaurant industry right now is short on talented people in general, but when you add in the vegan community, finding someone with culinary experience — there are so few people available," she says.
The changes also include a new partnership with
Rising Stars Academy
, a Centerline culinary school, production facility, urban farm, and more that "supports at-risk individuals by providing a hands-on education in a work-based learning program."
Kids at Rising Stars will bake many of GreenSpace's breads, grow its microgreens, prep its mirepoix, and more, and Poupore says she's "filled with joy to be able to help them."
While the closure of The Clean Plate — which
followed a lease dispute with the landlord
— is a giant bummer, Poupore says she's starting to suspect that the universe might have been doing its thing.
"Now I look at it as some divine intervention that I needed to be at GreenSpace — the loss of Clean Plate is what allowed me to take this position," she says.
You can read our 2017 profile of Poupore
here
.
So many restaurants, so little time. Find out the latest Detroit dining news with our weekly food newsletter delivered every Friday morning.