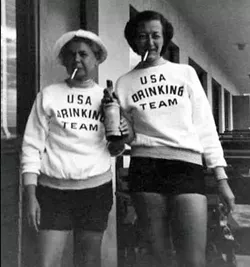 Corktown's Gold Cash Gold has been holding a weekly feminist-themed all summer long, dubbed the Oysters for Equality special. Each Friday between 4 p.m. and 6 p.m., all women are given 23 percent off oysters and drinks - a figure that represents the pay gap between men and women. Well, Vanity Fair's Alex Beggs has taken notice of this weekly promotion and has declared it's quite possibly the country's only feminist happy hour.
GCG co-owner Toby Barlow told the rag that the deal sprang out of the "spontaneous protests that were happening at different small businesses around the country to bring awareness to the pay inequality issue. There was a record company in Portland and a bar in Brooklyn, seemed like an important issue that Gold Cash Gold could have some fun with. We work in a town with some amazing women and we want to celebrate them every chance we can."
VF goes on to give readers a nifty recipe off the spot's fall drink menu. Click here for the deets on the "The Sandino Cocktail." We applaud Gold Cash Gold for its unique form of protest. It makes sense that such a statement would be made in labor-friendly Detroit, long a hub for fair and equitable working conditions. One thing's certain, you'll be seeing us checking this briny, succulent ode to the lady workforce real soon.