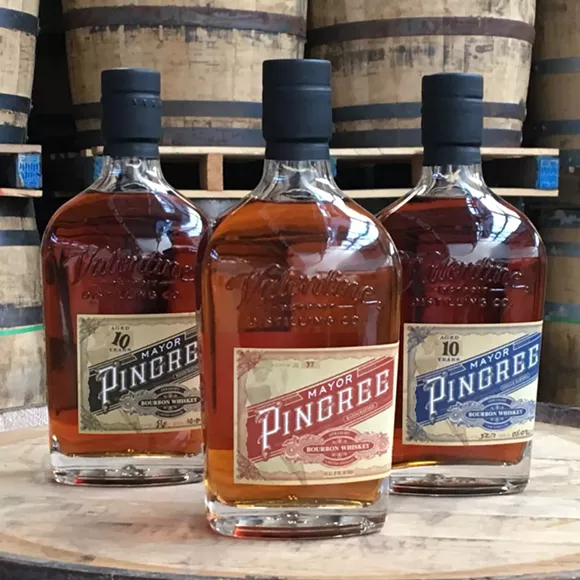 Since their first bottle of vodka hit shelves in February 2008, the Ferndale-born-and-bred
Valentine Distilling Co.
has aimed to put Michigan back on the map when it comes to producing artisan-quality alcohols.
The latest product of this mission will be available at regional retailers starting June 25, when Valentine's signature product "Woodward Limited Bourbon" will be re-released under the name "Mayor Pingree Bourbon Whiskey."
The renaming was partially done to distinguish the drink from its generically-named competition. According to the company's most recent press release, "Our signature bourbon has come into its own and we're strategically changing the name to give it a unique brand identity that will better position it in the market and resonate with consumers."
Another reason for the new branding is to pay tribute to one of Detroit's most famous sons:
Mayor Hazen S. Pingree
.
Serving as Detroit's mayor from 1889 to 1897, and Michigan's 24th governor from 1897 to 1901, Pingree is remembered today mostly for his staunch campaigning against Detroit's monopolist streetcar, telephone, electric, and gas companies.
Rifino Valentine
, CEO, founder and master distiller of Valentine Distilling, empathizes with Pingree's legacy. "Mayor Pingree's successful battles with some of Detroit's largest and most powerful entities served as an inspiration in launching Valentine Distilling," says Valentine. "We are a small southeast Michigan distillery taking on some of the world's most prolific distillers of vodka, gin and whiskey. By adorning his name on one of our more popular products, we are honoring his legacy."
Valentine adds, "Every successful whiskey brand has a story, and a part of that story is its name. With this change, we'd like to believe we've made our story that much better."
This isn't the first time Valentine has looked to Detroit's past for inspiration when naming their products; the "Liberator Gin," another one of their top-selling items, is named after the B-24 Liberator Heavy Bomber, a military airplane produced in Detroit during World War II.
The Valentine Distilling Co. is releasing Mayor Pingree Bourbon Whiskey in three different forms: a blue label single barrel selection, red label, which indicates the standard four years of aging, and a black label that has been aged between eight and ten years.
The initial release is being commemorated with a limited edition 10 year bottling.