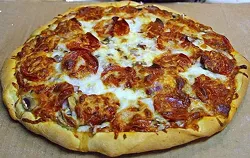 $=$5-$10; $$=$10-$25; $$$=$25-$50; $$$$=$50+
Antica Pizzeria Fellini 415 S. Washington Ave., Royal Oak; 248-547-2751; $$: Other pizzerias in town feature Neapolitan-style pizzas and wood-burning ovens, Fellini claims to be the only one recognized by the Associazione Verarace Pizza Napoletana, and Fellini's oven is imported from Europe and designed to cook items quickly at temperatures around 900 degrees. Striving for excellence, Fellini uses fresh mozzarella, San Marzano tomatoes, and Caputo 00 flour, an Italian variety with a lower-than-standard protein count and silkier, less absorptive texture. The commitment to quality shows in the heftier pricing: Each pizza is just larger than a dinner plate and ranges from $9 to $17.50. Among the best pizzas is the Fiocco ($15), a rich pie slathered in cream, mozzarella, and Romano cheese and dotted with ham and potato crocchè, crumbly fritter-like assemblages. The resulting slice is dense but exceedingly flavorful — and unique in the area.
Amar Pizza 11608 Conant St., Hamtramck; 313-366-0980; amarpizza.biz $: Hamtramck's Bangladeshi strip is heating up with all sorts of interesting food choices. There's even a Bangladeshi pizzeria. Yes, it's true, and they serve it up round, square, even deep-dish-style. They even have a naga sauce they'll put on the pizza, reminiscent of jalapeño but spicier and more fragrant. They'll sell you an impressive Chicago-style pizza or a Detroit-style deep-dish for just $5. Their hot pizzas are so hot they warn: "Eat at your own risk!"
Amici's Pizza and Living Room 3249 W. 12 Mile Rd., Berkley, 248-544-4100; 1160 Grant St., Birmingham; 248-723-2900; amicispizza.com; $$: Pizza crust made with bran, biodegradable dishes and soy candles, no smoking, no TV, even a couple of organic vodkas — Amici's manages both to be virtuous and to pull it off without a hint of self-righteousness. It is a bar, after all, and it's hard to say whether patrons are more interested in the vegan pizzas or the 64 cocktails, 35 beers and 5 premium tequilas on offer. They can combine the two impulses by ordering Red Bridge beer, gluten-free. What's more, they have a back patio that hits the summertime spot.
Barb's Pasties & Pizza 610 S. Main St., Clawson; 248-435-5250; barbspasties.com; $: Heck, here's an interesting one: Not only can you get pizza, but you can also indulge in that U.P. delicacy, the pasty, made hot and fresh every day. (Think of it as a Yooper calzone.) As for the pizza, it's less than $6 for a personal six-piece, and $21 for a super-large five-item pie.
Benito's Pizza 19 locations in metro Detroit, see benitospizza.com: Specialty pizzas include Hawaiian (bacon, ham, pineapple and double cheese), vegetarian (mushrooms, onion, green pepper, tomatoes and green olives), and get as ambitious as the "Big Meal" (pepperoni, ham, onions, mushrooms, green peppers, ground beef, Italian sausage, green olives and, natch, extra cheese). They all cost the same, $17.40 for a large, $20.40 for a deep dish. And with more than a dozen locations over the sprawl-plex, you're probably within a mile of one right now.
Brooklyn Pizza 111 Henrietta, Birmingham; 248-258-6690; 3141 Crooks Rd., Troy; 248-643-4512; brooklynpizzaonline.com; $$: Brooklyn is considered the home of the North American pizza, and the owners of Brooklyn Pizza describe their pies as New York-style pizza cooked in a brick oven, fueled by coal or wood. This method creates a thin, crisp crust that snaps and shatters when you take a bite. This is one place where you can still watch the pizza chefs flip a disk of dough in the air. Ice cream, gelato and Italian ices are made on the premises.
Brown Jug 1204 S. University Dr., Ann Arbor, 734-761-3355; brownjug-annarbor.com; $$: This place is a student fave, serving breakfast all day long. And there's much more than "Uncle Pat's" pizza here, including everything from vegetarian fajitas to a 12-bone slab of ribs, but the pizzas aren't just an afterthought. They come in "thin and crispy," deep-dish and hand-tossed renditions, or as a calzone. They do have plenty of toppings to choose from, including fresh tomatoes, scallions, pepper jack cheese, lettuce and jalapeño peppers.
Buddy's Restaurant & Pizzeria 17125 Conant St., Detroit; 313-892-9001; 22148 Michigan Ave., Dearborn, 313-562-5900; see buddyspizza.com for seven other locations, including Farmington Hills, Warren and Livonia; $$: Perennial winner of our best neighborhood pizza category, after living a full life as a neighborhood speakeasy, Buddy's original location on Conant Street only started pumping out its award-winning pizza in 1936. And though it has expanded to nine locations all over southeastern Michigan, it has clearly retained the neighborhood cred.
Capri Italian Bakery 4832 Greenfield Rd., Dearborn; 313-584-4449; $: Anybody who grew up on square, bakery-style pizza knows just how emotionally connected you can become to the food you eat as a toddler. And this bakery, open since the 1970s, still serves up those big trays of square pizza wrapped in a big white paper bag. And not only is it just as good as you remember, you get the full tray for just $18. Hey, you can go home again!
Capri Pizzeria 30735 Greenfield Rd., Southfield; 248-647-7770; capripizzeria.net; $: Not to be confused with the Capri Bakery in Dearborn, you can get the same sort of Italian bakery-style pizza here, a bit thinner than most. But it's affordable, with a 10-slice pepperoni pizza going for $10.99. No seating; delivery and carryout only; near 13 Mile Road.
Cloverleaf Bar & Restaurant 24443 Gratiot Ave., Eastpointe; 586-777-5391; cloverleafrestaurant.com; $: Cloverleaf's thick, square pizza isn't the tradition that mini-chain Buddy's has become, which is a shame. You see, after opening Buddy's as a speakeasy in the Dirty '30s, Gus Guerra started selling pizza in the '40s and business took off. In the 1950s, Guerra sold it with the recipe and started Cloverleaf in what was then East Detroit. So you get a story with your pie. There's a full menu with something for the little ones, reasonable prices, a casual atmosphere.
Como's 22812 Woodward Ave., Ferndale; 248-548-5005; comosferndale.com; $$: Oh, yeah! We always forget that Como's serves food, including pizza pies. On a boozy day on their outdoor patio, they must come in handy once it's time to sober up and hit the happy hunting ground that is Woodward between Eight and Nine.
Cottage Inn 546 Packard, Ann Arbor; 734-769-5555; 512 E. William, Ann Arbor; 734-663-3379; originalcottageinn.com; $: At Cottage Inn, everything is made from scratch. And there's more than pizza, with lasagna, chicken pasta, and more. But the pizzas, round or deep dish, regular or specialty, have built a loyal following.
Crust Pizza & Wine Bar 2595 Rochester Rd., Rochester Hills; 248-844-8899; crustpizza.net; $$: The flavors at Crust are a revelation — not to mention the wines chosen to go along with them. Lots of people pick up a pizza after work, and maybe a six-pack. For not a lot more money, you can have more fun at Crust, where the "Naples classics" attest to the Neapolitan way of thinking, where crust is supreme.
D'Amato's 222 S. Sherman Dr., Royal Oak; 248-584-7400; damatos.com/index.php; $$: Neighborhood Italian joint has eclectic and "from scratch" fare. A fresh Caesar or Caprese salad will run you $6, and a pizza with fresh mozzarella, rosemary, thyme and shaved zucchini is $8. Tender, fluffy gnocchi of ricotta and spinach come surrounded with a rich sauce, and veal saltimbocca arrives on soft layers of rapini and gnocchi, resting in a silky Marsala sauce. There are many more beef, chicken and seafood entrées, and 30 glasses and 60 bottles of wine to wash them down. What's more, there's often live music (call for schedule) and legendary Royal Oak martini bar Goodnight Gracie is connected to the restaurant.
Dearborn Italian Bakery 24545 Ford Rd., Dearborn; 313-274-2350; dearbornitalianbakery.com; $$: This is the kind of pie that seemingly improves after a night in the fridge. Their "taco pizza" puts a new twist on this old classic. They come large, but get a smaller one and leave room for their good desserts selection.
Frank's Restaurant & Pizzeria 3144 Biddle St., Wyandotte; 734-282-0512; $: Reputable Wyandotte pizza stop says their most popular pies, in addition to the ubiquitous pepperoni, is their "Frank's special" (ham, mushroom, green peppers, onion on an extra-large for $13.15) or the deluxe (pepperoni, hamburger, ham, green peppers, onion and, if that ain't enough, bacon on an extra-large for $14.75).
Giorgio's 117 S. Main St., Rochester; 248-601-2882; georgiospizzaandpasta.com; $$: Here's your place for hand-tossed, brick-oven pizza in downtown Rochester. And they have more than just that. Giorgio's serves slices, full pies, gourmet pizzas, stuffed pizzas, calzones, and stromboli. Toppings run from anchovies to sun-dried tomatoes, and they'll even top it with grilled chicken. If you want it from the comfort of your own home, delivery charge is $2.50 with minimum $10 order.
Gracie See Pizzeria 6889 Greenfield Rd., Detroit; 313-581-8070; graciesee.com; 26734 Michigan Ave., Inkster; 313-359-0900; graciespasta.com; $$: A shiny, new Inkster location opened a few years ago; for the original ambience, though, you gotta go to the one on the border of Dearborn and Detroit: This warren of rooms is a classic, old-fashioned pizzeria right down to the jukebox, wood paneling and waitresses who call you "hon'." And the pizzas are thin-crust softies that come on a grand, stand-up salver so you have room for your drinks. And you'll find everyone here, from bowling leagues to prom kids, no crowd is too hip for this room. Full bar. Online ordering available at both locations.
Green Lantern Lounge 28960 John R, Madison Heights; 248-541-5439; 4326 Rochester Rd., Royal Oak; 248-298-3005; greenlanternlounge.com; $$: As in most older pizza palaces, the kitchen first made thin-crusted round pies and only added the deep-dish variety around seven years ago. Both come in four sizes from 10 inches ($5.65-$6.15) to 16 inches ($10.90-$12.15) with the 10-inch mini suitable for two. The price structure here and throughout the menu is quite reasonable, another explanation for the Green Lantern's popularity. Best of all, they use the pepperoni that curl up into little "grease cups." Ah, the Midwest. Online ordering available for Royal Oak location.
Green Zone Pizza 17008 Kercheval Ave., Grosse Pointe; 313-332-0559; greenzonepizza.com; $$: Green Zone is both planet-friendly and palate-friendly, with countertops made from recycled glass bottles and floors from recycled tiles, actively shunning an oven that burns wood or coal, and lighting up the whole restaurant with just 500 watts' worth of LED lights. Also, expect organic mozzarella, organic shrimp from an Okemos farmer, organic flour from Avalon and organic cherry juice in the barbecue sauce. The results are excellent, with infinite build-your-owns, as well as the familiar pepperoni, vegetarian, Greek, California, Hawaiian, etc. Don't miss the innovative wine dispenser.
La Zingara 769 Erie St. East, Windsor; 519-258-7555; $$: La Zingara serves wonderfully simple appetizers that rely on the excellence of their ingredients and terrific pizzas. Their best-selling pie is Quattro Stagioni (Four Seasons), with ham, artichokes and black olives. The prosciutto pizza doesn't stint on that salt-cured delicacy; a thin sheet is laid over each slice, for plenty of salty, gamy flavor. This old-style pizza joint also offers many homemade pastas. Open every evening.
Lona's Pizza 25877 Ford Rd., Dearborn Heights; 313-274-0100; $$: A friend says this place is great, and for those on the Beech Daly Ford axis (it's on the southwest corner) you can't miss giving it a shot. It's affordable, just $9.95 for a large with one topping, and $11.30 for a two-topping large. Carryout and delivery only, but free delivery with a $10 order or more. Open since 1960.
Loui's Pizza 23141 Dequindre Rd., Hazel Park; 248-547-1711; louispizza.net; $: None of the glitterati treks to Loui's for its elegant decor or haute cuisine, and none of the regular patrons comes to see the occasional glitterati who wander in. This is a quintessential pizza joint — hundreds of straw-covered Chianti bottles signed by diners fill virtually every inch of wall space, the tables are covered with glass-protected red-checked cloths, the food is served on plain plastic tableware. Aficionados flock to Loui's for the uniquely charred, thick-crust, deep-dish pizza.
Luigi's 36691 Jefferson Ave., Harrison Township; 586-468-7711; luigisoriginal.com; $$$: The somewhat kitschy setting of checkered tablecloth, faux grapevines and strings of small red and green lights don't prepare you for the quality of service. Whether you're dining in the dark and boisterous front room or the more sedate and well-lit back, you're sure to be impressed by the efficiency of the waitstaff. And we can't rave enough about Luigi's exceptional pizzas. Complement your meal with a bottle from the adequate wine list or the decent range of beers. With both food and drinks, Luigi's just about covers everyone's taste sensibilities.
Mama Rosa 15134 Mack Ave., Grosse Pointe Park; 313-822-3046; $$: Depending on your source, you may hear Mama Rosa dubbed "the best pizza in the Grosse Pointes." Expect a host of unusual topping choices, crunchy-bottomed pies, other Italian dishes and even beer.
Motor City Brewing Works 470 W. Canfield St., Detroit; 313-832-2700; motorcitybeer.com; $$: This brewpub has a quirky tiled interior, with its concrete bar, its Wednesday-night art shows, and its sturdy menu of pizzas and small plates. For less than $10, you can get a pizza made with ingredients from as local as possible. The beers are excellent. Try their house brewed hard cider. Meads like Blue Sunshine have a sharp, almost astringent crispness to them. And those Wednesday night art shows are a tightwad's dream, offering work from experimental, established and ex nihil artists, often hanging work that goes for as little as $15. Have a pizza, drain a craft brew or two, and invest in a work of art for a little more.
Niki's Pizza 734 Beaubien St., Detroit; 313-961-4303; nikispizza.com; $: Fresh off an extensive remodel, Niki's no longer looks rough around the edges, instead sporting tons of attractive new booths and even a wood-fired pizza oven. Still, even though the ambience is much improved, you'll likely go for that two-slices-for-$4 deal. Better yet, go in with a friend and get a small square pie, ensuring it's hot out of the oven. And try the lamb topping!
Nona's Pizza 19764 Harper Ave., Harper Woods; 313-884-5900; $$: We got your classic neighborhood pizza joint right here, with 30 years on the block. Pies are round or square, with the usual laundry list of toppings, but the prices are nice. Expect to pay $13.25 for an 18-inch square with pepperoni.
Pasquale's 31555 Woodward Ave., Royal Oak; 248-549-4002; pasqualesrestaurant.com; $$: The calorie-bomb here is called "Brown's special," and it's loaded with cheese, pepperoni, bacon, ham, onions, green peppers, green and black olives, and mushrooms, $13 for a small, $16 for a medium and $21 for a large. Right on Woodward in Royal Oak, away from the bustle of Main Street. If you've been in business for 55 years, you must be doing something right.
Pizza Bob's 814 S. State St., Ann Arbor, 734-665-4517; pizzabobs.net; $: It's about $8 for a 10-incher with pepperoni. Kinder still, you can share a 16-incher with same for $6 each. Don't want pepperoni? It'd cost the same for any topping, and they range from ham and meatballs to banana peppers and pineapple. Lunch, dinner, takeout and delivery.
Pizza Papalis Taverna 553 Monroe St., Detroit; 313-961-8020; for more locations see pizzapapalis.com; $$: A regular winner in our Best Of awards, you have to admit that trying Chicago-style pizza in Detroit was a gamble back in the 1980s, but now it's a sure bet. It's pricier than most, but their largest, deepest pies are an excellent medium for delivering meat and cheese to your stomach. You can get the 10-inch at $21 or the 14-inch at $30, but it doesn't get grander than the "meat eater's deluxe," a dough bowl of pepperoni, Italian sausage, Canadian bacon, ground beef and, of course, generous amounts of cheese.
Pizzeria Biga 711 S. Main St., Royal Oak; 248-544-2442; 29110 Franklin Rd., Southfield; 248-750-2500; pizzeriabiga.com; $$: Wherever your allegiances fall on the thick-and-chewy to thin-and-crispy spectrum, the toppings at Biga are remarkable enough to sway the most finicky of gourmands. With options like duck prosciutto, capicola or house-made Italian sausage for the meat lovers and wood-roasted vegetables or oil-cured hot peppers for the vegetarians, the range and quality are impressive. For those who aren't into tomato sauce, Biga offers as many "white" pies as red — mushroom ragù, with goat cheese or white clam with pancetta being two tempting options. Online ordering is now available.
Primo's 996 S. Adams Rd., Birmingham; 248-642-1400; primosbirmingham.com; $$: Primo's serves the Detroit-style square and deep pizza, with a crunchy crust and a chewy center. They don't overload it with sauce and spice, preferring to give it just the right amount of tomatoey goodness. And the cheese is cheese, not "cheese food." It stretches from the slice in your hand to the teeth in your mouth just like on TV. Plus they sell it by the (giant) slice for $1.50.
Renshaw Lounge 210 E. 14 Mile Rd., Clawson; 248-616-3016; renshawlounge.com; $$: This joint is like a classic pub, but with all the boozy fellowship of a dive. Local regulars will tell you Renshaw serves the best pizza in town, and one fan tells us their pies "rank up there with Green Lantern, Luigi's and Giorgio's." Maybe it's their raw sauce, which only cooks during its brief trip to the oven. They also serve a "breadza," which combines the gooey goodness of pizza with the doughy satisfaction of bread sticks. Enjoy it with drink specials and cold beer.
Sam's Pizzeria and Cantina 2215 Wyandotte W., Windsor, 519-258-5086; samspizzeriaandcantina.com; $: Sam's feels a little more upscale and hip than a pizza palace, but sticks close to its roots. Calzone, focaccia, bruschetta: The crust is the star here, with inventive toppings such as escargot, mushrooms and garlic on the Francese pizza, as well as traditional versions. Finish off with fancy espressos, cappuccinos or a White Russian from the full bar. There's jazz on Thursdays and Saturdays. Breakfast menu from 11 a.m. to afternoon.
Sgt. Pepperoni's Pizzeria & Deli 4120 Woodward Ave., Detroit; 313-833-7272; majesticdetroit.com/sgt-pepperonis-detroit; $: The Sarge's managers are attempting to do a two-steps-up version of pizza — you can order a specialty sauce like basil pesto or tapenade, and the specialty toppings include roasted chicken, spinach, artichoke hearts, sun-dried tomatoes, eggplant and squash (all served atop a pretty normal fresh red pizza sauce and mozzarella). Pastas and sandwiches are also offered.
Shield's Restaurant Bar Pizzeria 25101 Telegraph, Southfield; 248-356-2720; 1476 W. Maple Rd., Troy; 248-637-3131; and one more location at shieldspizza.com; $: Another spin-off from the Buddy's breakup in the 1950s, Shield's enjoys an excellent reputation. Their specialty pizzas include the Athenian, Polynesian, "meat lover's," and "BBQ chicken."
Stosh's Pizza 24312 Van Dyke Ave., Center Line; 586-757-6836; stoshspizza.com; $$: A co-worker's wife swears by this pizza, and the price is right: A large, two-topping pizza sets you back a measly $10.99.
Supino Pizzeria 2457 Russell St., Detroit, 313-567-7879; supinopizzeria.com; $$, Serving brilliant thin-crust pizza with imaginative fresh ingredients — even an egg — with a delectable thin crust that's not too chewy. They serve five red pizzas and six white, meaning no tomato sauce; almost all are made with traditional ingredients, no pineapple, no taco fixings. The red sauce is supremely simple, nothing much besides some fresh-tasting though canned crushed tomatoes. The Primavera, a white, is topped with fresh tomatoes, artichokes, eggplant, red onion, mozzarella and spinach — lots of flavors. Also excellent is the housemade manicotti, a huge portion of ultra-thin pasta stuffed with ricotta and a bit of Parmigiano and topped with red sauce and mozzarella. Supino is making a strong bid for gourmet pizza supremacy, right in our own Eastern Market.
Tomatoes Apizza 24369 Halsted Rd., Farmington Hills; 248-888-4888; 29275 14 Mile Rd., Farmington Hills; 248-855-3555; tomatoesapizza.com; $: If you're looking for a thin-crust, fresh-tasting, garlicky, made-with-high-art pizza, Apizza's ranks with the best in the area. The pies emerge from their brief sojourn in the brick oven irregularly shaped and unequally sliced. Avoiding a mass-produced look is always good, and a variety of big and small slices means that you can match your grab to your satiety level. One of our readers raved, "The place is amazing, and this New York City girl, who swears there isn't pizza in Michigan that can hold a candle to New York's, is hooked on it. Everything is super fresh, the coal- or wood-burning oven (depending upon which site you go to) gives the thin-crusted pizza a crispness you can't really duplicate any other way. I highly recommend the four tastes pizza. Don't have them change anything, but the section you get to choose on, add garlic ... you won't regret it!"
See any inaccuracies? Let us know! Send an e-mail to [email protected] or call 313-202-8043.