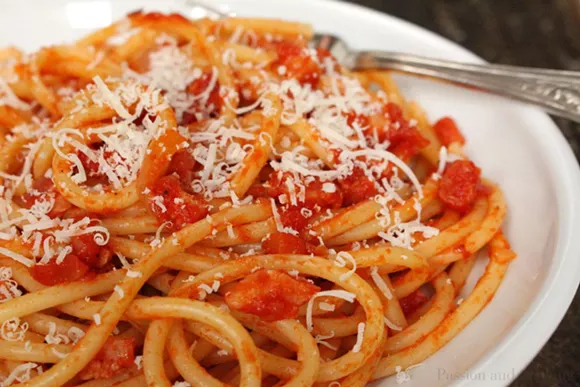 Last week, we
wrote
that local iconic chef Luciano DelSignore had put out a call for action to assist the thousands of people devastated by an earthquake in central Italy.
He had heard about other chefs elsewhere who had pledged to prepare Spaghetti all'Amatriciana, a dish traditional to the town of Amatrice, where the epicenter of the quake shook and donate the proceeds to help rebuild the town. Celeb cooks like Mario Batali and Jamie Oliver had vowed to donate a portion of the pasta sales to relief efforts.
DelSignore took it a step further and, via social media, asked area restaurants to take part by selling plates of the dish for $15, with 100 percent of the money raised to go to rebuilding. The goal, run the fundraiser through the month of September and raise $50,000 collectively.
He tells us he figured he would get response from a handful of folks.
"I had no idea how far and wide this would reach," says DelSignore, owner of Bacco Ristorant in Southfield and the Bigalora pizzeria chain.
Reach it had. As of last count, more than 40 metro Detroit restaurants have stepped up to participate (plus one based in Hollywood, Fla.). With the added support, DelSignore is hopeful the campaign could reach the $100,000 mark.
The entrée calls for San Marzano tomatoes, white wine, black pepper, pepperoncino and pecorino chesses, and guanciale - an Italian cured meat prepared from pork. For the pasta, a spaghetti or bucatini are commonly used.
To assist with preparation of the dish, Fairway Packing Company in Eastern Market has stocked up on guanciale and will vend it to participants at cost.
Participating restaurants are free to follow the traditional recipe or prepare their own creative takes on it, DelSignore tells us.
A native of eastern Italy, DelSignore says he travels every year to the Boot nation and regularly visits small communities not unlike Amatrice, a hilly area of about 2,000-3,000. A mass
funeral
was held Tuesday for the 292 confirmed fatalities that resulted from the Aug. 24 earthquake.
"The (people in these small towns) don't have quite the same insurance system as we have where they write you a check and buy you a new home, they're essentially homeless," DelSignore says of the thousands of homes destroyed.
A GoFundMe account with a charitable 501c3 Tax ID # has been created for the fundraiser and organizers are working with the Italian Consulate in Detroit to identify a foundation in Italy that will help victims directly. fund the money.
Diners interested in doing they're part (essentially eat pasta for the cause) can visit the restaurants listed below:
Andiamo (all locations)
Assaggi Bistro (Ferndale)
Bacco Ristorante (Southfield)
Bella Piatti (Birmingham)
Bigalora (all locations)
Bucci Ristorante (Grosse Pointe Woods)
Chartreuse Kitchen & Cocktails (Detroit)
Clarkston Union (Clarkston)
Coach Insignia (Detroit)
Cucina Medoro (Birmingham)
Cuisine (Detroit)
Fenton Fire Hall (Fenton)
Il Posto Ristorante (Hollywood, FL)
Katoi (Detroit)
La Cucina del Vino (Shelby Township)
La Strada Dolci e Caffé (Birmingham)
La Vita Bistro (Pinckney)
Local Kitchen & Bar (Ferndale)
NOVI Chophouse (Novi)
Pops For Italian (Ferndale)
Saffron Café (Coldwater, MI)
The Franklin (Traverse City)
The Root Restaurant & Bar (White Lake)
The Silver Spoon Ristorante (Rochester)
The Stand Gastro Bistro (Birmingham)
The Twisted Mitten (Detroit)
Trattoria Stella (Traverse City)
Tre Monti Ristorante (Troy)
Union Woodshop (Clarkston)
Vinsetta Garage (Royal Oak)