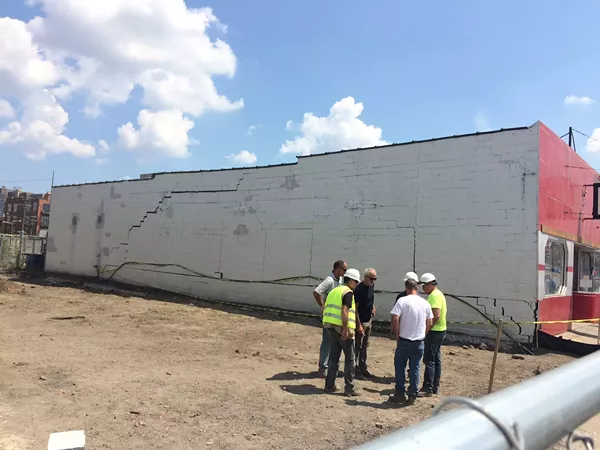 Detroit music venue the UFO Factory is expected to reopen.
Nearly three months after a construction crew working on the $150 million mixed-use Elton Park development in Corktown damaged the neighboring UFO Factory, the popular local rock club and bar is beginning its rebuild.
Owner Dion Fischer announced the news Sunday on the UFO Factory's
Instagram account
.
"#ufoupdate probably starting the very very very beginning of rehab/rebuild early next week!" he wrote.
He confirmed the news in a text to
Metro Times
on Monday.
"We (UFO) have gone thru the process of assessment via our insurance company, we have hired a contractor, and if all goes well we will start the process of shoring up the building to make it safe/get the condemnation order removed. Then we will start the process of rebuilding. Realistically, a reopening date/rehab timeline isn't available yet," he writes.
"But that's the plan — REBUILD/REOPEN!"
The project's developer, Soave Enterprises, is building the development on land on three sides of UFO Factory's property, and caused damage during foundation work that left the club's walls cracked and canted, while its roof is partially dropped by a few inches.
Detroit's rumor mill has been buzzing with suspicion that Soave's builder, Monahan Company, intentionally damaged the building at the behest of Soave — that the developer building a posh complex in a gentrifying Detroit neighborhood could be willing to resort to nefarious means to remove a small arts and music venue that stands in its way.
Fischer has declined to comment on that, though on the day of the incident told
Metro Times
, "Judging by our past interactions, I don't think they have our best interest in mind."

Soave Enterprises estimates its revenues at $1.6 billion and owns real estate developments across the country, though it originally amassed its wealth in trash collection.


UFO Factory opened in 2014, and Fischer and wife Aliccia Bollig-Fischer have owned the building since 2010.
Court records show that UFO Factory filed a suit in December in which it asked a judge to allow it to continue using land that Soave owned. Soave purchased all three parcels that border UFO Factory's property in 2014 and later barred UFO Factory from using what had become his property for dumpster and grease disposal. In its Third Circuit Court complaint, UFO Factory contended that complying with the order would result in irreparable harm, but a judge dismissed the case.
Soave then filed a countersuit, alleging that UFO Factory's ownership benefited financially from trespassing on Soave property, and sought damages of $615,000. That case was dropped in April.
Then on Wednesday, Aug. 2, Soave's crews heavily damaged UFO Factory's building.
Video shot
after Monahan construction crew members cracked the UFO Factory wall shows them ignoring pleas from Bollig-Fischer that they halt work. She then appears to call the police.
Separate video obtained by
Metro Times
also appears to show the crew refusing to stop working when ordered to do so by a Detroit Police officer.
In the 1990s, Soave was accused of intentionally and significantly destroying another company's property for its benefit by ordering mob-figure Vito Giacalone to firebomb a Warren garbage dump so he could secure a $16 million City of Warren trash collection fee. A subsidiary of Soave's company took over the $16 million contract a week after the firebombing. Soave was never charged in the case. Read more about Soave's past
here
.