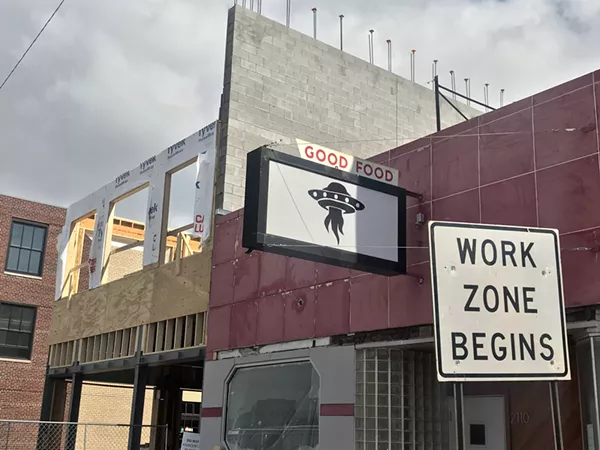 The UFO Factory is back from the grave on Oct. 26, and it's packed its first month's calendar with some of Detroit's favorite acts. The relaunch weekend also includes on Sunday the return of the venue's hot dog, grilled cheese, and tater tot purveyor, Laika Dog.
The line up is as follows. Find more info
here
.
Oct. 26
Deadbeat Beat
Double Winter
Special guests
Oct. 27
Jonathan Toubin's Soul Clap and Dance Off
Wolfman Band
'50s and '60s r&b/soul/rock 'n' roll classic style dance contest with a "costume and haunted Halloween Party, too!"
Oct. 28
UFOke with co-hosts JENNYoke and Natalie, with karaoke to follow with the two hosts rotating each week after.
Oct. 29
Prude Boys (return from tour show)
Jenny & Jackie
Werewolf Jones
Oct. 30
MC50th Zenta New Year at Third Man official afterparty
Oct. 31
Something Cold dark wave / fog / Halloween party
Nov. 1
Craig Brown
John Salvage
Corey Weedon
(All playing solo.)
Nov. 2
U. Eye
Princess Dragon Mom
DJ Whodat
Nov. 3
Moonwalks
Feelings
Paint Thinner
Nov. 8
DJ Ryan Spencer
Nov. 9
Tyvek
Nov. 10
Shitty Club
N0v. 15
Drew McDowall (Ex Coil)
Hiro Kone
Nate Young (Wolf Eyes)
Something Cold
Nov. 17
Count Mack
Sheefy McFly and friends
Nov. 21
Stef Chura
Moon King
Nov. 23
In The Modern Room
DJ Brad Hales and guests
So many restaurants, so little time. Find out the latest Detroit dining news with our weekly food newsletter delivered every Friday morning.