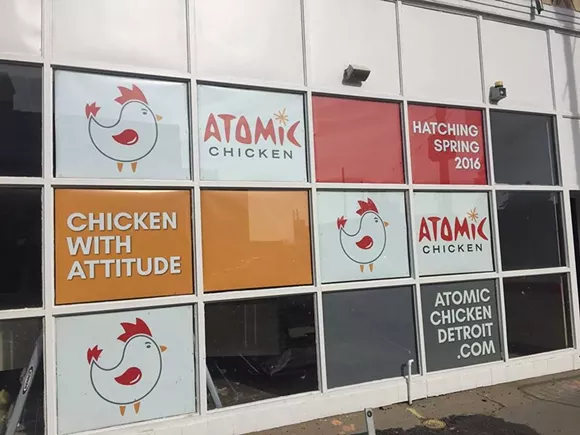 Three rising heavyweights in the local food scene have announced a partnership to open Atomic Chicken, a chef-driven fast food restaurant, in New Center and Clawson.
We reported back in December that chef Matthew Baldridge was embarking on a transforming a former Popeyes Chicken at Woodward and Milwaukee avenues in New Center into an eatery that would feature chicken, waffles, biscuits, and other takes on soul food.
Back then, he mentioned to us plans for the New Center spot and another venture of his in Ferndale, The Conserva, an Italian-inspired establishment in a former bank building on Nine Mile Road.
Baldridge, who along with fiance Janna Coumoundouros have organized several successful pop-up dinner parties around town, also hinted at another project in the works with his business partners, though he remained mum about who or what was involved. The latest has come out that his partners include Scott Moloney (of Treat Dreams and the recently-opened Woodpile BBQ Shack in Clawson) and Greg Reyner (co-owner and executive chef at Cafe Muse in Royal Oak). Together, they're working out the details of the Atomic Chicken concept.
The first location to open will be Clawson, at 331 N. Main St., sometime this spring. The team purchased the Clawson location in late February. The New Center locale is at 6500 Woodward Ave. and is expected to open shortly after the Oakland County spot.
Baldridge and Reyner say they have other projects in the works for this year (
Eater Detroit
reported last summer that Reyer plans to open a Geiger Eat Shop a few doors down from Sister Pie in West Village).