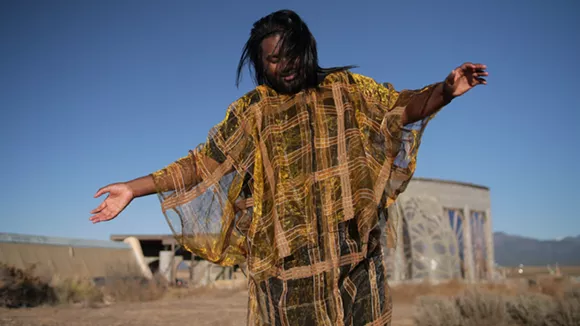 We love the electro-pop R&B artist Tunde Olaniran for so many reasons. His soulful voice, outrageous costume design, theatrical presence on-stage.
Now, we can add pizza-maker to his growing list of talents.
The Flint-native Olaniran is the inaugural performance artist in El Club's "Michigan Artist Pizza Series." The southwest Detroit venue says that each month, a different artist will create a special pie, with proceeds going to a charity of their choice.
On NYE, Olaniran's "Protection Spell Pizza" will debut to coincide with his Protection Spell: Rituals for Resistance in 2017 concert, also featuring Norty (Denver/Grand Rapids), Mother Cyborg (Detroit), Little Animal (Detroit), and Edgeslayer (NOLA). Doors open at 8 p.m., show starts at 9 p.m. and goes until 4 a.m.
Tickets go for $10-$15.
Topping Olaniran's pizza pie (available thru 1/31/17), a white sauce, grilled eggplant, red onion, roasted garlic, rosemary, and oregano. Proceeds raised will go toward Trans Sistas of Color Project.
Says Olaniran on his interest in the group: "Trans people of color suffer some of the highest rates of violence and homelessness... They're a group who are very marginalized and don't have a lot of people advocating for them."
We asked Olaniran a few questions about his special recipe and what food and drink help inspire him when he's prepping for his next big show.
Metro Times: Tell me a little bit about your pizza.
Tunde Olaniran: I've been meaning to master the perfect recipe for awhile. I've had incarnations for this pizza at other places. (The guys at El Club) said, 'this is your chance to make it your own.' I'm a big fan of white sauce pizza, and a grilled eggplant topping is not something you really see around, but it's probably the only way I like to eat roasted eggplant. Red onions just something I like to add to anything I can. I have a lot of things i'm not very particular about, but red onions are one thing I am when I'm cooking. I guess I appreciate the crunch of the onion. The roasted garlic adds a lot of flavor, and it just smells really good. We talked about using different herbs or spice, and rosemary and oregano just seemed to make sense. It's like a really savory and not too heavy option. And it's vegetegarin, but you won't miss the meats because of the texture of the eggplant.
MT: Do you consider yourself a cook?
Olaniran: I consider myself an enthusiastic eater and I like to eat things that are good and rich. If I take the time to cook it can be pretty time consuming so when I do it, i want to do it right. I like to figure out how to get the most flavor out of dishes. I cook maybe 2-3 times a week. It's a really good activity, not relaxing exactly, but it feels meditative in some ways. It's a form of self care and teaches you to be mindful.
MT: What are your food or drink guilty pleasures?
Olaniran: I don't know if I feel guilty about them, but cheese just in general, I love cheese. I also really love pasta, and I'm into really into decadent smoothies, like three-ingredient smoothies don't do it for me. I like lots of fruits and nuts in mine. I actually think I make more of those sort of thing than cooking, just because it's easier and less time consuming. I also really love pistacio ice cream. If you need a pistacio ice cream recommendation, I am your person.
MT: What must you eat or drink to prepare mentally or physically for a big performance?
Olaniran: One thing I tell people who sing, is lots of water the day before or the night before, rather than day of works best. Your body absorbs the water, it lubricates the vocal chords. I do try to avoid anything too heavy. I think Thai food works, like a coconut milk soup. And, actually when I played El Club before, they brought some of the pizzas backstage and they were amazing. It's exactly the right amount of pizza and toppings and is seasoned very well.

See also: Year in Review: 12 of our favorite dishes of 2016

See also:
Tunde Olaniran walks us through his astonishing debut album 'Transgressor'