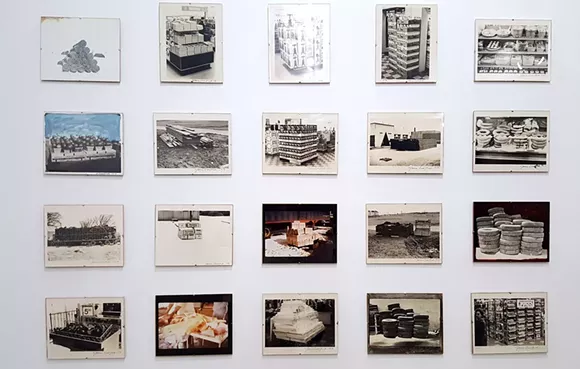 As the saying goes: "One man's trash is another man's treasure." In the case of artist Jim Crawford, a Detroit artist who was an influential figure the Cass Corridor movement in the 1960s and 1970s, there is a lifelong artistic process of transforming discarded materials into sculptural works.
Early in 1970s, as when Crawford created his 1972
Pile Series
, the artist was able to generate an aesthetic and artistic relationship with discard, such as piles of concrete or other industrial waste materials. In this, his first solo show in over a decade, which opened at Trinosophes on Oct. 21 and will run through Dec. 23, Crawford's newest series of works are largely comprised of cat food cans stacked in containers such as library card catalogue drawers and roughly constructed boxes.
This penchant and elevation of rubble reflects, and may in fact reside at the root of, the collective and distinct relationship an entire category of Detroit artists have created with found materials over the last four decades. Though Crawford pursued formal study in art, receiving both an undergraduate degree and an MFA from Wayne State University in the 1960s, he expresses and embodies an egalitarian view of art-making, characterizing himself as having been an artist from the age of five.
"I feel comfortable with all materials," said Crawford, during an artist conversation with Mazzei at Trinosophes on Saturday, Oct. 22, "and all materials can be used to make art." During Crawford's time working a desk job at Michigan Council for the Arts, office supplies became central to his art-making process.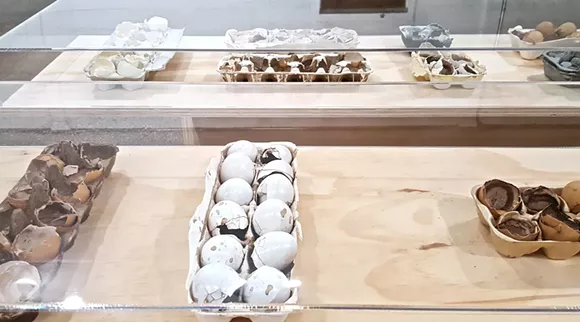 "I was adapting to working in an office," said Crawford, who recalled a level of pained discontent with the fluorescent-lit office environment that is likely familiar to most artists confined to a day job. The
Tea Stain Series
(1970), on display at in the show, are a set of 3"x5" index cards, upon which Crawford would place the used teabag from his daily cup of tea. He methodically signed and dated these cards, which he considered watercolors, and saved for four decades before this first showing at Trinosophes.
"We found a really beautiful handwritten note that accompanied the tea stains" said Mazzai, during the talk, "and it opened with a line about the watercolor being a way of finding your sanity." Indeed, there is a sense, when looking at Crawford's work — the constituent materials of which include literal trash, like broken eggshells — of a worldview that cannot help but see all materials as art materials. Crawford possesses a ritualistic approach to a given series — with the
Eggshell Series
, the work hinges on the repetitive gesture of cracking and emptying eggshells of their contents, then placing them in cartons.
"Anyone that goes to art school learns about the way that you can draw with gesture," said Crawford, during his artist talk. "In this case, a very strong part of this ritual was a gesture. I never got tired of taking those eggshells and putting them in those cartons."
Taken in a different context, Crawford's collections of broken shells, cratered carefully in the bottom halves of dozen cartons, would be swept from countertop into the trashcan, but assembled carefully in wood and acrylic display cases, they take on a level of abstraction, becoming shattered, speckled ovals, browning with time. There is a sense of decay to much of his work, including some of his more notorious pieces, such as a 1975 time-based temporary artwork he did, using 50,000 pounds of ice to create four 8-foot-tall ice walls on a busy sidewalk in downtown Detroit.
In regarding Crawford's work, the viewer would do well to loosen their conception of the conventional associations with his materials — be they cat food cans, piles of construction rubble, or catalogue imagery. Once we see these as shapes, as openings, and as jumping off points for interventions in reality, perhaps we begin be see the world as Crawford does — full of potential art. Certainly, Mazzei immediately responded to his vision, when she unexpectedly uncovered a cache of Crawford's work in the back storeroom of Xavier's 20th Century Furniture, in owner Xavier Slade's art and design library. With
Jim Crawford
, Mazzei has rescued a body of work literally on the brink of being discarded, and centralized a character who quietly influenced a whole generation of Detroit artists. The materials may be humble, even trashy, but Jim Crawford is a living treasure and a Detroit original.