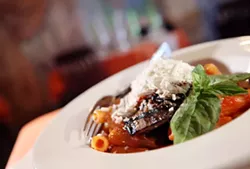 Trattoria Pizzeria da Luigi
415 S. Washington Ave., Royal Oak
248-542-4444
www.trattoriapizzeriadaluigi.com
Handicap accessible
Entrées: $14-$24
Open 4-10 p.m. Tuesday-Thursday and Sunday
4-11 p.m. Friday-Saturday.

Luigi Cutraro says his new menu is "built upon thousands of years of eating" — a lovely thought and surely one reason Italian cuisine is universally beloved, and deservedly so.

Yes, the tomato was introduced into the peninsula only when explorers brought it back from the New World, and tomato sauce wasn't known there till the late 18th century. So, it's been only 200-plus years of eating the food item that Americans associate most strongly with Italy. No matter: 200 years has been plenty of time for Italian chefs and casalingas to perfect tomato cookery; and there's a hell of a lot more to Italian food than tomato sauce.

Those two-plus centuries of expertise and variety are on display at Cutraro's trattoria, a thoroughly enjoyable place for atmosphere, service and its dishes. The room is relatively small, which helps the buzz, and although it's a little loud, the decibel level makes it feel convivial and fun. The bright linens make you feel like someone has been paying good attention to pleasing the customer. The quality of chef Steve Siekierzynski's fare is on a par with places that charge a lot more, including his former employer, Assaggi Bistro in Ferndale.

Cutraro took a long detour into Spanish food when he owned Sangria, also in Royal Oak. "Spanish, I had a great time for 16 years, but my roots, you know, …" he explains. He calls the new place Italian with a Sicilian accent and points out the Sicilian dialect on the bathroom doors.

It would be hard to pick a favorite dish, but I'll start with the first one I tasted: the insalata Siciliana, which gives every appearance of being extremely simple, and contains orange slices (Cutraro: "Sicily is the Florida of Europe"), red onion, goat cheese and olive oil. Think: sweet and tart, biting and creamy — in perfect proportions.

Equally inviting as a starter is calamari with lemon and banana peppers, at al dente perfection; drenched in lemony butter, some bites are hot and some not.

Baby octopus with chick peas (ceci) and arugula is another special appetizer that's more redolent of the sea, with some whole chickpeas and some puréed as a sauce.

It wasn't on purpose, but in two visits neither of the parties I was with tasted tomato sauce. It's there, on many of the pizzas and some of the pastas, but the secondi piatti tend toward seafood and chops. We enjoyed whitefish topped with a thick tomato compote and a zuppa di pesce, chock full of tiny scallops, clams, mussels, shrimp and calamari. The best seafood dish, though, was the lobster ravioli with saffron, in a mild cream sauce that lets you taste the lobster.

Another night I ordered braciola di maiale Valdostana — three pork cutlets pounded thin and rolled with prosciutto and fontina. It's very rich, as you might expect with two types of pork, and the creaminess of the cheese is a bonus. The three rolls may look small in scale, but together with a crisp-edged polenta and lots of luscious sauce, they're plenty.

Thin pizzas include a Nutella with strawberries and the Americana (yes, with pepperoni. This is the only pizza in which the mozzarella is supermarket-style rather than fresh, and my imagination has it on the menu grudgingly — except that Cutraro is too welcoming to begrudge a guest anything).

We tried the Pizza alla Saad, which uses sun-dried tomatoes in addition to San Marzano tomato sauce — the tomatoes' sweetness perfect with salty black olives. And "Pizza Pear" just barely cooks the pear slices and pairs them with their traditional partner, Gorgonzola.

I am amazed that I came away without ordering pasta, as no one likes the mouth-feel of pasta more than I do. It was just that everything else looked so good too. Cutraro recommends the lasagne with grilled eggplant, peas and eggs or the pappardelle with Marsala and mushrooms. I've got my eye on the rigatoni alla Norma, also with grilled eggplant, and there is spaghetti with a simple tomato-basil sauce for the timorous.

Desserts include chocolate cake, tiramisu and a pineapple with Chantilly cream, or an assortment of cheeses chosen by Siekierzynski. We loved a chocolate semifreddo — half-frozen mousse studded with pistachios and chocolate bits — and a vanilla cheesecake wrapped in pistachios. Don't mistake this cheesecake for New York-style, which is tarter; in this one, the vanilla smooths out the edges and makes it feel richer.

Perhaps my favorite find of all was a new vino rosso to love: Zabu Nero d'Avola from Sicily, Cutraro's most popular, just $29 a bottle. It's full of the brightness that characterizes the whole da Luigi project.
A final word: In a blog not long ago, I griped about restaurants that don't tell you the prices of specials. Not a problem here. They can roll trippingly off your server's tongue, I promise.