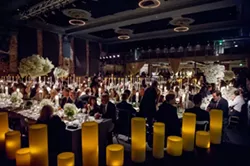 Get your foodie fix, while supporting a local cause during the "Tour de Fork event, Sept. 18 at the Garden Theater in Midtown, a fundraiser for The Childrens Center. Microbrews, craft cocktails and several local chefs and restaurants will be participating. Among them will be Jake Williams of Filipino popup Sarap, Le Petite Zinc, Slows to Go, Bologna Restaurants, Chef Jeremy Kalmus of Rock n Roll Caviar and Drive Table Tennis Social Club.
Money raised will support The Children's Center, which provides mental and behavioral health services to 7,500 people each year.
Guests will have a chance to vote in the inaugural Forkie Award, designed to acknowledge the tastiest food of the night. The evening also includes a raffle, in which dinner at popular dining spots, dinner for six prepared by one of the evening's chefs, and gift baskets filled with local food and drink will be raffled off.
Early bird tickets go for $65, which includes open bar, food and parking. Tickets go up to $85 Sept. 8. For $150, you can purchase a benefactor ticket, which includes a private reception with early access. Tickets and reservations can be purchased by by calling (313) 262-1085 or online at www.thechildrenscenter.com/tourdefork.