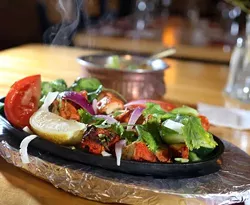 Touch of India
297 E. Maple Rd., Birmingham
248-593-7881
touchofindiacuisine.com
Handicap accessible
Entrées: $8-$12
Open 11:30 a.m.-2:30 p.m. and 5:30-10 p.m. Monday-Friday, noon-3 p.m and 5:30-10 p.m. Saturday-Sunday.
In a pricey stretch of Birmingham real estate sits a diminutive sliver of an Indian restaurant. Café Via and Social Kitchen lie in the same block, raising questions about how the owner of the (relatively) modest Touch of India affords the lease. I wasn't rude enough to ask, but let's take advantage while it lasts.
Touch of India, operated by Eftikhar Ahmed since last year, was once a Middle Eastern spot. Now pretty wooden tables sit alongside the kitchen that runs two-thirds the length of the narrow restaurant; walls are ochre and a soothing blue.
"There are some really good Indian restaurants," Ahmed's website graciously acknowledges the competition. What makes Touch of India stand out a bit among many northern Indian spots is its large number of choices (though most Indian menus are long) and in particular the number of goat options.
Not a specialty item with a couple of entries, here goat is given its own list alongside the chicken, lamb and seafood lists and the tandoor and biryani options, six different preparations. We tried medium-spicy sagwala (spinach) and mild rogan josh, both bursting with a cornucopia of flavors. Waiters warn the diner in advance that the goat is bony, but that's a good thing: stewing meat with the bone in deepens the tastes.
Admittedly, the strong spicing of Indian cooking tends to hide the unique flavor of goat, but there's a way to look at that as a good thing: if you're squeamish or uncertain, you can get the nutritional value without going out of your comfort zone. Goat is lower in fat and calories than its competitor meats and poultry, and higher in iron. (You may be surprised to learn, as I was, that there are a million goats in the United States being raised for their meat, and another million for their milk.) Ahmed gets his at an Indian grocery in Warren.
Other goat choices are curry, shahi korma (creamy sauce with nuts), karahi and vindaloo.
But back to the basics: Ahmed offers four lassis, including a rose lassi, and also rose milk, which is made from a syrup available at Indian groceries. Old-standby mango lassi is a generous size and on the sweet side. Indian spiced ice tea is complex and refreshing.
Of 11 breads, we tried only roti, which was a mistake; leavened naan is always more delicious than the plain, unleavened roti. Other options stuff various types of bread with nuts, fruit, potatoes, lamb and paneer (farmer's cheese).
Among the starters we liked best a creamy mulligatawny soup, a gorgeous gold flecked with emerald. Veggie samosas sported an excellent crisp and thick crust, but veggie pakoras, supposedly mixed, were too all-alike, with any vegetable flavors well hidden by the fritter crust. The slice of eggplant in an eggplant pakora, for instance, was too thin to make a difference. The green sauce that comes with is first-class, though — cilantro, mint, yogurt. It starts off cool but there's a lingering kick from some ginger.
Fish curry was unexciting, just hot. But lamb shahi korma, a tiny bit sweet, lived up to its name (shahi means "royal"). Ginger chicken kebabs from the tandoor, brought sizzling to the table with crisp onions and broccoli, were a slightly disconcerting green, but that was, of course, the entirely appropriate herbs.
"Special Chicken Biryani" comes with a cucumber raita and a hard-boiled egg and is appropriately fluffy (the rice, not the egg). I may have liked most, after the goat, a very slightly smoky baigan bharta, eggplant baked, with tomatoes and a host of spices, to the consistency of nursery food.
One is often too full to order dessert after an Indian meal, but this, dear readers, is why you should take part of your entrée home so you'll have room. Seven choices at Touch of India include a creamy rice pudding, cheesecake (burfi), sweet carrots cooked within an inch of their lives (gajrala) and other very sweet cheese concoctions, all for $2.49 or $2.99.
Readers may be most tempted by the $7.99 lunch buffet, but could also consider Touch of India for a relatively quick pre-movie dinner. The Uptown and the Birmingham 8 are around respective corners, and there's free parking on Ferndale Street nearby. No alcohol.
Jane Slaughter dines for Metro Times. Send comments to [email protected]