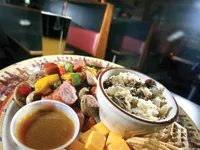 The days of your local bar carrying one brand of so-called "old man" beer are over. Today, even the skankiest joint will usually carry a tap of American craft beer or at least a fuller flavored offering from one of the three megabreweries. Then there are the places that really care about serving a fine beer. Just look behind The Berkley Front's bar to see their large whiteboard catalog of 42 beers on draft. If for some reason you can't possibly find anything you like on tap, peruse more whiteboards for a bottled beer — there are approximately another 80 to choose from. It is one of the best selections of beer in a bar in metro Detroit.
It's one of the best because the Berkley Front — or simply "The Front" as it's tenderly dubbed by the many regulars — doesn't just fill its list with the standard brands and their low-calorie equivalents for the sake of numbers. It's an exploration into beer culture. You can sample historic German beer, spicy Belgian strong ales, malty British ales or any of the variety of Michigan-brewed beer from large breweries like Bell's to the small-batch products of Leelanau Brewing. They even offer some modern beers traditionally cask-conditioned and poured from a hand-pull.
Not quite as extensive as the beer list is the food menu. Begin with an appetizer plate of cheddar cheese, crackers, bratwurst and knockwurst. It comes garnished with sautéed green peppers and onions, sweet mustard and mild house-made sauerkraut flavored with raisins and spices. Not a revolutionary dish but certainly a refreshing change of pace from the standard starter of chicken wings, though the Front offers those as well.
Specialty sandwiches and burgers dominate the menu. It's somewhat fashionable pub fare with a few vegetarian choices and salads. Everything is well-made. Where applicable, you can select from heartier breads such as pumpernickel and rye. We opted for rye on the "deli king" sandwich. It came out warm and nicely toasted with a gooey slice of melted Swiss cheese over a pile of roast beef, quite satisfying with a light but flavorful Reissdorf Kölsch. The crunchy fries were finished with a full-bodied Baltic porter brewed by Okocim that had enough strength to soften the edge of everything. The fries are medium-cut and well worth the extra $1.50 as a replacement for potato chips.
For those whose tastes run Tex-Mex, there are quesadillas, burritos and fresh guacamole. And there's almost always a dinner special, most recently pork tenderloin with mashed potatoes and gravy. The beer enthusiast could easily spend a long time at the Front, sampling different beers and foods, pursuing the ideal pairing. For instance, an ordinary plate of onion rings is transformed by deep sips of subtly sweet and smoky Belhaven Scottish ale.
While the food is honest and the beer selection is exceptional, otherwise the Front is a lot like your classic neighborhood bar. Lighting is provided by a few weak ceiling lamps and a cluster of caged, colored lamps over the bar, and it is generally absorbed by the dark, wooden booths and tables. Some diners may be put off by the odor of cigarette smoke fixed into the furnishings. The wall decor consists of beer-related posters and mirrors, naturally, and several large flags hang suspended from the ceiling.
Good beer and good music complement each other, and you'll often find the same quality and diversity that goes into a beer list will exist in the jukebox. The Front is no exception. Your quarters will buy songs from Stereolab to Sinatra and just about everything in between — and beyond. It's as eclectic as the laid-back happy-hour crowd draining its glasses of draft beer 50 cents cheaper between 4 and 7 p.m.
If it's live music you're after, the Dean Martini Lounge is upstairs and open every Thursday, Friday and Saturday with acts ranging from indie-rock to bluegrass. Lesser-known local talent often gets a shot too. Unfortunately, if you want a draft beer you'll have to haul it yourself from the downstairs bar. The Dean Martini lounge is liquor and bottled beer only.
The Berkley Front calls itself an "American beer garden." It's the type of place where longtime customers become employees. Where you go to meet your friends and shoot a couple games of pool, laugh and listen to some tunes over pints of just about any style of beer you might desire and a plate of good, warm food. In other words, it is your corner bar and grill, only better.
Todd Abrams dines for Metro Times. Send comments to [email protected].