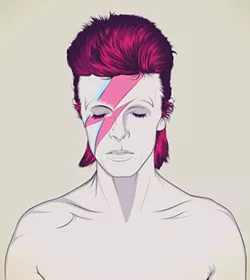 Old Miami wants us all to remember the man who shaped so many of our outlooks as outsiders, freaks, and pretty things by throwing an epic dance party, starting at 9 p.m. tonight.
"It's cold outside and Bowie Died. Let's remember this (magnificent) Space Man properly! Let's Dance!"
Guests are invited to dress up in their favorite Bowie attire, and jam to his best tunes. Photographer Mar MNZ will document the festivities, and there will also be movie screenings throughout the night of Bowie's foray into film, including The Labyrinth, The Man Who Fell to Earth, Ziggy Stardust and the Spiders from Mars, and more.
The dance party/tribute comes a day after the legendary performer died following a lengthy battle with cancer at the age of 69, and just three days after he released his 25th album, "Blackstar," that has already been met with strong reviews.
For more on local reaction to the iconic singer/performer/space man's death, we urge you to click over to colleague Mike McGonigal's piece, in which he's collected
initial responses via social media by artists from Metro Detroit.
UPDATE: We're sure the tributes in various forms have been taking shape all day, all over town. We just got word that La Feria tapas bar, also on Cass, is screening The Labyrinth now as we speak. Great timing, for those of you who want to grab a bite to eat, with the hum of the cult classic in the background and then head over to Old Miami for the dance party. Or maybe small plates from Selden Standard are more your taste. That's cool, too, because they've been blasting an all-Bowie playlist all day.
Any other bars or restaurants who are saluting Bowie today or coming up? Let us know at
[email protected]
, we'll be glad to keep adding to this running list.