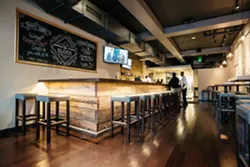 All too often it seems that when reading national publications about the city's rise as a culinary destination, misleading words like
"mecca" and "oasis"
get thrown into the conversation. We cringe, we blog/whine about it, and we wonder to ourselves why aren't these journalists taking their time to ask locals (who don't necessarily have a financial stake) what they really think about the local restaurant landscape.
Which is why we were more than taken aback (in the best way), when low and behold, we got an email from a producer at Al Jazeera America, who was interested in hearing our thoughts on the food beat. They weren't interested in the hype or rehashing what others have covered in recent months.
Instead, when we met with the producer and a reporter at The Block in Midtown, they wanted a more nuanced discussion (well, as nuanced as a two-and-a-half minute TV news story can be) about where the city is in terms of its renewal and what that means for aspiring restaurateurs and chefs, oh, and the impact this change is having on actual Detroiters.
We don't want to give too much away, and instead encourage you to take a look at the segment, which we're told will air at 7 p.m. today on the cable news network's station (check your local service provider for channel details).