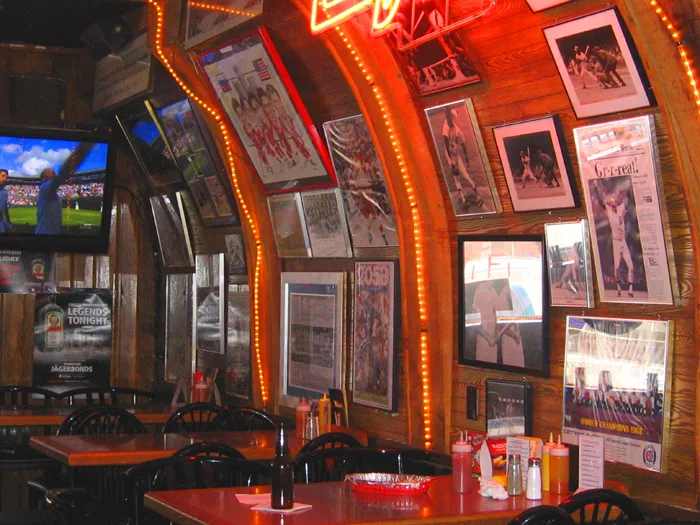 Tommy's Detroit Bar and Grill
624 Third St., Detroit
313-965-2269
tommysdetroit.com
Open 11 a.m.-2 a.m. Monday-Friday, 4:30 p.m.-2 a.m. Saturday
Found on Third Street, just a few blocks away from John King Books and directly across from Wayne County Community College, Tommy's Detroit Bar and Grill is, one can tell, a relic of the old days of Detroit. The dark brown building stands out from the saplings that have been recently planted along the street, an ancestor among descendants.
With parallel parking available just across the street, we feed the meter and leave the sunny afternoon behind to head in.
It's oddly cozy inside, even with the cast of red lighting via the Pacifico's sign that's hanging above our table. The walls are wood paneling, harking back to the '70s, or the '90s does the '70s — or whatever. It's dark, except for the low lighting coming from the domed ceiling fans and gold robe lights. It was lunch time, around 1 p.m. and there were some businessmen in, chatting animately. It is, after all, Friday.
"This is my first time, too" says a lady sitting behind us. "The burger's good. Really good." We're eyeing the fries.
A bartender quickly approaches us and informs us that, much to our dismay, the don't carry High Life, but Miller Lite, Coors, and Pabst Blue Ribbon are all available. Of course, PBR.
Checking over the bar, there's a small selection of taps, maybe six total, most of which are national brands: Blue Moon, Leinenkugel, Bud Light, Killian's, etc. Saugatuck, a Michigan craft, is on tap, though. Behind the bar, there are myriad liquor bottles. Stoli, Captain Morgan, we even spot a bottle of RumChata.
The bartender scoots off quickly, returning with my beer and then taking off again, delivering food and drinks to other guests. The service seems quite fast.
The decor might be described as eclectic, but mostly it's just sports memorabilia mixed with a slowly turning disco ball at the center of the bar and a few neon beer signs. Whitesnake is playing on the radio, followed by Starship's "We Built this City."
We're in love.
A sign on the bar reads: "THE TOTAL CAPACITY 49." It's a small place and there as many TVs as tap handles, and all of them are playing sports, in keeping with the bar's sports-heavy decor theme.
"It's a cute place," the lady behind us pipes up again. "It's the kind of place I'd want to come in and have a beer and hang out."
We browse the little card stock menus that are left on the table for guests; it's mostly bar-centric food. Fried appetizers, hot dogs, BLTs, and patty melts. We've heard great things about the black bean burger and the "Better have an appetite" andouille sausage, but we request a giant order of fries from the kitchen instead. They arrive approximately eight seconds later.
The phone rings continually and we can hear the cook talking about the menu, reporting the day's specials and taking carryout orders. Several people are in for lunch, some construction workers, two sets of business people, and a suited gentlemen who saddled up to the bar and ordered a double before even sitting down. It seems like a neighborhood joint, the kind of place people frequent, except the talkative lady behind us.
Friendly and unpretentious, Tommy's stood the test of time for all the right reasons: good service, cold drinks, and Detroit authenticity.