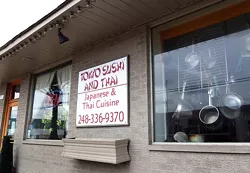 Tokyo Sushi and Thai
1225 Woodward Heights, Ferndale
248-336-9370
Handicap accessible
Open 11 a.m.-10 p.m. Monday-Friday, 11 a.m.-11 p.m. Saturday, noon-9 p.m. Sunday.
Local restaurant chain Tokyo Sushi, with established locations in Auburn Hills, Commerce Township, Oxford and Royal Oak, has recently decided to try its luck in Ferndale. With a young and more budget-conscious demographic that nonetheless has eclectic tastes, Ferndale could be a great fit for an affordable sushi joint. However, it remains to be seen if its somewhat out-of-the-way location, on Woodward Heights just west of Hilton, is conducive to the crowds it hopes to draw. There has been much turnover at that spot; most recently, it was home to Pete's Broadway Café (aka "Pete's Place"), open only a few short years.
After Pete's departure, the owners of Tokyo sushi wasted no time getting things up and running. Upon entering, the first thing we noticed is that the interior is basically unchanged. The two main differences were the installation of a cutout window and sushi bar, and the replacement of the Broadway show posters that adorned Pete's with standard-issue sushi identification posters.
The most striking thing about Tokyo Sushi for a first-timer is the sheer size of the menu and quantity of menu items. In addition to the "regular" menu, which includes four pages of Japanese food and two pages of Thai food, there is a separate sushi menu with another four or five pages of specialty sushi rolls. Our server had to return three times before we had decided on a plan of attack, and, even after ordering, we had lingering feelings of uncertainty. Wanting to sample a diverse selection of what the restaurant offered, we tried a couple appetizers, a sushi roll, and two noodle dishes, a yaki udon and a Thai curry noodle. A note to diners who may want to pace their meal: We advise holding off on ordering and control the pace yourself; although we ordered the noodle dishes after the other food, they came so quickly that we were forced to choose between abandoning our appetizers or letting our noodles get cold.
Gyoza, made in house, is assertively seasoned with scallions and ginger. Although the menu says they are pan-fried, their crunchy, bubbly surfaces indicated a dip in the deep fryer. The light soy-based sauce that accompanies them, as well as the tempura we ordered on another visit, is lacking in flavor, but both the gyoza and tempura themselves are well executed. Tempura has a light, crispy coating that isn't greasy.
Specialty sushi rolls use lots of American ingredients like cream cheese and avocado, and there are plenty of tempura or otherwise cooked options for folks who cringe at the thought of raw fish. The specialty rolls are quite wide and rolled rather loosely, so don't expect to be able to eat them in one bite; they also tended to fall apart when we attempted the use of chopsticks, so we found ourselves messily eating them with our fingers. Not impossible, but maybe not great first-date fare. For traditionalists, all of the "standard" types of sushi rolls and sashimi are also available. One dining companion rightly noted that the sashimi slices were generously portioned compared to other local sushi restaurants. One disappointment was that the Benz roll we ordered lists crab as an ingredient, but is actually made with surimi, a pressed fish composite (often referred to as krab or crab stick). Other than this inaccuracy, we were pleased overall with our sushi selections.
If you're looking for more stick-to-your-ribs fare, the noodle dishes offer a dose of carby goodness. Udon noodles are thick, chewy and satisfying, and the sauce on the yaki udon had just the right amount of subtle sweetness. Unless it's specified in the description, don't go looking for much in the way of vegetable with these; dishes described as including vegetables came with a token amount of shredded cabbage and carrot, but that was it. This might be a selling point for some veg-o-phobes who don't want anything getting in the way of their meat and starch, but I found myself wanting to take my noodles home and add a copious amount of something green.
A favorite dish was the tako su, a cucumber and octopus salad. A generous portion of thinly sliced miniature cucumbers is marinated in a light soy and vinegar dressing with a subtle note of spice (white pepper?), and white and black sesame seeds; fat slices of tender octopus sit on top. It's large enough to share, but so addictively good that you may not want to.
Service was friendly but strange on one occasion; although we were one of only two tables, we felt oddly rushed by our server. Another visit, on a busier evening, proved to be a smoother experience. Unlike some Japanese restaurants, Tokyo Sushi does not offer green tea gratis, but it is available, along with Thai iced tea and soft drinks.
Despite the location's turnover, Tokyo Sushi may flourish there, as it has some key things going for it: easy parking in an attached lot, good prices and portion sizes, and a menu that should contain something to please almost every diner.
Noelle Lothamer dines for Metro Times. Send comments to [email protected]