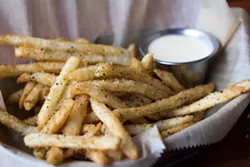 Today marks
National French Fry Day
, yet another made-up, yet delicious excuse to succumb to your starchy cravings. Detroit is a beacon for all deep fried and greasy sides as they go great with a Coney, shawarma or slider - all Motor City fast-food staples. In commemoration of this ode to the
frite,
we're giving you a quick run-down of where you can find some of the best fries, poutine and tots in the area.
The Pomfrites: Cadieux Cafe
When celeb chef and TV personality Anthony Bourdain made one of his early stops in Detroit, it was the
pomfrites
from Cadieux Cafe that he chose to profile. The added touch are the sauces they come with for prime dipping.
Poutine and Tots: Rock City Eatery, Campau Tower
At RCE, try Nicole's Poutine, made with duck confit gravy and cheese curds. She also does a breakfast-style variation, with sausage gravy and a fried egg. At the Tower, indulge in some tots, a classic, Midwest take on regular fries.
The Newcomer: Cornerstone
This new downtown spot takes loaded potatoes to heart with these frites that are covered in Parmesan cheese, herbs, bacon, scallions and truffle crème fraîche.
Thickest of thick cut: Gold, Cash, Gold
The fries done out of chef Josh Stockton's Gold, Cash, Gold in Corktown are actually savory, thick, potato-ey logs, made all the more better with his pickled mayo dipping sauce.
Value meal: Green Dot Stables
With all menu items at $3 or $4 apiece, you can afford to add on these thinly-sliced fries.
Garlicky shareable: Mercury Burger and Bar:
Split a shareable order of these thickly-cut and garlic-seasoned numbers with a burger and boozy shake.
The The Veggie Poutine King: Brooklyn Street Local
If you're craving the "feel" of poutine, without the meat, go for the vegan variation here, made with mushroom gravy and daiya.
Crack Fries: HopCat
These beer-battered fries are doused in a so-called secret, addictive blend of salt and seasonings, thus the crack moniker.