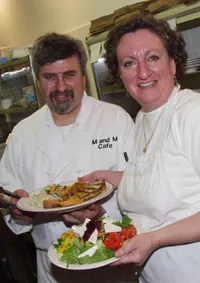 Here's an experience typical of the M&M Café: My dining companion asked what the restaurant did to the grilled shrimp to make it so good. Chef Maurice Lteif not only came out of the kitchen to explain the recipe, his wife and co-owner Elaine presented us with a bag of the spice mix necessary for the marinade.
M&M has always been an extreme version of the "everybody knows your name" philosophy; up to 75 percent of the customers are regulars, greeted by name. One night near closing time I overheard the waitress informing Elaine that "Doug H___ is on his way — he called and asked if it was too late and I said no."
For years, all this tender loving care was dished up, along with great food, from a tiny diner on Michigan Avenue. Now the café has moved a block west, to much more spacious and attractive digs. One wall is the color of squash soup; another is pumpkin. During the six-month hiatus, the regulars say they "starved."
M&M is the only restaurant I've been to where the help feels free to comment on the amount of food I'm ordering: "All that? You must be hungry." They must like the place too, since all of them came back after six months out of work.
Nice will only get you so far, however. The quality of the food must be at least half the reason the people keep coming back to M&M.
The menu is a mix of American and Lebanese: hamburgers, chef salad and turkey sandwiches, grilled kafta, hummus and laban. The mixed grill is chicken kebab and shish kafta. All the Middle Eastern dishes are carefully explained on the menu. The plate of pita comes with butter.
Maurice does equally well whatever continent he's cooking from. The grilled shrimp, for example, is marinated in olive oil and Alcamo's Sicilian spice mix, then grilled with scallions, garlic and lemon. It's served with a lightly curried rice with lots of vegetables. This is an $8.95 special, and divine.
Just as good is a garlicky, buttery lemon chicken topped with thinly sliced mushrooms and served with rice pilaf.
Vegetarians are well cared for, with a stir-fry or, my favorite, grilled vegetables, hummus and rice. The veggies' crispness quotient is no less than perfect, and the grilling brings out their flavor. This dish is $7.25; for 70 cents more you can add chicken kebab or shish kafta.
The lunch regulars eat their kebabs or kafta in sandwiches for less than $4, or charbroiled chicken or a tuna melt. Elaine makes at least two soups each day, including a heavenly bean on Fridays. The three types of bean are firm and well-spiced. Chicken barley, cream of tomato with basil, lentil, chicken rice, cabbage beef and split pea rotate as well.
For dessert the rice pudding is lemony and very large.
Payment is on the honor system — you tell Elaine what you ate and she rings it up. "I get money in the mail," she says, "from people who all of a sudden remembered something."
M&M is open only 11 a.m.-7 p.m. Monday-Friday, so that Elaine and Maurice can always be there.
Jane Slaughter dines for Metro Times. E-mail [email protected].