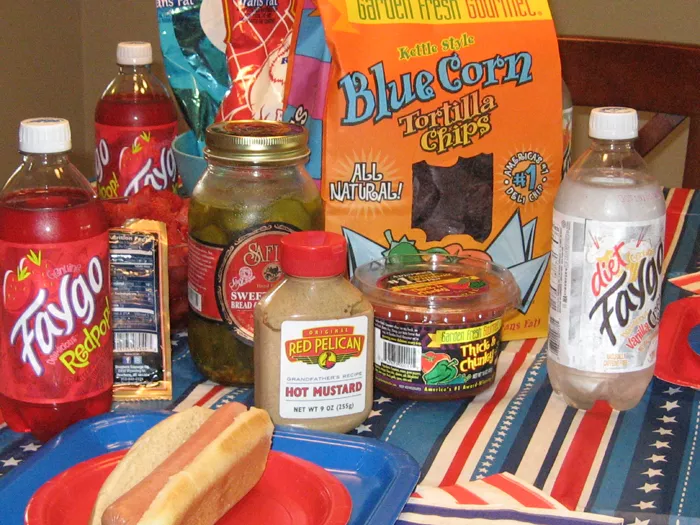 The Fourth of July is upon us, and chances are you're going to be grilling and drinking in the great outdoors. While you can run to any old market and pick up any old bag of franks and buns, we suggest going for a more local theme. With a host of great products — both old and new — being made right here in Michigan, there's no reason to shop out of state for everything you'll need to throw a delicious Independence Day party. Here are a few foods and products we love that complete the picture for a Michigan-made day.
SNACKS:
Better Made Chips
Detroit just so happens to lead the country in potato chip consumption, and Better Made chips is just one (if not the best, in our humble opinion) of the great brands made here in our city. Whether it's the classic Original, Barbeque, Red Hot, Salt & Vinegar, Sour Cream & Onion, or one of their myriad other flavors, serving up a great big bowl of Better Made is always a hit, especially on a holiday as American as the Fourth of July.
Garden Fresh Chips and Salsa
Remember: Snacks are very important for a successful party, and a good, solid tortilla chip served along side a tasty, chunky salsa is also essential. Made locally, Garden Fresh chips and salsa fit perfectly into your completely Michigan-sourced party, plus they're also made in a manner that's superior to many bigger brands. Using whole corn rather than cornflower and real volcanic stone to grind that corn into mash, these bright orange-and-yellow bags, coupled with a bright red pot of salsa, will surely be appreciated by your guests for their authenticity and deliciousness.
Good People Popcorn
Not all snacks should be salty and savory; treat your guests instead to some Detroit-made Good People Popcorn. The ladies of this Greektown storefront pop all their popcorn in-house and coat it with the sweet flavors of chocolate, cinnamon, brown sugar, caramel, and apple pie. We speak from experience when we say this stuff is addictive. Plus, it comes in a pretty tin, so you don't have to worry about what you'll serve it in.
FOOD:
Dearborn Hot Dogs
A well-done dog, made brown on the barbecue, is a pleasure many Michiganders look forward to all winter long. Serve your guests a Mitten-made frank with natural casing for that special "crunch," or go with a pack of skinless dogs. Either way, you and your guests will enjoy the franks produced by the Dearborn Brand, a company that's been around for nearly 70 years. All of Dearborn Brand's dogs are gluten-free, plus, a 24-pack of wieners rings in at just $13.
Metropolitan Baking Co. Hot Dog Buns
Another one of Detroit's historic brands, Metropolitan Baking is the same bakery to produce buns for National Coney Island, American Coney Island, Lafayette Coney Island, and Leo's Coney Island, plus bread products for Big Boy, Tubby's, and Chicken Shack. Around since 1945, Metropolitan also has over 150 other types of bread products, so you can think of them for all your carbohydrate needs. You can pick up an 8-pack of 6-inch buns at a variety of Spartan Stores, as well as the Meijer at 8 Mile and Woodward.
Achatz Dutch Apple Pie
What's more American than cherry pie? Achatz has been crafting old-fashioned pies in Armada for the past two decades or so, using locally grown fruit, along with flour, sugar, and dairy purchased from local farms. A tender, flaky crust is complimented by fresh and natural fillings, making for an extra delicious pie that's the perfect end to a Fourth of July meal. Since they run around $15 a pie, you might want to save your Achatz pie for a smaller shindig, where your guests will surely appreciate the fine quality of this Michigan-made confection. Find Achatz pies at Whole Foods, Hiller's, Kroger, Plum Market, Westborn Market, and other local retailers.
CONDIMENTS:
Red Pelican Hot Mustard
Although it rings in at about $5, this stuff is delicious and packed full of nostalgia. You can pick up a jar of Red Pelican at Hollywood Market. The regular variety of mustard is available as well, but if you're looking to pack a punch of horseradish with the wistfulness of days gone by, a can of Red Pelican will surely do the trick.
M-Salt
A blend of salts, herbs, and spices, M-Salt comes from a traditional Grand Haven family recipe. Pepper your meats and veggies with this mix or use it to season your salads and potato salad; chances are your guests will love it. A 5.5-ounce shaker is $8 and can be found at Westborn Market.
Cherry Republic Cherry Ketchup
Sure, this baby rings in at $8 a bottle, but doesn't the pure novelty of topping your burgers and brats with cherry ketchup make it all worthwhile? With headquarters in Glen Arbor, Cherry Republic has stores in Traverse City, Charlevoix, and Ann Arbor. Their products are also available online and at Berkley's Westborn Market.
Great Lakes Relish Company's Jalapeño Relish
Made in Augusta, this sweet-and-spicy relish will be the perfect topping to your Dearborn dogs. Using Mom's recipe, this little local company also suggests pouring it over cream cheese and serving it with crackers. Making this pickle-based condiment do double duty as both appetizer and wiener-topper will make your job as host that much easier. Find Great Lakes Relish at local specialty shops that focus on products made in Michigan.
Safie's Pickles
While we love this company's pickles, they actually make much more than just deli style dills. Beets, sweet peppers, asparagus, okra, and green beans are all in their wheelhouse. We suggest picking up a jar of old-fashioned bread-and-butter pickles for something sweet to add to a burger or frank. Made in Chesterfield for over 75 years, this company's pickles are affordable, delicious, and authentically Detroit.
BEVERAGES:
Faygo
Michigan's pride and joy, Faygo has been made in Michigan for more than 100 years. These sugary sweet drinks also offer a blast of color to any party. We suggest bottles of original red pop and cream soda to get a real American affect.
Beer
From Bell's Oberon to Griffin Claw's Gateway to Frankenmuth's Old Detroit Amber Ale to Founder's All Day IPA to Atwater's Dirty Blonde to other session beers made by other Michigan brewers, beer is an essential part of any Fourth of July party. Just make sure it's made here in the Mitten.
Michigan Ice Cubes
Surely, any ice cubes you make in your freezer could aptly be called Michigan-made, but why not show off our native freshwater supply by serving up ice cubes in the shape of our great state? Both the Upper and Lower Peninsulas are represented in the two-pack of trays that rings in at around $10. Pick up a pack at Westborn Market.