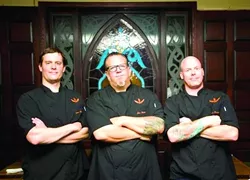 What does it mean to be hungry? Missing one meal a day? Missing every meal for a day — maybe more?
For many Americans, these are realities. The rising cost of housing and stagnant wages mean households have increasingly less money available to budget for food. Making a choice between buying groceries or paying the electric bill is something too many Americans grapple with. For many others, economizing while still putting food on the table often means depending on cheap, processed foods to satiate their caloric needs — as they're unable to afford "luxuries" like fresh produce, meat and dairy products, which are much more expensive. According to the federal government's own statistics, an estimated 50 million Americans now rely on some sort of food aid, whether it be federal or charitable assistance; often, it's a combination of both. As a reference point, the average food stamp benefit amortizes out to as little as $3 a day. And with numbers like that, it isn't surprising that the problem of proper nutrition can seem overwhelming.
Yet, as the proverb goes, necessity is the mother of invention, and for Detroit chefs Joe Nader, Scott Breazeale and Jacob Williams, that necessity inspired them to find a solution using the micro funding business model.
Nader, Breazeale and Williams have created the philanthropic chef collective Detroit 3. Nader and Breazeale were childhood friends, and Williams knew Nader from an American Culinary Federation (ACF) meeting in Detroit, where Williams taught a workshop on cooking healthy, affordable meals called "Cooking Matters." Nader began volunteering with ACF, teaching a six-week course.
At a meeting of the Michigan Chefs de Cuisine Association (MCCA), the three chefs discussed doing a pop-up event and the conversation continued at a bar afterward. By the time they had finished their first pint, the idea for the collective — as well as their first event's menu — were planned. The inaugural affair took place July 9, at St. CeCe's Pub, and the event raised more than $3,000. The group did a second event Aug. 8 at the Madison Building, raising funds for H.Y.P.E., a youth development organization in Detroit. The chefs say their plan is to incorporate Detroit 3 as a nonprofit and do at least one event every three months.
The Men of D3
Nader and Breazeale grew up together in Plymouth and both eventually moved out of state and headed toward the West Coast: Breazeale to Seattle and Nader to Southern California. Each would make his way back home. Today Breazeale is the executive chef at John D Bistro in Ferndale and Nader is the executive chef at Ford Field, cooking for as many as 65,000 people on any given game day.
"Right now in Metro Detroit there's a lot of negativity going on, but there's also a lot of people that are doing some cool positive things, and I want to be on that side," Breazeale says, explaining why he got involved with the group.
The Cooking Matters program changed all of the chefs' lives, but especially Nader's, altering everything from how he uses his free time, to where he focuses his influence as an executive chef.
Nader and a group of volunteers from the Cooking Matters program saw a screening of the documentary, A Place at the Table, which follows the lives of several families that rely on food assistance. The film really hit home for Nader. He, like one out of every two children in America, was on food assistance for part of his childhood.
"Looking back on my upbringing and thinking about the friends I grew up with, my friends were hungry," Nader explains, impassioned. "They didn't have behavioral problems, they were malnourished."
The documentary so moved Nader that he proceeded to work with Living for the City, the Lions' community outreach organization, to host a screening of the documentary at Ford Field, partnering with Gleaners, Wayne State University, Eastern Market and the United Way. The event raised about $2,000 for Cooking Matters, enough for one class of 25 people.
Nader and the Lions have since joined forces with Gleaners, Eastern Market, Playworks, Fair Food Network and the United Way for another project, run through Detroit Public Schools, called Meet Up and Eat Up.
Metro Times recently visited a Meet Up and Eat Up event where Nader showed a class how to make fruit smoothies. The kids at the event were excited about the items they had picked up from Eastern Market; many began eating the produce as soon as they came back to their tables, munching on apples, pears, berries — even vegetables.
"There's a call to action here, and that's to get out there and get involved," Nader explains. "If every chef that owns a restaurant or has a name in this town was to contact their local representatives and told them not to cut SNAP out of the farm bill, they're going to listen to these folks."
Williams has been involved in the food service industry since he was 15, cooking at hotels, restaurants and for the American Le Mans racing circuit. In 2010, he decided to go back to school and make all of that cooking experience official by earning a culinary degree at Macomb Community College. He also learned about the Cooking Matters program. After teaching a class, he was approached by Gleaners to work for them full-time as the Cooking Matter coordinator. He's been there ever since.
Williams says of the job, "When I get up in the morning if I'm having a good day or bad day, I know I'm helping people."
The program is run by a national organization called Share Our Strength. Gleaners is the program leader in Michigan. Each session is a two-hour class that meets once a week for six consecutive weeks. Students learn hands-on, basic cooking, nutrition and budgeting skills. Each class is co-taught by a chef and nutritionist, using a set lesson plan and curriculum that includes recipes and meal plans. Almost all of the classes are held at host sites, like community centers and churches, and are staffed by volunteers. Part of the funding for Cooking Matters comes from the federal government's Supplemental Nutrition Assistance Program Education, or SNAP-ed program. There are classes designed specifically for certain demographics, for adults, families, teens, people with diabetes, preschoolers, parents of young children, and students in third through fifth grades.
Looking at a small local part of a large national problem, the chefs of Detroit Three have come together with other small charitable groups to create a force that is greater than the sum of its parts — each making small advancements and building on top of the work of others to effect major change. They're not just satisfying individuals' hunger, but also getting their fill — of something greater.
Click here for more information on how to volunteer for Cooking Matters. A Place at the Table is now available streaming on Netflix. Watch the trailer here. Click here to visit the Detroit Three website.
Katherine Montalto is web editor at Metro Times. Send comments to [email protected]