Bogdon Vasquaf's life is filled with fond memories of Telway's hamburgers. As a kid,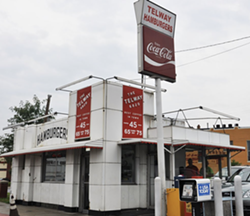 he and his father would cut coupons out of the weekly TV Guide that would get them ten sliders for $1.
During his high school years, he and his buddies would skip school and pick up sliders from the Michigan Avenue location. When he met his future wife, one of the first dates she suggested was "a little place called Telway," and, says Vasquaf: "It was love."
Now, at 59-years-old, he and his kids are familiar faces at the slider stands' two locations.
"Telway was always a part of my life," Vasquaf tells
MT
.
In fact, Vasquaf - a local musician - loves Telway so much that he decided to pen a song in honor of it several years ago. He heard through a friend of owner Earl Owens' family that they got a kick out of it.
These are the type of memories that people continue sharing since news broke on Tuesday that Owens
had died on Sunday
. We felt now is a good time to revisit the song, which Vasquaf recently reshared on Youtube, and he calls a tribute to Owens.