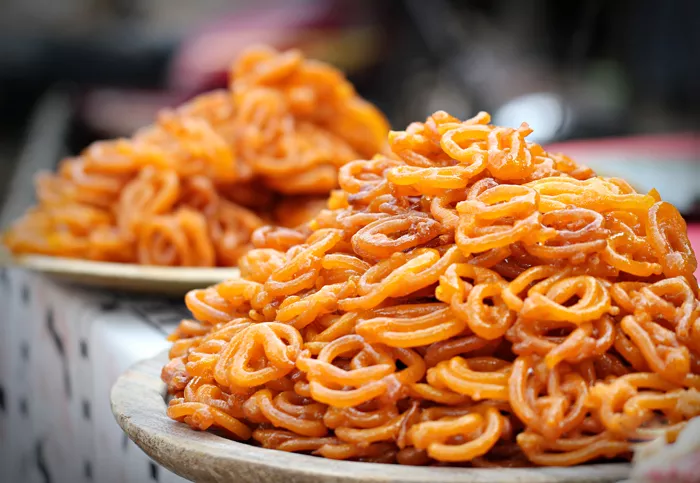 The burgeoning Bangladeshi Muslim population in Hamtramck has altered the face of Conant Street, breathing new life into this former Polish-American stronghold, with hundreds of Bangladeshi households centered on this main drag. A decade ago, this strip had been fading fast; now grocers, sari shops, and eateries line the street, where you're just as likely to hear the call to prayer as you are the city's ubiquitous ice cream trucks.
With the beginning of Ramadan on Saturday, June 28, a lull will settle over this district by day, as prayer and fasting dominate the schedule of most Muslims. But the kitchen at Aladdin Sweets & Café will be running full-tilt, churning out a seasonal delicacy that is in huge demand this time of year.
It's called jalebi, and it's a decadent indulgence rivaling fair food. One of the men making it at Aladdin will be Musharaf Chowdhury, the restaurant's co-owner.
Taking a break from the kitchen, Chowdhury, 43, tells us that Ramadan fasting begins around 4:30-5:30 a.m. and ends around 9:30 p.m. He says that, after a long day of abstaining from food, this toothsome treat, loaded with calories, is a favorite way to break the fast, or to enjoy as a rich dessert. Made of sugar and flour, strands of the mixture are hand-formed into circular or pretzel shapes and fried in oil. Any resemblance to a donut ends there. The simple dough expands quickly, producing a confection with a mouth-feel similar to elephant ears, but sticky and gummy with sugar, crumpling instead of shattering under a bite, dissolving on the tongue. You can see why a cup of tea and a plate of jalebi could be refreshingly restorative after fasting.
"In other months, I make it three times a week," he says. "But there's a lot of sales for Ramadan. The whole month, I can make it every day. Every day, 10 a.m. to 9:30 p.m., I'm running, continuously running, until 9:30 p.m., when everything's done, and people come in to buy them. Here, during Ramadan, people come in for jalebi first, then other food," he adds with a laugh.
That's when the place gets "crazy with people," he says, with customers stacked several deep vying for the holiday sweet. It goes for $5 for a 1-pound package, and he can sell between 300 and 400 of them a weekend,
"That's a lot of sweets," Chowdhury says. "Every week, I use a 50-pound pallet of sugar."