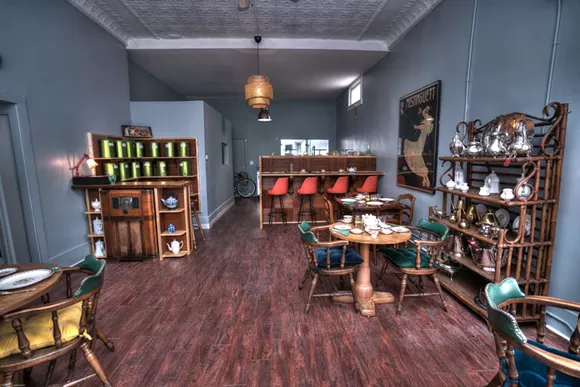 When Detroit bottomed out in bankruptcy several years ago, the city's story captured the attention of Eve de Castro, a French novelist living in Paris. Like many in and outside the city, she saw something in Detroit that's missing from most other towns.
"I kept looking at it online and there was all this energy
converging and people were trying to build something new. At that time, I wanted
something different from literature, I wanted adventure, so I sold my apartment and came here," she says. "The p
eople are fantastic and there's an energy that, unfortunately, we don't have anymore in France and Paris."
La Bohème, a soon-to-open French cafe at Kercheval and Parker in Detroit's West Village, is part of de Castro and partner Jean Jeannot's new course. The space is fashioned after Parisian cafes the pair left behind and specializes in breakfast, lunch, and a tea culture that they say doesn't really exist in Detroit.
While kitchen space/equipment is limited, some items, like salads, crepes, and soups will be made in house, and La Bohème will serve Great Lakes Coffee. The quiches, chocolate, pastries, and "fantastically beautiful cakes that look exactly like those we have in Paris's elegant shops" will be made and delivered by Matt Knio, a French-trained baker and pastry chef from Birmingham's Canelle Patisserie and Hamtramck's Golden Wheat.
And de Castro is particularly excited about introducing to Detroit what she describes as the "philosophy" of tea culture. La Bohème will serve 12 varieties of leaves from the well-known Le Palais des Thés tea company, which trained the partners to teach others about tea.
"It's a culture and a away of life that can bring you peace," de Castro says. "It's a philosophy, really, a kind of zen attitude toward life. Learning to taste tea - it changes a little the way you look at life, and we would like to share that with Detroit."

Just as integral to the concept of a French cafe is art and literature, de Castro tells MT, and La Bohème will regularly hang local artists' work, host live music, and invite poets to the stage in the building's basement.

"We want to offer Detroit something French and build that bridge between Paris and Detroit. It's part art and literature, and part French way of life," de Castro says. "I think it's something unique for here."

La Bohème opens on Feb. 14 with an exhibit by photographer/metalsmith Darko Stojanovski. The public opening runs from 7.30 a.m. to 4 p.m., and the cafe will host a private party from 7 p.m. to 10 p.m.