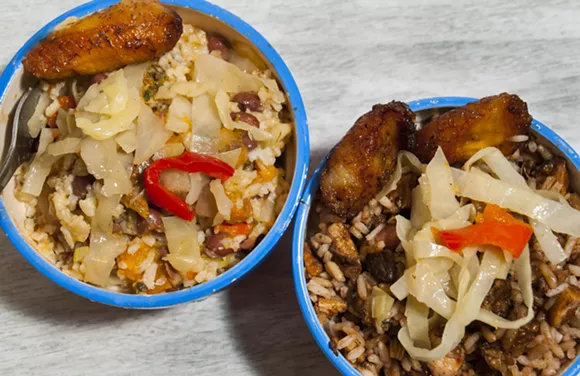 Stepping into Jamaican Pot's small carryout shop in a nondescript northwest Detroit stripmall puts one in a place that's a bit of a rarity in the city. On a recent Saturday afternoon, the restaurant's sound system pumped out reggae versions of pop hits like Cher's "Believe" as the aromas of Jamaican curried chicken and ackee and saltfish hung in the room.
But while Jamaican food is somewhat uncommon here, it's not for a
lack of a Jamaican population. Rose Forrester, the eateries' co-owner and chef,
tells me there aren't a lot of restaurants because, "We cook such good food at
home that it doesn't make sense to go out to eat."


Thankfully, Forrester, better known as "Mama Rose," decided
to start sharing her recipe repertoire with the rest of the city. She opened the
carryout-only location three years ago on Eight Mile Road just east of Greenfield, and
is one of a small group of northwest Detroit Jamaican restaurants specializing
in the country's dishes. There appears to be demand, if one judges by the crowded
lobby and Forrester's success. She says she started with $400 for ingredients
on the first day, her revenues skyrocketed over the next year, and she's
looking for a second location.


Like many at the restaurant on a recent Saturday afternoon, I
started at an obvious place on the menu: jerk chicken. It's glorious – one of
those dishes that inspires grunts of approval and widens eyes. Nothing articulate about the response,
but the best food under the sun renders one inarticulate. Unfortunately, my
attempts to pry secrets out of Mama Rose weren't successful. She would tell me
little about the recipe beyond that the chicken is marinated in lemon juice
with a blend of Jamaican spices, and she makes her own jerk sauce.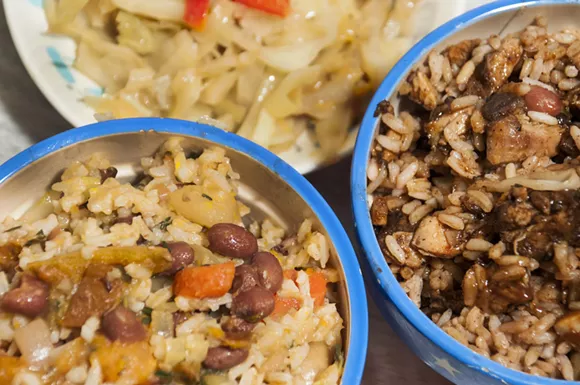 (See more photos from
Jamaican
Pot here.)

Ordered spicy, there's enough of a mean streak that the dish
will leave you with the sniffles, but the heat isn't unbearable. The chicken all
hits a grill instead of a pan, and each dish is prepared from scratch. Those are the kinds of approaches that separates good and great restaurants, so while
Jamaican Pot may have the appearance of a fast carryout spot, it's not.


"We don't rush to cook. We get in at seven, eight o'clock in
the morning, and we take our time with each order. This is not fast food, so even
if you only have two minutes, we're not going to rush," Forrester tells me.


Aside from the jerk and curry, the menu is heavy on thyme,
garlic, scallion, and ginger, some which is detectable in the Bob Marley. The vegetarian
jumble of red beans, butter beans, scallions, carrots, and other root veggies
soaks in an intense sauce that drenches a pile of white rice. The Marley had
the same effect on conversation as the jerk chicken.


Both dishes are accompanied by a surprisingly complex mix of
white cabbage, bell peppers, and onion that's lightly cooked for two minutes
with a blend of Jamaican spices. And though I'm usually no fan of plantains,
I ate them all. Forrester says she knows
the secret to selecting good plantains, which makes the difference.


There's a lot to love about Jamaican Pot, and its success
affords Forrester the opportunity to be charitable. Once a month, she sets up
on a busy street corner and offers free Jamaican meals for those in need,
serving as many as 45 dishes at each event. Beyond that, Forrester keeps a
$3.99 lunch special menu so most of those living in the neighborhood around the
Jamaican Pot aren't priced out of her cooking.


"That's for people who don't really have too much money, but
want to try (Jamaican Pot). We want people who never had the food before to be
able to get it. We want to help everyone we can," she says.


The Jamaican Pot is located at 14615 West 8 Mile Rd., Detroit; 313-659-6033; thejamaicanpot.com