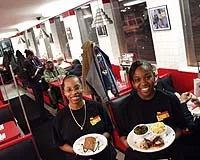 It's hard to argue about soul food, because sooner or later you're going to end up talking about somebody's mama. I, for instance, prefer the home cooking of the late Anne Smith Slaughter of Montgomery, Ala., to many (not all) of the side dishes at Mo' Beans & Cornbread.
You, on the other hand, may find that Mo' Beans executive chef John Arnold does it just like your mama did, or like you wish she had, or like you're sure she would have if she'd done catfish instead of gefilte fish.
Most of us retain a special feeling for those childhood dishes simply because that's what they were. Why else would I have begged for Anne's recipe for tuna fish-cream of mushroom soup casserole?
So if I report that Mo' Beans' hoppin' John is mushy and wet, you may respond in amazement, "But that's how it's supposed to be!" There's no accounting for taste or for home training.
Mo' Beans & Cornbread: A Soulful Diner is an offshoot of the highly successful Beans & Cornbread: A Soulful Bistro, three and a half miles away, the latter being the three-time winner of Metro Times readers' Best Soul Food in Oakland County poll. Its decor is bright red-on-white diner, with little jukeboxes in the booths, rather than the more urbane atmosphere of the parent restaurant. Framed vintage album covers cover the walls. The best: The Supremes A Go Go, plus a Life magazine cover headlined "Rock Stars at Home with Their Parents," featuring the Jackson 5.
Prices are a little lower at the diner than at the bistro, but are not like those of a diner; entrées with two sides (choose from 11) are $7-$16 at lunch and $10-$16 at dinner. It's packed with families on Friday and Saturday nights, and service, of the enthusiastic teenager variety, can be quite slow at those times.
Entrées include fried chicken, shrimp, pork chops and catfish. The catfish is delicately flavored (as this fish sometimes isn't) and very lightly breaded. Pork chops look overcooked — they double up on themselves — but are still tender. Choose the spicy baby shrimp, much more interesting than the plain variety. Chicken is OK but neither spicy nor memorable. Ribs are tangy and sweet and not spicy hot.
I'd almost forgotten about salmon croquettes, a blast from the past before fresh salmon was readily available. Mo' Beans' are savory, prepared like crab cakes — and they have a couple of strips of portobello draped across, a distinctly non-Mama touch.
The tiny sweet potato muffins and the wedges of corn bread that tide you over till the meal arrives are both excellent, the latter being the unsweet (but not dry) version of corn bread. Slather on Land O' Lakes.
Sides: My theory of green beans is you either steam 'em lightly or simmer the hell out of them (I mean hours) with a ham hock. Mo' Beans stops in between, and the beans are just not limp enough for soul food, with little sign of pot liquor. Same with the collards, though I find that in this case, contradicting myself, greens can benefit from not being cooked to death.
Generic baked beans, potato salad and macaroni and cheese will remind you of many a church supper.
Skip the gravy: You can't tell which animal it's supposed to be from. Try sweet potato fries, which are different, soft, sweet and not greasy.
The desserts ($4) at Mo' Beans are almost too good to be true. Sweet potato pie tastes like warm, golden sunlight, and you can ignore the modern, non-Mama dots of chocolate and strawberry scattered on the plate. The chef's twist on this old favorite, sweet potato cheesecake, is possibly even better, with a slightly caramelized brown sugar flavor as a bonus (innovation again: a little chocolate sauce underneath). Peach cobbler, served hot with vanilla ice cream, uses cinnamon to bring out the peachiness; it's ambrosia.
Jane Slaughter dines for Metro Times. Send comments to [email protected].