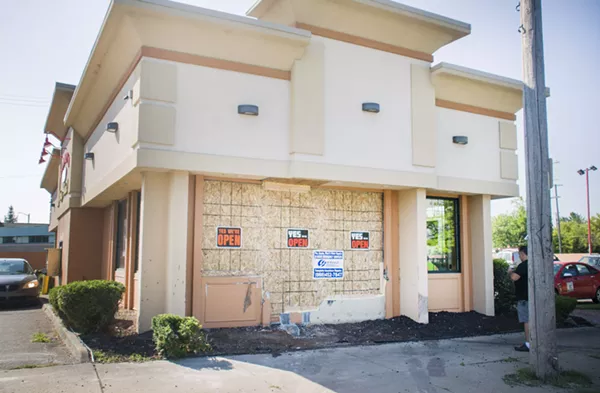 Thieves who are ramming vehicles into coney islands in the middle of the night, grabbing ATMs, and fleeing have hit as many as five metro Detroit restaurants in two months.
The latest incident occurred at 3 a.m. Wednesday when a white Silverado SUV rammed through a 24-hour Grandy's Coney Island at Holbrook Avenue and the I-75 Service Drive, grabbed the ATM, and fled.
Investigators said the suspects wore hoodies and face masks, and the heist took about three minutes.
Owner Mike Dedvukaj tells
Metro Times
the thieves got away with around $50 to $100.
"There's not much to say. They smashed in there, they took it, they left.
It's not worth what they got, that's for sure," Dedvukaj told us as he assessed his property's damage on Thursday morning.
Similar crimes were
reported
over the last 90 days at two
other coney islands
, and the company that owns the ATM stolen from Grandy's told
WJKB Fox 2
that it has had five ATMs stolen out of different coney islands in the same fashion over the last two months.
A Detroit Police Department spokesperson couldn't immediately confirm how many Detroit restaurants have been hit. We'll update this story when more information is available.
Dedvukaj's restaurant remains open and he's figuring out how to pay for the damages. He says the thieves are playing a dangerous game.
"Sometime they're going to smash into the wrong place and someone is going to put a bullet in them. That's going to be it," he says.
So many restaurants, so little time. Find out the latest Detroit dining news with our weekly food newsletter delivered every Friday morning.