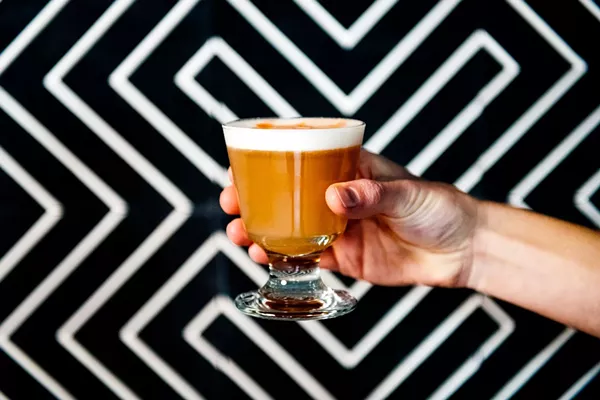 Kevin Peterson says Castalia Cocktails, a new craft lounge set to open in Midtown next week, is likely the first of its kind in the world.
He and his wife, Jane Larson, are the team behind Detroit's culinary-inspired perfume brand Sfumato Fragrances (pronounced sphoo-MA-toe), and last November the pair announced they'd open a flagship store inside a converted mansion on Second Avenue.
The store is now open, but the couple's concept won't be fully realized until Castalia has its first run.
The concept in and of itself is unique — the bar will offer "fragrant cocktails" based on the brand's eight signature perfumes. Peterson, a former engineer with roots in both physics and the culinary world, says specially formulated tinctures, juices, and other mixers will be made in-house and paired with both rare and locally made spirits to create flavor and scent profiles that match the perfumes.
Because Castalia is likely the first of its kind in the world — Peterson says he and Larson couldn't find any other similar concepts — creating the lounge has been a massive undertaking. Their ultimate goal is to create a "sanctuary for the senses" that will meld flavor, fragrance, and ambiance.
Castalia will employ the same space as the Sfumato flagship. By day the store will serve as a retail establishment, but at night it will convert into an 18-seat craft cocktail lounge where a pair of mixologists will whip up the unusual drinks.
Those drinks will run between $10 and $15, according to Peterson, and could be a little more pricey if the cocktail features a particularly hard-to-find booze.
Peterson says they'll kick things off by hosting ticketed events where patrons can get a feel for the space and what the lounge is offering. It will also give his team the chance to feel things out before opening the spot to the public. After the run of ticketed events, Castalia will be open from 6 p.m. to midnight Wednesday through Saturday.
Ticketed events run Wednesday, March 7 through Saturday, March 10 from 7 p.m. to 10 p.m. A $40 tickets comes with a flight of four small cocktails, one full-sized cocktail, and snacks. For tickets
go here
.
Sfumato Fragrances and Castalia Cocktails are both located at 3980 Second Ave., Detroit.