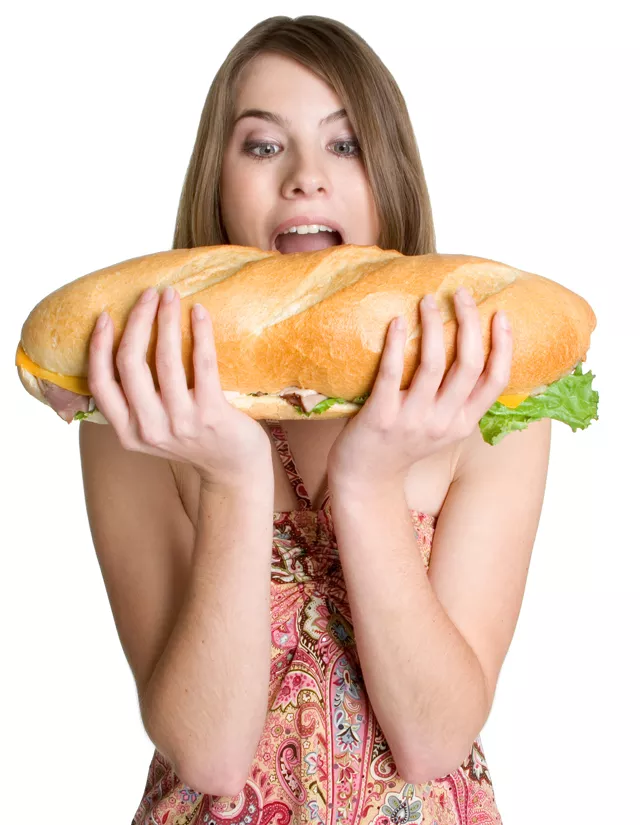 Al-Ajami 14633 W. Warren, Dearborn; 313-846-9330; $: Al-Ajami is comparable to a slew of other Middle Eastern restaurants in the area, but is much less expensive than most of them. Chef and co-owner Stephan Ajami offers more than a dozen seafood dishes. Also good are the chicken lemon, which combines grilled chicken and pilaf with vegetables doused in lemon butter, a terrific chicken rice soup, and a good lentil soup. Servings are ginormous.
Alcamo's Market 4423 Schaefer Rd., Dearborn; 313-584-3010; $: We asked our friends for tips on eating on the cheap, and our former photo intern Antal Zambo identified the ultimate turkey sub deal. He told us, "There's an Italian deli in East Dearborn called Alcamo's that serves up big turkey subs for $3," adding, "I'm kind of loath to give up this secret, but they're nice people — so I don't mind waiting in line." We appreciate it, Antal!
Amani's 13823 Michigan Ave., Dearborn; 313-584-1890; $: Amani's is a halal neighborhood place, across from Dearborn City Hall, that serves all the tried-and-true dishes of Lebanese cuisine that Westerners tend to order — hummous, kebabs, tawook, shawarma — plus some that deserve to be more widely known. Ever accommodating, Amani's also offers more standard items like hamburgers and chicken strips for the less adventurous.
Andiamo Dearborn 21400 Michigan Ave., Dearborn; 313-359-3300; andiamoitalia.com; $$: The Dearborn outpost of the Andiamo mini-chain is led by executive chef Mike Osinski, ever so lightly tweaking the old-line cuisine that's made Andiamo a regional success.
Bangkok 96 Restaurant 2450 S. Telegraph Rd., Dearborn; 313-730-8161; $: Open since 1996, this bright, warm space decorated with wall hangings and elephant imagery enjoys a steady stream of loyal dine-in and take-out customers. The menu boasts traditional Thai favorites such as gang gai, pad prik khing, pad almond, pad kra tiem and pla lad prik. The restaurant is located between Michigan Avenue and Oxford Street and is open 11 a.m.-10 p.m. Monday-Friday, noon-10 p.m. Saturday, closed Sundays.
B.D.'s Mongolian Barbeque 22115 Michigan Ave., Dearborn; 313-792-9660; $: This place gives new meaning to the term "open kitchen." As anybody familiar with the Mongolian way knows, you pick out all the various things you'd like to eat from a raw buffet, then give them to the skilled cooks, who turn it into a tasty stir-fry dish right before your eyes. It's very high energy on the weekends, and, best of all, fussy eaters always get their way.
Benihana 18601 Hubbard Dr., Dearborn; 313-593-3200; $$$: The theatrical dining experience that has made Benihana a household name, with chefs who turn cooking into a performance on their special grill tables. There are also booths for those who'd rather dine the traditional, a la carte, way. Excellent sushi too.
The Biergarten 22184 Michigan Ave., Dearborn; 313-561-7711; $: Part of a rapidly changing strip of Michigan Avenue on the west side of Dearborn, this family-style corner bar has a great beer selection for those brew mavens who investigate beyond what's on tap, including a good selection of bottles from Michigan. Expect beer specials, bar food, and a chance to shoot some pool.
Big Fish Seafood Bistro 700 Town Center, Dearborn; 313-336-6350; $$$: One of the Muer family restaurants, which now number 15 in seven states, Big Fish has a twin in Dearborn at 700 Town Center Drive. There's plenty of fish bric-a-brac about, some lovely, some kitschy, including a painting of fish chatting on the phone in the telephone booth. The menu is grand, filled with over-the-top seafood wonders, starting with the three-story "tower of shrimp" appetizer and moving up from there. Large cocktail bar.
Bistro 222 22266 Michigan Ave., Dearborn; 313-792-7500; $$$: Bistro 222's reasonable prices and stylishly retrofitted space are complemented by imaginative Californian-Italian cuisine. Starters ($7-$14) are highlighted by "April's crispy calamari," a mess of little cephalopod rings accompanied by a marinara sauce enlivened with red peppers, olives and garlic. Much of the fare is assertively spiced, such as the zesty and generous portion of bruschetta topped with tomatoes, onions and peppers, and small scallops sautéed in a tangy lemon-garlic sauce and artfully presented in three scallop shells. Lunchgoers can keep their meals relatively light by choosing among five individual pizzas, a dozen sandwiches with potatoes and salad featuring the curious, patented ground shrimp burger on ciabatta, and several entrée-sized salads. As for dinner, most of the entrées are priced between $15 and $18, a surprisingly low price considering the quality of the ingredients and the careful thought that has gone into their creation and presentation. All of the desserts, except for the ethereal, ultra-light house-made tiramisu, come from the respectable outside supplier, Sweet Street Desserts.
Cariera's 6565 Telegraph Rd., Dearborn Heights; 313-278-4060; $$: Charming little family-operated Italian restaurant with authentic Italian cuisine. Portions are big enough for two. In two cozy rooms, with bare wooden tables and thick cloth napkins and walls full of family photographs and wine and oil bottles, Cariera's turns out a familiar array of old-fashioned classics. As befits a restaurant with few pretensions, most patrons do not dress up for a night out at Cariera's, even from Wednesday through Saturday when they feature mellow live music. The serviceable list of 24 California and Italian wines, split fairly evenly between red and white, is fairly marked up, with most less than $30. And the house wine, at $23 a liter for a decent pinot grigio or chianti of Italian origin, is another option. As for brandy, it is difficult to resist ordering an earthy grappa along with dessert (or maybe for dessert) for $6.
Cedarland Restaurant 13007 W. Warren, Dearborn; 313-582-4849; $$: When the three brothers who own Cedarland converted the large bank building on the corner of Warren and Hartwell into a restaurant over 25 years ago, they retained the drive-through window for quick orders. Whether eating in or taking out, the baba is creamy in consistency, with a roasted, earthy aroma and just the right bite. The walls are painted with scenes of Lebanon including skiers among the cedars. Without a doubt, this is the best drive-through Middle Eastern food in the area.
Cheli's Chili Bar 21918 Michigan Ave., Dearborn; 313-274-9700; $$: Hockey agnostics are unlikely to get it, but for puck-heads this is heaven, with 14 TVs in one room (and one in each restroom), displays of Chelios' jerseys, including those from his time as a Blackhawk and as a Canadien, and his shirts from the University of Wisconsin and Mount Carmel High. Expect a familiar menu of bar-style food, including burgers, steaks, salads, soup, sandwiches and a host of fried appetizers: cheese, calamari, wings, chicken fingers and potato skins roasted to a crackle. Age 21 and older only.
Country Chicken 5131 Schaefer Rd., Dearborn; 313-582-6677; $: This tiny Lebanese storefront serves mammoth portions, so prepare to share. Various shawarmas, meat coriander, baba ghannoush, lamb's tongue and falafel are enjoyable; skip the hummus. No alcohol.
Crave 22075 Michigan Ave., Dearborn; 313-277-7283; $$$: The cuisine really soars at the sushi bar, manned by chef Sam Ness. The food emphasizes Japanese cuisine but successfully incorporates Mediterranean flavors. After 10 p.m., Crave the restaurant morphs into Crave the lounge, with DJs spinning and plenty of action at the bar, presumably to fulfill the "sensual" aspect of the establishment's mission. Saketinis in many fruity variations are a specialty of the house.
Deliziosa 22439 Michigan Ave., Dearborn; 313-277-4990; $$: Deliziosa features traditional Italian cuisine with a few unconventional twists. Considering the gargantuan portions (which are practically anthemia to the restaurant's storefront-sized location), and that mains come with soup or salad, you might pass on the appetizers. The entrées include filet portabella, salmon with lemon sauce, eggplant Parmesan, and chicken Marengo and piccata. There are no wildcards among the 13 diverse pasta dishes, unless you think risotto belongs in a category of its own.
Edison's 20301 Oakwood Blvd., Dearborn; 313-271-2700; $$$: Located inside the Dearborn Inn Marriott, this quietly elegant restaurant graced by rich early American atmosphere was until recently called the Early American Room. Open for dinner, dress code (shirt, slacks).
Famous Hamburger 5808 Schaefer Rd., Dearborn; 313-945-0002; $: Originally opened in 1970, as a small burger stand in Badaro, Lebanon, since the mid-'00s, the operation has grown by leaps and bounds, settling into a brand-new space on Schaefer Road, and opening satellite locations in Allen Park, Ann Arbor and the Los Angeles area. (!!!) With its Lebanese roots, you can order plenty of affordable Middle Eastern food — but even Famous' American diner fare is done with special Mediterranean care. The 1/3-pound burgers are inventive, and include the "egg burger," the "coleslaw burger" and the "guacamole burger." (Yes, there's a veggie burger too.) All meat is halal, even the bacon (made from veal). And the interior of the space is fun too. Famous is a very fun, friendly place that mixes the very best of Middle Eastern and American comfort food, attracting a diverse, equally friendly crowd.
Fuego Mexican Grill 7040 Schaefer Rd., Dearborn; 313-581-9800; The Mexican-gone-halal restaurant has an upscale feel to it. Open less than a year, Fuego Grill is attracting both Muslims and others with a menu that's all made in-house. Fuego's Sam Alvarado copes with the pork ban by fashioning a chicken-based chorizo using vinegar, cumin and a paste of dried Mexican peppers that he says has "fooled many Mexicans." You can design your own taco or tostada with two toppings of your choice. Chicken glazed with mango-chipotle is tempting.
Hamido Restaurant 13701 W. Warren Ave., Dearborn; 313-582-0660; $: Full-service Middle Eastern restaurant draws acclaim from those who dine there. Enormous portions will leave you full and asking for a takeout box.
Howell's Bar 1035 Mason St., Dearborn; 313-565-6322; $: This venerable corner bar used to cater to the old-man crowd years ago, but it has found a hip new identity amid the changes shaking up the Michigan Avenue strip in west Dearborn. Divey but clean, quirky but attractive, the bar's menu is brief but classic: Hamburger and cheeseburger and fresh-cut fries. Devotees of the hamburger will rave about it. No matter how much you want on your burger, it never costs more than $5.50, huge and juicy enough to soak through the bun (they're a reason they toast the buns lightly). So go with a friend, order two burgers, dragged through the garden, add on a pitcher of PBR for $6.50 and you have a great meal, ample drinks, and haven't even spent a Jackson. Don't forget to say thanks to the cook, Jimmy.
Kiernan's Steak House 21931 Michigan Ave., Dearborn; 313-565-8975; $$: Picture an atmospheric room with fringed red lamps and leather booths, almost dark enough for you to feel around for the silverware. Expect surf and turf, with choices including steak, lobster tail and lamb chops. The expedient and friendly staff will explain the intricacies of one of the restaurant's most popular dishes, the European beef tenderloin with blue cheese and walnuts. Should you need a digestive aid, their fully stocked martini bar is there to help.
Kowloon Restaurant 22905 Michigan Ave., Dearborn, 313-565-4521; $$: Though it once occupied a cozy railroad car-sized spot on Michigan Avenue, it's now in an updated-looking park-in-front eatery between Outer Drive and Military Street. The Chinese fare is dependable, but, to those who would know the pleasures of boneless almond chicken — deep-fried in batter, drizzled with sauce and set on wilted lettuce — this is your perfect introduction.
L.A. Express Mediterranean Bistro 22018 Michigan Ave., Dearborn; 313-277-5999; $$: Lunch options include "philly bello" sandwiches and shrimp burgers, while the dinner menu offers dishes such as chicken scallopini and pasta aioli.
La Pita 22681 Newman St., Dearborn; 313-565-7482; $: Dependable Middle Eastern food with cozy private booths and good service.
M&M Cafe 13714 Michigan Ave., Dearborn; 313-581-5775; $: Tender loving care, dished up along with great food, and served in spacious and attractive digs. The menu is a mix of American and a smattering of Lebanese choices: hamburgers, chef salad and turkey sandwiches, kafta, hummus and laban. A clever cook, Maurice Lteif does equally well whatever continent he's cooking from. The grilled shrimp is divine; just as good is a garlicky, buttery lemon chicken topped with thinly sliced mushrooms and served with rice pilaf. For dessert, try the rice pudding: lemony and very large.
Miller's Bar 23700 Michigan Ave., Dearborn; 313-565-2577; $: Do people come for the burgers, or the novelty of eating them from baskets and wax paper? None other than Gentleman's Quarterly rated Miller's hamburgers No. 8 among the top 20 burgers in America. Metro Times readers consistently rate them as the best in Dearborn. Don't let the spartan setting and limited menu options fool you, the choices are few, but they're finely tuned classics. Table service has been paperless for years — all on the honor system. Unless you want to be known as an outsider, don't ask for a menu or a tab. Just order the burger and a beer. When you're done, tell the bartender what you got. The system works, in part, because the prices are so reasonable, there's hardly any reason to lie.
New Yasmeen Bakery 13900 W. Warren Ave., Dearborn; 313-582-6035; $: If you don't mind eating with a plastic fork, you'll find some exceptional and unusual Lebanese dishes at this deli and bakery (the bakery offers more than 30 kinds of sweets). Co-owner Hussain Siblini says that's because he employs old ladies who make traditional, really old, old handmade dishes. However traditional it may be, you'll always be sure to find something new next to the chicken shwarma and shish tawook.
The Pool at the Henry Ford Estate, 4901 Evergreen Rd., Dearborn; 313-436-9196; $: If you're one of the ladies who lunch, have I found the place for you. The Pool's food is far better than many ladies who lunch seem to expect. Take the enormous Nuts about Spinach salad. The baby spinach leaves are covered with fresh melon, strawberries, pineapple, mandarin oranges and dried cherries, along with almonds, walnuts and soy nuts.
Red Star Restaurant 13944 Michigan Ave., Dearborn; 313-581-1451; $$: American-Chinese fare that is especially vegetarian- and vegan-friendly. They'll even make standard meat classics, such as kung pao, with seitan instead of meat.
Richter's Chalet 23920 Michigan Ave., Dearborn; 313-565-0484; $$: Richter's Chalet is a throwback to those days before the Food Network, celebrity chefs, Neiman Ranch and Maytag blue cheese allegedly transformed American gourmands into gourmets. And its price structure also recalls another era when two people could enjoy dinner and drinks for $40. German-born Roland Richter Sr. founded his half-timbered restaurant a generation ago, the chalet seats 150 and serves a dozen German dinners, supplemented by several daily specials, both of which include soup or salad, averaging around $12. The desserts, none of which cost more than $3, are another one of Richter's strengths. Chocolate cheesecake, hazelnut raspberry torte, and the classic schwarzwaelder kirsch torte (Black Forest cherry) are executed well.
Roman Village 9924 Dix Rd., Dearborn; 313-842-2100; $$: Despite a few jarring notes, this is the real deal — house-made pasta, fresh sauces, traditional dishes at reasonable prices; you can imagine somebody's mama in the kitchen. The menu is much too long to do justice to — there are calzone, panini and pizza as well as 53 entrées, including veal, stuffed pastas and seafood. Highest praise must go to spaghetti carbonara "alla Bocelli," osso buco and gnocchi Rita. Other possibilities range from linguine arrabbiata to linguine with shrimp, scallops and whitefish through veal chops, veal piccata and sautéed cod (baccala). And yes, you can add meatballs to any of the pasta dishes. The other special deal is a free cannoli on your birthday.
Shatila Bakery & Café 14300 W. Warren Ave., Dearborn; 313-582-1952; $: Don't be confused by the fruit names — these are not sherbets. They combine fruit purees with butterfat to produce that rich taste and velvety texture that only cream can bestow. Nonfruit ice creams are equally inspired. The array of Mediterranean and European pastries is vast and changes daily. Shatila has a few nonsweet offerings, and they are quite tasty, not also-rans at all: sausage rolls, a tangy and flaky spinach pie and tiny star-shaped cheese pastries. Shatila's high-ceilinged space is filled with customers sipping coffee or raw fruit juices, busting their diets, and enjoying the air-conditioning.
Ten Eyck Tavern at the Dearborn Inn, 20301 Oakwood Blvd., Dearborn; 313-271-2700; $$: American home-style fare in a charming, casual and relaxing atmosphere. Open for breakfast and lunch.
Tuhamas 10613 W. Warren Ave., Dearborn; 313-581-0714; $: Tiny little eatery that serves a very good, large chicken shawarma.
See any inaccuracies in these listings? Let us know. Call 313-202-8043 or e-mail to [email protected].