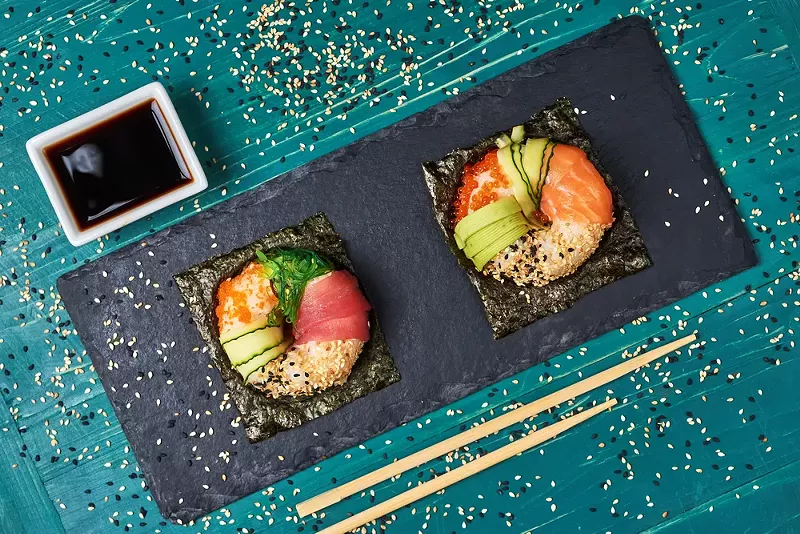 The Instagram-ready
sushi doughnut craze
took off in 2016, and of course that means it was only a matter of time before it trickled down through the interwebs and landed in our humble Midwestern burg.
That time is nigh.
A new restaurant named Blu Bar Sushi set to open in Beverly Hills will offer the region its first taste of the viral internet sensation, according to
The Detroit Free Press
. The 900-square-foot, 40-seat bar will serve up the "doughnuts" — literally sticky rice rolled into a ring shape, with sushi ingredients like raw fish on top.
The restaurant is the brainchild of business partners Bruce Cobb and Steve Campbell, who say they also plan to sell bento boxes to go and sake. They say they would like to host sake-tasting classes, much like a wine-tasting class. "We're excited to serve the area's sophisticated palate," Cobb told the Freep.
Sushi doughnuts were popularized by Australian vegan food blogger Sam Murphy, known by her Instagram handle So Beautifully Real. The trend follows another sushi mashup — the sushi burrito, or "sushirrito." Originated in San Francisco in 2011, metro Detroit got its first sushi burrito restaurant,
Yuzo Sushi Co.
, in 2016.
So many restaurants, so little time. Sign up for our weekly food newsletter delivered every Friday morning for the latest Detroit dining news.