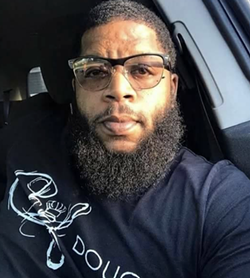 Family, friends, and police are continuing to search for a 39-year-old Detroit chef and Marine who disappeared last week.
Douglas Calhoun, who goes by "Chef Doug", was last heard from around 3 a.m. on Thursday, June 1. Family members told
Fox 2
that he missed an important catering event last Friday evening and didn't board a flight to St. Louis on Saturday.
Police found his car last Friday outside an abandoned home on Trinity Street in Detroit's Brightmoor neighborhood. Neighbors previously spotted it with its hatch and doors open on Blackstone Street on Thursday.
Police tell Fox 2 that someone had been using his credit card fraudulently on June 2.
Friends say they believe Calhoun could handle himself in a tough situation, but are increasingly worried. Calhoun's sister, Danya Phillips, tells
WDIV
that a late night phone call to a friend was the last time anyone heard from him.
"He was just letting his friend know that he had gotten home," Phillips said. "They had been out partying, celebrating with some other friends, and just letting his good friend know that, 'I'm home. I'm going in the house, and I'll talk to you later on.'"
Calhoun is 6 feet 1 inch tall and weighs 230 pounds, according to family members.
Crime Stoppers is offering a $2,000 reward for information.