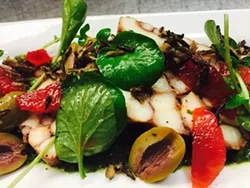 Fans of James Rigato's popular The Root Restaurant & Bar in White Lake will notice some changes on the weekly brunch menu. To ring in the new year, executive Chef Nick Rodgers has unveiled some new options. What's more, if you're more of a night person, Sunday dinner will be added to the mix. With the switch, The Root is now closed on Mondays.
Just a few examples of the new fare include a build-your-own benedict, cranberry streusel corn muffins, and creme fraiche pancakes with pecan-maple butter.
The change comes just months after Rigato launched the much-lauded Mabel Grey in Hazel Park, where he's been spending much of his time as of late. His Root concept is widely considered to have helped push metro Detroit's farm-to-table movement, in which local farmers and vendors are used in every aspect of the menu. The restaurant says the new brunch options will fall into that locavore ethos.