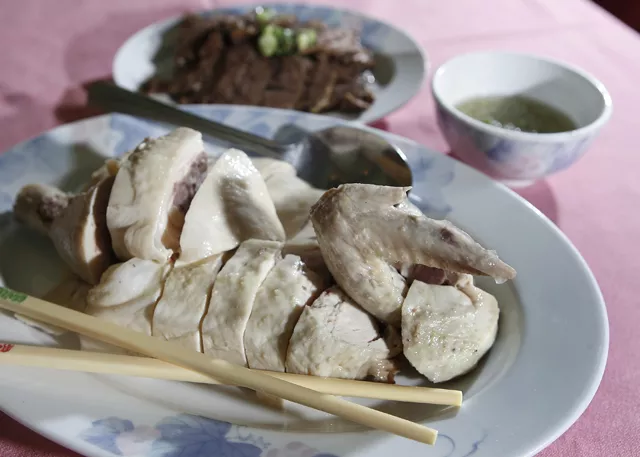 Kai Garden
116 S. Main St., Ann Arbor
734-995-1786
kaigarden.com
Entrées: $8-$14 or $5-$14
Handicap accessible
I'd barely finished my sentence, telling the friendly Kai Garden waitress I'd once lived in Guangzhou, when she said, "We have a Chinese menu" and promptly brought one, filled with such delicacies as jellyfish, beef tendon, crispy fried pork intestine (chitlins?) and congee. She also brought chopsticks.
The "Chinese menu," as distinct from the much longer Chinese-for-Americans menu, is for the benefit of the many Chinese students and faculty in town, and it's used by about a tenth of American guests. It's labeled "Hong Kong and Taiwanese Style" and is presumably the reason discerning MT readers voted Kai Garden Best Chinese in Washtenaw County this year.
I ordered only from that menu (except for dessert), so I can't tell you about any of the big menu's 180 items. They include all the standards — pork fried rice, sweet and sour chicken — as well as more interesting-sounding dishes such as catfish hot pot and rose scallops. A couple near me ordered "chicken in pineapple nest," and it came in a hollowed-out pineapple. I noticed that several tables were ordering brown rice (oh, Ann Arbor). I'd be interested to see what chef Ben Kai Tus does with duck, scallops and eggplant.
But I wasn't going to miss out on a chance for the real deal, rare in our area. As a bonus, prices are lower on the "Chinese menu."
We started with a cold appetizer, spicy pig's ear. The Chinese are not shy about knowing where their meat comes from. In the markets, you see whole chickens displayed with their heads and feet on (which will be used). In Kai Garden's rubbery strips of ear, you can see the brown-white-brown layered structure of the cut, which made me want to check out how thick a pig's ears are next time I'm close to one.
My companion called the ears simply a vehicle to convey fiery spices to the mouth. True, the ears didn't have much flavor themselves, but I liked the idea of using everything but the oink. They're sprinkled with scallions and hot pepper flakes, for a festive red and green look.
Marinated beef, another appetizer, is soaked in soy sauce with a list of ingredients I became quite familiar with: garlic, ginger, scallions.
When we debated, for an entrée, between double-cooked pork belly and steamed pork belly with spicy garlic, our knowledgeable waitress easily recommended the latter, saying, "Chinese people like that." It's a largish platter of belly squares, with very little lean, served cool in a pool of soy sauce and sprinkled with garlic, red pepper and scallions.
Even better was pomfret fish in sizzling plate. I thought its face had more expression than most fish, what with its eyes cooked brown and its tiny mouth. Its skin is cooked very crisp on top; flip it over to dig out more of the tender white flesh, and the back skin is softer. Look out for some tiny bones.
We enjoyed steamed ginger chicken, which seemed like more meat than the half-chicken promised, cut in squares rather than following the bird's natural lines. It doesn't look too appetizing, with its uncrisp skin, but the mild ginger flavor is set off perfectly by a delicious green sauce with garlic and scallions.
Less appealing was braised beef shank noodle, from the Hong Kong section. The shank included tendon, which was fine, but the dish as a whole was sweet. Not good.
Certainly the pièce de résistance of my two visits was steamed sole, a large flat fish. Normally this would cost $30, but since the fish was smaller (but still large), we were charged just $20. It's worth the half-hour wait just to watch the show: Your waitress removes the flesh from the bones with a butter knife, lifting out the backbone and its tributaries in one piece. It's steamed first, then sprinkled with matchsticks of ginger and scallions, and served with a rich brown special soy sauce. As we were finishing, a Chinese gentleman walked by and pointed out morsels he thought we'd missed (not a chance). In China, we were told, they eat the bones too.
Rice pudding is not what you expect. The gummy rice itself is not very sweet, but it's submerged in a pool of neon yellow sauce tasting of rice wine. Worth trying once. More of a sure bet are honey toasted walnuts, which reminded me of Christmas. Mango pudding is more like opaque mango Jell-O, slight but refreshing.
My fortune said, "The eyes believe themselves, the ears believe other people." But what about reading? If you believe this review, you're believing another person, who's suggesting you try the Chinese menu. Our waitress said Americans are often "scared" to try Chinese dishes, but servers are delighted to help the round-eyes, and will steer you toward something you'll like. Beef shank with tofu in hot pot is one they recommend.
As I left, I heard a carry-out order being called in: chicken fried rice and spring rolls. Come on, you can do better than that!
Kai Garden is open 11 a.m.-10 p.m. Monday-Thursday, 11 a.m.-11 p.m. Friday-Saturday and noon-9:30 p.m. Sundays.