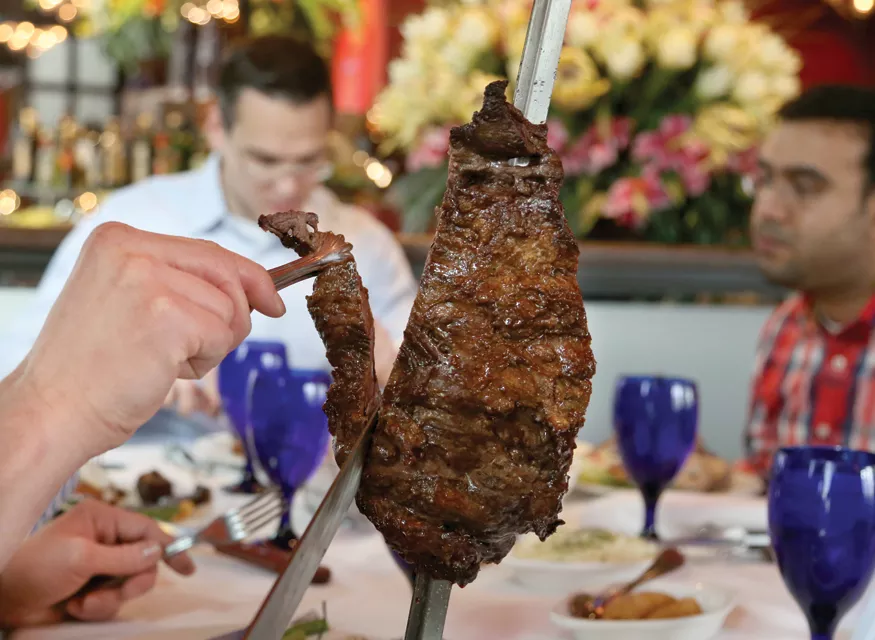 Texas de Brazil
1000 Woodward Ave., Detroit
313-964-4333
texasdebrazil.com/location/detroit
Lunch Hours: 11 a.m.-2:30 p.m. Wednesday-Friday
Dinner Hours: 5-9:30 p.m. Monday-Thursday, 5-10 p.m. Friday, 4-10 p.m. Saturday, 4-9 p.m. Sunday
Lunch: Regular $19.99, light $17.99
Dinner: Regular $42.99, light $24.99
If you ever wanted to know what it was like to be the hot girl at the club, all the men vying for your attention, go to Texas de Brazil. Waiters, overwhelmingly one after another coming up to you, meat sword in hand, trying to tempt you to choose theirs, is roughly the same experience. The music just loud enough to render normal conversation inaudible and garish red walls don't detract from the club feel either.
Of the many all-you-can-eat joints in metro Detroit, Texas de Brazil is one of the swankier, with its candlelit tables topped with crisp white linens, folded napkins and a parade of cutlery. And, just like any other all-you-can-eat establishment, it has its share of decoys and fillers to distract you from the priciest items. Before the cavalcade of meat ever begins, diners are handed a leather-bound tome listing an assortment of sugary cocktails, and are then directed to a salad bar at the center of the restaurant. The term salad bar is used loosely to describe what is essentially a buffet before the buffet, featuring deli meats (including razor-thin slices of jamón Serrano), cheeses (fresh goat cheese and salty Manchego), soups of the creamiest variety, sushi, grilled vegetables slathered in oil, and baskets of bacon. Go ahead and throw some lettuce on there too if that helps ease the glutton guilt. The most deceitful of these decoys is the complimentary basket of silver dollar-sized cheese-filled biscuits that arrives with the garlic mashed potatoes and fried bananas covered in caramel. It's easy to eat one or two (maybe three or four) before you realize just how filling they can be.
From the extensive list of drinks, we stuck with the half-dozen or so varieties of mojitos and found the traditional one to be the best. The other drinks were all a bit too sweet and would probably best be suited for an after-dinner dessert drink rather than a before dinner cocktail.
The meat is, of course, the star of the show — and it is a good show. The servers wielding the meat swords wear campo-style trousers with thick leather belts and boots, resembling a well-scrubbed gaúcho who somehow got lost wandering though the grasslands of southern Brazil and wound up in Detroit. Each diner is given a small card with green on one side and red on the other to signal to these urban cowboys when to bring on the meat and when to hold back. You can choose from cuts of beef, pork, lamb, Brazilian sausage or chicken. But who comes to a steak house for chicken? It's a bit sad really, watching the chicken guys get repeatedly turned down. Chicken? No thanks. Parmesan-encrusted chicken? Really, I'm not interested. Bacon-wrapped chicken? Not even wrapped in bacon, buddy.
The beef is cooked as it should be, rare to medium rare, and seasoned as it should be, sparingly and mainly with salt. The lamb, too, is removed from the flame before it has cooked too long and become gamey. Our favorite choice of the lamb cuts was the dainty lamb chop, which has a crispy salted crust encasing a moist tender center. Many of the cuts of meat are served wrapped in bacon or encrusted with Parmesan or garlic, but we preferred the more naked choices, served with nothing more than salt crystals, such as the prime rib, filet or pork tenderloin. The cuts of meat are high-quality, with just enough fat for a rich flavor.
After all the meat, all the mashed potatoes, all the biscuits and other assorted decoys, you'll lean back in your chair and pat your belly declaring yourself full. This is the precise moment the server will come by to entice you with a silver platter lined with hulking plates of assorted desserts, carrot cakes, chocolate cakes, flans, brûlées, or my favorite bananas Foster pie served with two fried bananas and drizzled with warm caramel sauce.
Diners can choose between the regular dinner — which is a continuous service of the salad area, meats, and side items — or stick with just the salad area, which Texas de Brazil has amusingly labeled the light dinner. The same two options are available for lunch. Desserts, taxes, beverages and gratuities are additional costs. It's by no means an inexpensive meal, but, for the amount of food and fancy accoutrements, it's worth the treat. The loud music and busy atmosphere lends itself better to a group outing than it does for something more intimate, like a romantic date.