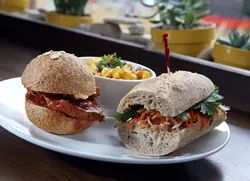 The Lunch Room
407 N. Fifth Ave., Ann Arbor
734-224-8859
Handicap accessible
Sandwiches: $4-$8
Entrées: $6-$10
Open 11 a.m.-8 p.m. Monday, Tuesday and Thursday, 8 a.m.-8 p.m. Wednesday, 11 a.m.-10 p.m. Friday, 8 a.m.-10 p.m. Saturday and 10 a.m.-3 p.m. Sunday.
Local pop-ups and food carts have become a fertile proving ground for dining concepts, and Ann Arbor's Lunch Room provides an excellent example. It started as a pop-up held in friends' living rooms and grew to a food truck in Mark's Carts, the seasonal open-air food court in Ann Arbor. Now, the vegan eatery has come into its own in a brick-and-mortar location in Kerrytown that's open, sunny and inviting — with great menu choices too.
Diners with food allergies or restrictions face two main pitfalls: one, finding something on the menu they can actually eat, and two, having food so good they're able to get a friend to tag along. But when their nondietary-restricted friend is trying to scrape up the last few bits of vegan cheese while saying, "You know? We need to come here again," well, that's rare.
The Lunch Room's uses only quality ingredients, including consistently fresh and flavorful vegetables, and well-made and seasoned sauces. While Ann Arbor has a number of eateries that are friendly to vegans, a solid, no-frills vegan spot can be hard to come by. Personal service, an agreeable atmosphere and food that pleases both vegan and carnivore palates keep this restaurant packed during lunchtime.
The staff is very friendly and happily answers questions about ingredients. When asked about the type of gluten-free flour the restaurant uses, the server came back with the bag from the kitchen. On another visit, they were out of curry potatoes — but a passing cook rustled up roasted root veggies with mushroom gravy in lieu of the appetizer. The rich taste of the gravy paired surprisingly well with the tender beets and carrots.
Simple recipes, made with good quality local ingredients and deftly converted for a vegan diet, define the menu. Touches like vegan sour cream on a bowl of borscht don't seem like imitations — they stand on their own with great tastes and textures, unlike many imitation dairy products.
The menu is rotating, with a few staple items, such as macaroni and cheese ($6), a Greek salad ($8) and a side of black beans and rice ($5). The several different sandwiches, salads and entrées are inspired by a variety of world cuisines. The barbecued tofu sandwich ($7) was layered with chewy tofu slices seasoned with a tangy barbecue sauce, and the Reuben was a hit with my meat-eating companion.
Entrées include a generous bowl of pad thai ($8) with mung bean noodles, heaped with cucumbers, carrots and cubed tofu, coming with a rich, gently spicy peanut sauce. Nachos ($8.50) come topped with big chunks of tomato, sautéed red onion, a warm, spicy cashew cheese, s generous amount of beans and just enough cilantro.
While the menu items are fairly standard, they're well-made vegan food that doesn't rely on faux meats. Nuts and beans fill that role, the tempeh and tofu are well-seasoned and textured, and many dishes use blends of nuts and spices for the sauces.
Located next to Ann Arbor's farmers' market, they try to use in-season, local produce. The changing specials reflect this, ranging from jambalaya to biscuits and gravy to burritos.
It's a cross between causal and sit-down dining that's popular now: orders are placed at the counter, and food is brought out to the tables. As the name suggests, the Lunch Room is a great choice for a midday meal: the portions are ample, especially paired with an appetizer or soup. Their choices are a welcome relief to anyone dining with food restrictions, especially gluten sensitivity, as almost everything on the menu is gluten-free or can be made that way. The only snag was a cup of soup was brought out with gluten bread, though the gluten-free bread was specified. Also, despite the number of good rice and quinoa pastas on the market, the macaroni and cheese can't be ordered gluten-free.
Inviting-looking baked goods, such as cookies, cupcakes and donuts, are kept in the case near the register. Giving in to your sweet tooth is worth it: The cookies are soft, chewy and satisfying. (The lemon and lavender donuts look particularly interesting.) Unfortunately, while the bakery does make one or two gluten-free options a day, they are limited.
The chai, which comes with almond milk, has a pleasantly spicy kick. Unlike many vegan places, however, smoothies or juice aren't offered. Parking is easily accessible, a rarity in the area.
Although lunch is clearly the busiest time, diners crowd in for dinner as well. But with a closing time of 8 p.m., it's not the place to linger over drinks. Also, the portion sizes are good for lunch, but can feel a little light for dinner. One of the owners says they would like to get a liquor license in the future. A vegan bar? Now that's definitely worthy toasting.
Evelyn Aschenbrenner dines for Metro Times.Send comments to [email protected]