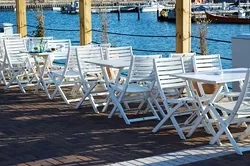 $=$5-$10; $$=$10-$25; $$$=$25-$50; $$$$=$50+
Anita's Kitchen 22651 Woodward Ave., Ferndale; 248-548-0680; anitaskitchenonline.com: Craving a taste of the Middle East? Anita's Kitchen is the place for you! Everything tastes better outside, and Anita's has a large covered patio. Plenty of beverage choices, including craft beer, await.
Antonio's in the Park 15117 Kercheval St., Grosse Pointe Park; 313-821-2433: Sipping a glass of red wine and eating classic pasta dishes or veal Milanese while sitting outdoors will make you forget about stress on a breezy summer's day.
Arbor Brewing Company 114 E. Washington St., Ann Arbor; 734-213-1393; arborbrewing.com: A cheerful brewpub with house-brewed suds and good, upscale pub food, Arbor Brewing Company has a street side patio, some picnic-style and some patio-style with umbrellas.
Aut Bar 15 Braun Ct., Ann Arbor; 734-994-3677; autbar.com: In the summer months, historic Kerrytown's Aut Bar spills out onto a quiet courtyard perfect to enjoy a sunny meal. Functioning as a restaurant and a bar, the second level is 21 and older only. And, since 1986, there's been a popular Saturday (11 a.m.-2 p.m.) and Sunday brunch (10 a.m-3 p.m.). For brunch, Mexican specialties are standouts, including breakfast burritos or huevos motulenos.
Beach Grill 24420 Jefferson, St. Clair Shores; 586-771-4455; beachgrillrestaurantandresort.com: Between the 5,000 square feet of deck, a full tiki bar, and a dance floor, after a few fruity cocktails you may actually start believing you're in Mexico and not St. Clair Shores.
Beirut Palace 105 S. Main St. Royal Oak; 248-399-4600; beirutpalace.com: Falafel-heads come year-round for Beirut Palace's fresh raw juices, fresh bread and daily vegetarian soups, but the palace packs them in during the warm months with their commodious outdoor seating area, where you can have your gherkins and gawking together.
Bert's Marketplace 2727 Russell St., Detroit; 313-567-2030: At Bert's, not only do you have a great place to sit, do some Eastern Market people-watching and enjoy some serious barbecue, you get a front seat to some of the most unusual karaoke performances ever!
The Plymouth Roc 1020 W. Ann Arbor Rd., Plymouth; 734-459-4190; plymouthrocbar.com: With 20-odd tables on a covered patio and a casual atmosphere, the Roc serves Mexican food, ribs and deli-style sandwiches, and usually has an attractive special or two as well. And the entertainment goes most of the week, including open-mic nights, karaoke-and-trivia nights, live DJs and cover bands. The people are friendly and the food is good, and the patio is a plus on warm nights.
Compari's on the Park 350 S. Main St., Plymouth; 734-416-0100; comparisdining.com: Sip on a cocktail or nibble on appetizers as you enjoy a warm summer night.
Copper Canyon Brewery 27522 Northwestern Hwy., Southfield; 248-223-1700; coppercanyonbrewery.com: Sit outside while eating anything from steak to ribs to pasta to burgers, and watch the sunny skies darken. You can stay into the wee hours on a nice night.
Dominick's 812 Monroe St., Ann Arbor; 734-662-5414: With a sprawling patio and three different outdoor seating options, sit down and enjoy the deliciously refreshing sangria. A favorite is the chicken quesadilla and tomato bruschetta on a toasted baguette.
Great Baraboo Brewing Co. 35905 Utica Rd., Clinton Twp.; 586-792-7397; greatbaraboo.com: Wash some ribs down with a handcrafted brew and watch the game or retire to the patio for a night out. Sit outside whether it's sunny or pouring with their covered outdoor area.
La Dolce Vita 17546 Woodward Ave., Detroit; 313-865-0331; ldvrestaurant.net: It's like a bit of Tuscany just off McNichols. Plus, La Dolce Vita's classic Italian cuisine is already terrific, only enhanced by the open air. Call ahead to find out about their live DJ parties or inventive brunches.
P.J.'s Lager House 1254 Michigan Ave., Detroit; 313-961-4668; pjslagerhouse.com: The musical programming is awesome, the beers on tap are quality, service comes with a smile, the kitchen turns out excellent quality food, and there's also an excellent patio out back where you can enjoy a meal walled off in your own little sanctuary.
Le Petit Zinc Crêperie & Café 1055 Trumbull St., Corktown; 313-963-2805; lepetitzincdetroit.com: Among raised beds of herbs, hanging plants, and classic decor, Le Petit Zinc is an oasis from a stressful day at work or the hustle and bustle of the Motor City.
Mercury Burger Bar 2163 Michigan Ave., Detroit; 313-964-5000: An open-air patio paved with reclaimed bricks is a great spot to order a milkshake (with or without alcohol), enjoy a juicy burger, and enjoy the scenery of Detroit's historic Corktown.
Mitchell's Fish Market 370 N. Adams Rd., Rochester Hills; 248-340-5900; mitchellsfishmarket.com: Dine on crunchy soft-shell crab or tender salmon while sitting in Mitchell's large outdoor dining area.
Moose Preserve 43034 Woodward Ave., Bloomfield Hills; 248-858-7688; moosepreserve.com: Northern exposure aura with outdoorsy grub to match. They have a half-covered patio in back with plenty of tables for those nice days, when you want to actually soak up some nature and feel like you are in the Wild West.
Motor City Brewing Works 470 W. Canfield St., Detroit; 313-832-2700; motorcitybeer.com: For some of the best pizza around under $10 and a nice cold beer to wash it down, head up to the rooftop patio for a bit of sun with your suds.
Palate 449 N. Main St., Milford; 248-714-5707; palateofmilford.com: Open since last year, Palate offers a seasonally changing menu, craft beer flights and an international wine list. As you'd expect from any eatery with a seasonal focus, an emphasis on local ingredients will prevail. Their patio view includes a railroad and water scenes.
Picasso Café 39915 Grand River Ave., Novi; 248-427-0600; picassocafeinc.com: With their ever-changing art, Picasso is a real treat as you watch local talent on the walls while eating their special recipe tuna or chicken salad sandwiches or sit outside to enjoy the summer day.
Pronto! 608 S. Washington St., Royal Oak; 248-544-7900; prontorestaurant.com: At Pronto!, brightly colored walls add to the lively feel of this often bustling restaurant. The sandwich menu is creative and fun. Settle into a sidewalk table and enjoy.
Seva 314 E. Liberty St., Ann Arbor; 734-662-1111; sevarestaurant.com: A few steps above the street, the raised patio offers diners a bit of respite from downtown Ann Arbor's bustle. The eclectic dishes change weekly and range the globe. They also offer a full bar and juice bar, smoothies and cocktails, with a long wine list.
Shores Inn 23410 Greater Mack, St. Clair Shores, 586-773-8940; shoresinn.com: Shores Inn specializes in regional and creative American cuisine. Featuring a huge dark wood bar. Enjoy one of more than 150 beers from around the world. About 60 diners can fit in their outdoor dining area.
Special thanks to editorial intern Jason Singer for his assistance compiling this list.
Did we miss one of your favorite outdoor spots? Let us know! Send an email to [email protected] or call 313-202-8043.