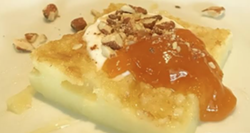 The Conserva in Ferndale is offering the burb's newest brunch.
According to a press release sent by the restaurant, chef Matthew Bladridge built the menu "upon some of his fondest childhood memories, including his dad's famous bacon, Miracle Whip, and peanut butter sandwich."
But Baldridge makes his version with smoked pork belly, peanut sauce, kewpie mayo, and eggs on a baguette.
Another dish is based on his grandmother's traditional Finnish pannukakku, a custard oven pancake served with apricot preserves, whipped cream, and toasted almonds.
As with the dinner menu, The Conserva's brunch menu will change weekly.
It's located at 201 E. 9 Mile, on the ground floor of the Lofts on 9 Mile. Sunday brunch runs from 10 a.m. - 3 p.m.