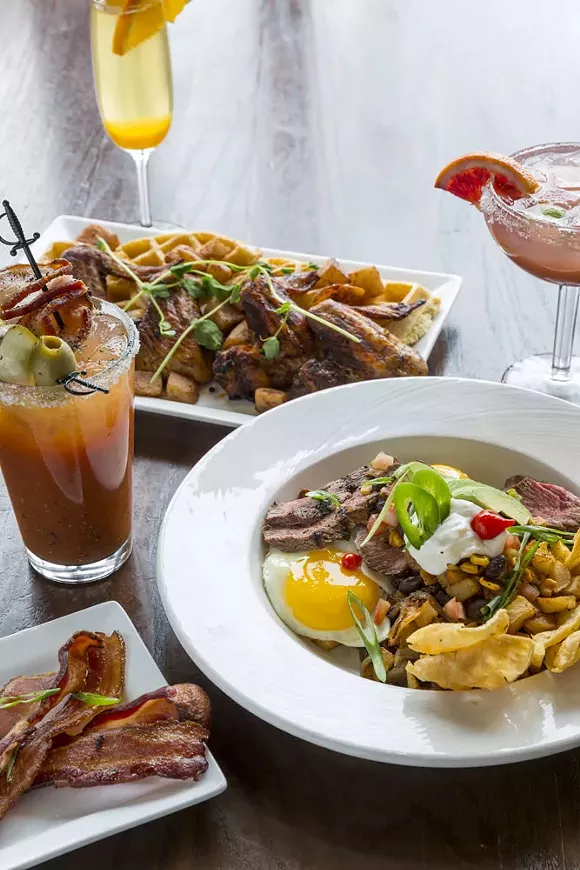 When you're feeling chicken
The Block 3919 Woodward Ave., Detroit; 313-832-0892: Since they started serving brunch in January, the brunch menu has already garnered crowd favorites, including a take on chicken and waffles (featuring fried chicken wings that are not breaded yet still crispy, served with sautéed pears). The chicken is the star of the show here: The Block's Ultimate Bloody Mary even features a chicken wing garnish. Brunch is served from 11 a.m.-3 p.m. Sundays.
BLTs for LGBTQs
Aut Bar 15 Braun Ct., Ann Arbor; 734-994-3677; autbar.com: The Aut Bar caters to the LGBTQ communities and their friends, families, and allies. Functioning as a restaurant and a bar, the second level is 21 and older only. And, since 1986, there's been a popular Saturday (11 a.m.-3 p.m.) and Sunday brunch (10 a.m-3 p.m.). Here, Mexican specialties are standouts, including breakfast burritos, huevos motulenos, and Saturday's $5 huevo ranchero special.
You're in at Huron
Huron Room 2547 Bagley Ave., Detroit; 313-265-3325: Menu items include a Monte Cristo with powdered sugar and maple syrup, Saskatoon French Toast with lemon curd and lavender buds, and more. It's also cool to be able to order off the regular menu, thereby spicing up brunch with oysters. Brunch is 11 a.m.-3 p.m. Friday-Sunday.
Poutine to the people!
Brooklyn Street Local 1266 Michigan Ave., Detroit; 313-262-6547: Brunch isn't all that much different from any other day at Brooklyn Street Local, other than the inventive specials that appear with the weekend meal at 9 a.m.-3 p.m. Saturday and Sunday. Standbys include poutine, especially a weekend version with hand-cut fries, caramelized onions, organic cheese curds, beef gravy, lardons, and perhaps even bacon or a fried egg.
Where you can brunch like royalty
Cafe Muse 418 S. Washington Ave., Royal Oak; 248-544-4749: Sometimes a place can be a brunch destination without ever seeming to use the "B" word. The menu is breakfast and lunch, and prevails from 7:30 a.m. to 3 p.m., offering such brunch direct hits as stuffed French toast, vanilla bean waffles, steak and eggs, and mushroom scramble with Boursin and truffle oil. Add specials that change weekly and the potations mixed up at the full bar, and you have the makings of a brunch of champions.
When you need a historic setting for that lazy meal
Dime Store 719 Griswold St., Ste. 180, Detroit; 313-962-9106: Open just a few years, Dime Store has made a name for itself as a destination for scratch-made breakfasts and weekend brunches. All the usual dishes prevail on this restaurant's brunch menu and there are day-drinking options that include a "beermosa" and Irish coffee. But one of the main thrills must be the inherent snazziness of brunching inside a 100-year-old skyscraper.
Find the French inflection
French Toast 40370 Five Mile Rd., Plymouth; 734-335-6533: Think about what's best about French inspiration — rich sauces, zigzags of chocolate sauce sprinkled with powdered sugar — and feast your eyes on that brunch menu: crab cakes Benedict, ham and Brie omelet, smoked brisket hash, eggs cochon, lobster mac, beignets with chocolate sauce, and much more. Brunches are a la carte and 8 a.m.-3 p.m. Saturday and Sunday.
When you want brunch with a side of mission statement
Gold Cash Gold 2100 Michigan Ave., Detroit; 313-242-0770: GCG's brunch menu is deceptively simple. Sure, it's all the classics you'd want on a brunch menu: meat and potatoes, grits, and eggs, French toast, hash, ham and cheese, chicken and biscuits. And yet, everything, even the cocktails from the bar, adhere to the eatery's ethos of food that's "seasonal, conscientiously sourced, entirely hand-crafted and inspired by the way farmers around the world grow."
A little bit of all things brunch
Honest John 488 Selden St., Detroit; 313-832-5646: On the one hand, HoJo's doesn't have brunch. The eatery has served breakfast all day since, like, forever. And it's a very popular breakfast, as those who've waded in trying to find a table late on a weekend morning can attest. It doesn't have a huge patio: more like three tables with a view of the parking lot. What does it have? A kitchen that makes breakfast dishes look easy, a reputation for serving it until closing time, a wide mix of customers, a decent Bloody Mary, and parking.
A world away from Woodward
La Dolce Vita 17546 Woodward Ave., Detroit; 313-865-0331: Sunday brunch at La Dolce Vita feels like a special occasion. Mostly, it's the setting — an outdoor patio clad with ivy, trees, and flowers leaves folks feeling far removed from the cars whizzing by on Woodward. Offerings include no shortage of seafood options (think salmon hash and shrimp Benedict) and a French toast stuffed with mascarpone cheese. Brunchy drinks served "bottomless" and a live band help take the occasion from simple meal to swanky party.
Brunch the Northwest Way
Kuzzo's Chicken & Waffles 19345 Livernois Ave., Detroit; 313-861-0229: It's a stroke of genius, right? You take a breakfast item like waffles and mix it with a hearty dinner item like three pieces of golden-fried chicken. Then add two eggs made to order and creamy grits: That's the "What Up, Doe?"plate. But the other half of the fun of brunch at Kuzzos is being able to order shrimp and grits or salmon croquettes. The full bar means you can try pairing the spicy marinated and grilled chicken wings with Diamond Falls Sparkling Pink Moscato.
When you want to be up above it all
1917 American Bistro 19416 Livernois Ave., Detroit; 313-863-1917: Back in 2009, before the Avenue of Fashion began heating up in earnest, the Studvent family chose it as the place to give American soul food a bistro presentation. That gamble has paid off: Customers are drawn by the menu, the fresh smoothies, the hot drinks, and the full bar. Best of all is the a la carte Sunday morning brunch, which starts at 10 a.m. Don't miss the rooftop patio, where tables with umbrellas provide an oasis for weekend relaxation.
Rock, roll, and really good food
PJ's Lager House 1254 Michigan Ave., Detroit; 313-961-4668: Barbecue tempeh, anyone? Or vegan biscuits and gravy? This Corktown dive has made a name for itself offering lust-worthy vegan and vegetarian brunch options such as these. You can also get shrimp and grits and corned beef hash if you're a carnivore. The place is a bar, so your alcoholic beverage options are essentially limitless, but they do offer a Bloody Mary and a house mimosa.
For a seasonal, specialty brunch
Sweet Soul Bistro 13741 W. McNichols Rd., Detroit; 313-862-7685: Owner Toya Green opened her lounge and restaurant in June. On the first Sunday of the month, Green offers a specialty brunch with seasonal items. Sure, there's brunch standards like omelets and waffles, but also expect selections like salmon croquettes, catfish, and fish tacos.
For brunch Spanish-style
Aventura 216 E. Washington St., Ann Arbor; 734-369-3153: Between 10 a.m. and 2:30 p.m. on Saturdays and Sundays, Ann Arbor has an authentic Spanish brunch at Aventura, where influential Valencian chef Raúl Cob recently redid the menu. Expect Spanish-style omelets, flat breads, soft baguette sandwiches, and egg dishes. The bar offers "almost bottomless" mimosas for $16 with brunch, and a build-your-own Bloody Mary bar. Plus, it's in one of Treetown's oldest buildings, with exposed brick walls and archways, and plush velvet chairs and banquettes.
When you need red velvet, not blue
Hudson Café 1241 Woodward Ave., Detroit; 313-237-1000: If you had only thought of Hudson Cafe as a place where power breakfasters sealed deals between waffles, you can forgive yourself. The menu has it all: From "red velvet" pancakes to specialty coffees and baked goods to all things French, eggy, or Benedict.
Where brunch is freshly made, right before you drink it
Local Kitchen and Bar 344 W. Nine Mile Rd., Ferndale; 248-291-5650: Don't expect to find Zing-Zang and well vodka in the Bloody Marys here. Instead this classic brunch beverage is concocted with house-made mix, Tito's vodka, fresh lime, and olives. Mimosas are crafted with fresh-squeezed orange juice and brut Veuve Ambal. For noshing, guests can order from a small menu that includes eggs Benedict, a beef brisket breakfast burrito, among others.
A brunch that's good for the soul
Maccabees Traders 5057 Woodward Ave., Detroit; 313-831-9311: The newly revamped restaurant offers soul food brunches 10 a.m.-4 p.m. on Saturdays and Sundays. They're buffet-style — all you can eat for $20 per person — and include fried catfish, fried chicken, homestyle potatoes, shrimp and grits, scrambled eggs. Mimosas are $1 with your brunch purchase. Bloody Marys are more, around $7.
Everything under one roof
Majestic Cafe 4140 Woodward Ave., Detroit; 313-833-9700: The Majestic Cafe only opens during concerts and for brunch every Sunday morning from 10 a.m. to 4 p.m., so it's a little bit special to dine here. Their menu include requisites like eggs Benedict, huevos rancheros, and bananas Foster French toast. The place has a full bar, so you can order a little hair of the dog to go along with your eggs and toast.
Fun, funky, and filling
The Morrie 511 S. Main St., Royal Oak; 248-216-1112: The Morrie describes itself as an "eclectic neighborhood roadhouse" with distinctive cocktails. They also have brunch, which they serve from 10 a.m. to 4 p.m. every Sunday. Hits include a Nashville-style hot chicken and waffles stack, an Asian ramen salad, and more.
Pop over for the popovers
Original Pancake House 19355 W. 10 Mile Rd., Southfield; 248-357-3399: They don't serve booze, but you will find a menu filled with to-die-for pancakes, corned beef hash, and a dish called the Dutch Baby, which is a popover seasoned with vanilla and cinnamon. Expect to wait if you come during peak brunch hours. They're open from 7 a.m. to 4 p.m. every day.
Brunch here and you'll never shop when you're hungry
Bistro Joe's at Papa Joe's Market 34244 Woodward Ave., Birmingham; 248-723-9400: Nosh on Nutella crepes, a Wagyu beef burger, and chorizo omelets inside this unique Birmingham eatery from 10 a.m. to 3 p.m. every Saturday and Sunday. They put on a slammin' Bloody Mary bar where you can pack your drink with so much celery, peppers, tomatoes, vegetables, mushrooms, and greenery, you'll have trouble finding the straw.
A brunch with high market value
Russell Street Deli 2465 Russell St., Detroit; 313-567-2900: Located inside Eastern Market, Russell Street Deli is the perfect place to enjoy a satisfying bite after some tiring produce acquisition. They don't serve booze, so you'll have to forgo the Bloody Mary or mimosa, but they've got piping hot coffee, Boylon's Natural Soda, Vernors, house-made seasonal beverages, and fresh squeezed lemonade. Their breakfast menu is served all day, with pastrami hash, hotcakes, omelets, and egg scrambles.
When a watering hole offers ample nourishment
Three Blind Mice 101 N. Main St., Mount Clemens; 586-961-6371: Smack in middle of downtown Mount Clemens, this bar offers a huge beer selection and a popular Sunday brunch. It runs 9 a.m.-2 p.m., and for $13.95 you get pretty much everything you'd expect: biscuits and gravy, sausage, eggs, hash, French toast, crepes, pancakes.
When stomachs rumble, tumble into Trumbull
Woodbridge Pub 5169 Trumbull St., Detroit; 313-833-2701: The unsung hero of Cass Corridor, Woodbridge Pub serves up fresh dishes made with locally sourced ingredients that will fill your belly with nutrition and your mind with ease. They serve a simple selection of brunch items every Sunday morning from 11 a.m. to 3 p.m. including huevos rancheros, a Monte Cristo sandwich, corned beef hash made with Wigley's corned beef from Eastern Market, and more. Not up for stuffing your face after a night of overindulgence? An order of eggs and an English muffin will only cost you $4.
Palatable and playful
Toasted Oak Grill & Market 27790 Novi Rd., Novi; 248-277-6000: Toasted Oak, the hybrid shop-eatery that opened in 2010, earned our attention early on for its creative small plates. That innovative, almost festive spirit brims over into the brunch menu, which includes dishes with welcome tweaks, such as fruit bruschetta, hazelnut crunch French toast, and waffles with buttermilk-fried chicken cooked with Zeppelin Bend whiskey. And speaking of whiskey, Toasted Oak has one of the best selections in Michigan.
Transplanted eatery offers transcendent brunch
Rock City Eatery 4216 Woodward Ave., Detroit; 313-265-3729: After a move from Hamtramck to Midtown, Rock City Eatery owners Nikita and Jessica Sanches revamped their brunch menu to include items such as shrimp and grits and the very exciting "Death by Cereal," a smorgasbord of your favorite childhood cereals that can be topped with fresh fruit, crushed Oreos, mini marshmallows, and other such exciting toppings. Classic brunch beverages like Bloody Marys and mimosas are available, but with a fresh twist as all mixes are made in-house. Brunch is served from 10 a.m. to 4 p.m. on Sundays only, but a select few of their ol' favorites are available as well.
Brunch as opportunity
Soul Cafe 5586 Drake Rd., West Bloomfield Twp.; 248-788-7400: This Epicurean Group-owned cafe is unique in that it's part of the Friendship Circle Project, which works to create employment opportunities for adults with special needs. They don't offer a brunch menu specifically, but they do serve breakfast from 8 a.m. to 11 a.m. and a light and fresh lunch menu comprised of soups, salads, and pizzas from 11 a.m. to 3 p.m. Drinks are strictly nonalcoholic, but they include specialty espresso, hot chocolate, smoothies, and freshly squeezed OJ.
One haute hash house
Public House 241 W. Nine Mile Rd., Ferndale; 248-850-7420: The most popular dish is probably the smoked brisket hash: flash-fried redskin potatoes and shishito peppers tossed with sriracha aioli and brisket, with two eggs cooked to order on top. The covered patio is open no matter the weather, and the full bar offers brunch cocktails, coffee drinks, mimosas and a specialty Bloody Mary called "The Dottie."
Jambon buerre en plein air
Le Petit Zinc 1055 Trumbull St., Detroit; 313-963-2805: Let's be honest: Sometimes "brunch" is more about the al fresco dining experience, which Le Petit Zinc has in spades. There is indoor dining, but this place shines best under a full sun. Then there's the French influence, which means not having to apologize for lingering over your crepes or your cup of tea.
Building a better Fly Trap
Fly Trap 22950 Woodward Ave., Ferndale; 248-399-5150: When the Fly Trap got its start, it traded in clever names, dubbing the morning-noontime meal "blunch." But things only got bigger and better two years ago, when the tiny joint expanded into the space next door, expanded its menu, and set up its full bar. It's open 8 a.m.-9 p.m. Tuesday-Friday, 8 a.m.-5 p.m. on weekends, and closed Mondays.
Too much of a good thing
Café Zola 112 W. Washington St., Ann Arbor; 734-769-2020: The brunch menu at this popular Ann Arbor spot can be intimidating, with multiple pages of dozens of options, all of them safe bets — including crepes, omelets, a Monte Cristo, and plenty of ethnic options, such as Turkish brunch (olives, cheeses, hard-boiled egg, and vegetarian dolmas). Brunch is served 7 a.m.-4 p.m. daily.
Brunch is for vegans too
Om Café 23136 Woodward Ave., Ferndale; 248-548-1941: For two years now, Om has offered a weekend brunch featuring a rotating a la carte menu of creative breakfast and lunch dishes churned out by vegan chef Matthew Helsel in the kitchen, from 11 a.m. to 3 p.m. Saturdays. It's vegan and good for you, and there's no liquor, but the sweets might get you that sugar high.
The small city with a big, big brunch
Cork 23810 Woodward Ave., Pleasant Ridge; 248-544-2675: Sunday brunches are 10 a.m.-2 p.m. and the menu features all your favorites given a bit of an uptown twist. Taters and Hollandaise, huevos Benedictos, a scramble with mushroom and ricotta, and more. Those buzz-building morning potations abound as well, from mimosas and Marys to Spanish coffee with the rim crusted with cinnamon sugar.
The original big, big, big, buffet
Fishbone's 400 Monroe Ave., Detroit; 313-965-4600; more locations at fishbonesusa.com: For more than 20 years, Fishbone's Greektown location has had a brunch so big it became a legend. It's still going, from 10 a.m. to 2:30 p.m. every Sunday, with breakfast items, an omelet station, seafood, a dessert table. You can basically grab everything from a fistful of bacon to a tray full of sushi.
To Brunch like a Beiruti
Harmony Garden Cafe 4704 Anthony Wayne Dr., Detroit; 313-638-2345: No, there's no booze, and the 11 a.m.-4 p.m. Sunday buffet is all Middle Eastern. But the proximity to Wayne State University, the reasonable price ($10.99), and the fact that it's friendly to vegans, vegetarians, and carnivores merit its mention.
When you want 'buongiorno' with your brunch
Andiamo Royal Oak 129 S. Main St., Royal Oak; 248-582-9300: While most Americans associate Italian with dinner, Andiamo runs a respectable Sunday morning brunch with an a la carte menu of hearty fare with Italian flair, including not just a stacked Bloody Mary bar, but a mimosa bar as well.
Build a better Bloody Mary
Bronx Bar 4476 Second Ave., Detroit; 313-832-8464: Most days, this bar's smallish short order menu and two stocked jukeboxes will satisfy, but the weekend Bloody Mary bar is the bomb: You get a pint glass half-full of ice and vodka and get to work loading up the perfect drink from an array of ingredients.
Rise (like they do) in the east
Shangri-La 4710 Cass Ave., Detroit; 313-974-7669: There aren't many options for authentic dim sum in metro Detroit, but fortunately Shangri-La offers a formidable menu of the traditional Chinese tea brunch. For those who can't decide on just one thing, Shangri-La's small plates are perfectly priced for experimentation, and great for a group.
Special thanks to all participants in Metro Times' United We Brunch:
The Whitney, Sweet Soul Bistro, A Serendipity Cakery, Rock City Eatery, Beans & Cornbread, Soul Cafe, Toasted Oak, Mudgie's, Bobcat Bonnie's, Le Petit Zinc, Granite City, Three Blind Mice, Parks and Rec, Detroit Catering Co., and the Block.
United We Brunch starts at 11 a.m. on Saturday, April 1 at the Garden Theater, 3929 Woodward Ave., Detroit; tickets are $40 and include brunch tastings, five drink tickets, and a commemorative glass.