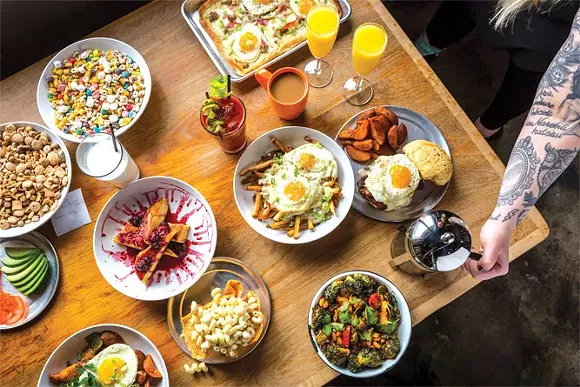 When we at Metro Times throw an event celebrating brunch (United We Brunch, Saturday, April 1 at the Garden Theater), doesn't it mean that the rise of the mid-morning meal has become irreversible? Brunch is big business, an increasingly important part of the dining scene, a meal restaurants depend on.
As for the economics of it, they prove themselves. The business of brunch is just booming. Regan Bloom of Toast tells us, "Every time a new place opens I just get busier."
"People really build their whole weekends around it. It's like, 'Where are we brunching this weekend?' I'm still amazed at how many new customers we get walking in the door saying, 'We drove 45 minutes to see you.' And part of that success is, I think, because people get that full dining-out experience of having a communal meetup with friends, while keeping it under $50 rather than spending $150. I think a lot of people are turning to that for their meal out for the weekend rather than going out for the weekend to an expensive meal."
Meanwhile, they get a meal and a show.
"People love the hustle-bustle, the crowds, being seen. It's almost kind of like a show. And then when we open the outdoor seating, then it's all about patio, and we've got 55 seats outside."
Or take the example of Grand Trunk Pub, which has cultivated an excellent weekend menu that brings lollygagging brunchers back for more. The locally sourced ingredients, the historic interior, and the two dozen taps of Michigan beer keep it local, and the locals keep it real.
Grand Trunk's general manager Tammy Garcia says there's no secret formula for a great brunch. "We've been doing it longer than most places. We have a clientele that loves us. There was a time when we were one of the very few doing brunches downtown. And we just have some original, true blue customers that love us because we've been doing it so long."
Garcia hardly objects to the leisurely pace of the meal. She embraces it. "The only time people are in a hurry is when they're going to a game — other than that it's just a whole different vibe, a nice, lazy vibe. Our brunch crowd really wants to relax, sip on a Bloody Mary, and have a lazy day."
Brunch isn't for everybody. The Type A personality might bridle at the prospect of noontime lollygagging. The calorie-counter might object to the Hollandaise-drenched excess of the dishes. Teetotalers question why anybody would have a drink at all, let alone at the very moment it's legal to serve one.
But for those interested in liberating their spirits, it all makes sense. As they say in Russia: "Drink in the morning and you're free for the rest of the day."
A bunch of brunch
A selection of local brunch offerings. (List is not definitive, duh. Please feel free to email us or comment with those you enjoy: [email protected])
Brunch in the land of the Bobos
Kelly's Bar 2403 Holbrook Ave., Hamtramck; 313-555-1212: On weekdays, Kelly's is your typical Hamtramck shot-and-a-beer bar. On weekends (11 a.m.-4 p.m. Saturday and Sunday), however, the Boboville Brunch team takes over. Since October, Blair Wills and Phil Warren have hosted this brunch pop-up. The menu is generally a half-dozen dishes, and changes each week: Staples include biscuits and gravy and a Polish plate, and there's usually at least one vegan dish, a sweet option like pancakes or French toast. Preparations are pretty impressive for a little Hamtramck drinking bar: Dishes include such accents as polenta, salsa verde, Béchamel, and Hollandaise. The full no-frills bar offers kitschy pitchers of mimosas and Bloody Marys garnished with pickles, pepperoncini, and Slim Jims.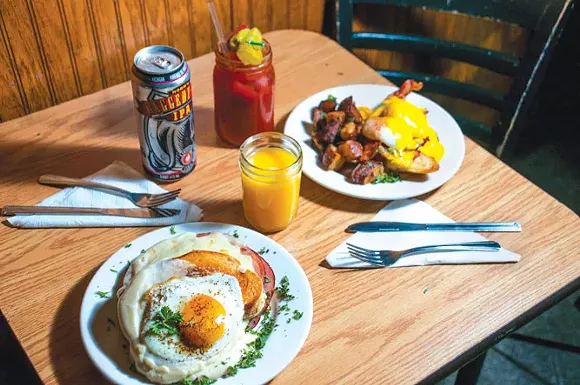 What manor of brunch is this?
The Whitney 4421 Woodward Ave., Detroit; 313-832-5700: Brunch doesn't have to be a weekend thing. Detroit's Whitney serves the mid-morning meal all week long from 9 a.m. to 1:30 p.m. with options as sumptuous as the three-course lumberman's brunch, which includes a smoked salmon custini, a 12-ounce Delmonico steak served with three eggs, greens, and potatoes, and spicy blackberry and peach crumble served a la mode. Other options include a king crab and shrimp salad sandwich, chicken and waffles, and a shrimp and lobster omelet. Prices are not as outlandish as one might expect from a fine dining establishment, ranging from $11 for a Caesar salad to $29 for a seafood saute made up of shrimp, scallops, lobster, and pasta.
Two-sided treat that puts the crunch in brunch
Toast 23144 Woodward Ave., Ferndale; 248-298-0444; 203 Pierce St., Birmingham; 248-258-6278: The Ferndale location has logged in about 15 years now, perfecting a gastropub vibe. From 7 a.m.-3 p.m. weekdays and 8 a.m.-4 p.m. Saturday and Sunday, it offers an ever-changing menu. Meanwhile, the Birmingham location has become a fixture, especially famed for the Friday-through-Sunday specials that add a bit of gourmet flair to the offerings. The full bar includes cocktails made with Crackalacka Cold Brew, that ridiculously delicious high-potency coffee with the nitro push. The Birmingham joint stays open later, and, in fact, the Toast empire is now so well known for its brunch that you still have to remind people they're open late.
Where brunch is casual, on Cass, and in a castle
Parks and Rec 1942 Grand River Ave., Detroit; 313-446-8370: This downtown restaurant is something of a Siamese twin to Republic, the restaurant it shares a kitchen with. The hip diner offers breakfast- and brunch-style foods exclusively, and their menu includes items like shrimp and grits, cannoli French toast, and an item called Saturday Morning Cartoons, which is pancakes made with cereal milk, toasted marshmallow syrup, and cereal dust, and served with two eggs. They also have a coney waffle, which is exactly what it sounds like.
Brunch in the City of Tomorrow
Granite City Food & Brewery 699 W. Big Beaver Rd., Troy; 248-519-1040: Yes, the stylish but casual craft-beer dining concept has now blossomed into multi-state chains like Granite City, but those paying attention will note that the GC folks take their brunch seriously. It's a buffet-style affair, running 10 a.m.-2 p.m. Sundays, offering everything you'd expect, from waffle, omelet, and carving stations to soups and salads to chef's features. They sling Bloody Marys made with their own signature mix, as well as four kinds of Mimosas: regular, mango, raspberry, and blueberry.
A packed menu on a pleasant patio
Northern Lights 660 W. Baltimore St., Detroit; 313-873-1739: From 11 a.m. to 3 p.m. Saturdays and Sundays, you can get such delicacies as a short-rib omelet, steak and eggs, and a smothered vegetarian hash. The mimosas are $3, but why stint when you can get the $11 carafe with a whole bottle of sparkling wine in it?
A corner on brunch
Mudgie's 1300 Porter St., Detroit; 313-961-2000: Mudgie's has been a staple in Corktown essentially since the deli opened it doors, serving wholesome soups and sandwiches to a faithful crowd of regulars. They only serve brunch on Sundays from 10 a.m. to 3 p.m., but their flavorful and filling eggs Benedict variations, egg sandwiches, and bread pudding are enough to pine after all week long. If eggs aren't your thing, Mudgie's brunch menu also includes a variety of Reuben sandwiches — including a vegetarian option — plus a smoked salmon board, a beer cheese spread, and a good-old PB&J.
Heavenly huevos
The Emory 22700 Woodward Ave., Ferndale; 248-546-8202: When it opened 10 years ago, one of the owners had said the promise was "to make really simple food, really good, and overdeliver in any way we can." For an example, see the brunch menu's huevos rancheros: two crispy corn tortillas layered with black bean spread, a generous dose of sautéed peppers and onions, eggs sunny-side up. That and a creation from the well-stocked Bloody Mary bar have ensured many happy mornings in Ferndale.
Where they make a more macho mimosa
Bobcat Bonnie's 1800 Michigan Ave., Detroit; 313-962-1383: Brunch is well-defined at Bonnie's, beginning promptly at 10 a.m. Saturday and Sunday, and lasting until 3:30 p.m. There's a separate brunch menu full of breakfast classics and small plates to munch on. Then there are those restoring libations: Bloody Marys and mimosas are $3. But if you dare, there's the manly "Man-mosa" — 20 ounces of fresh OJ, sparkling wine, orange vodka, and beer, for $8.
When you want the big buffet approach in the burbs
Beans & Cornbread 29508 Northwestern Hwy., Southfield; 248-208-1680: A dose of mid-morning slack can even be had in soulful Southfield on Sundays. The 11 a.m.-2 p.m. brunch draws a goodly after-church crowd, but those in jeans or jogging pants are welcome too. It's a big-buffet approach, with mac and cheese, catfish, fried chicken, waffles, peach cobbler, pancakes, eggs, and a full bar.
Where to soak in the history
Grand Trunk Pub 612 Woodward Ave., Detroit; 313-961-3043: In the 10 years since Foran's became Grand Trunk Pub, the joint has developed a loyal following with its weekend brunches, running 10 a.m.-3 p.m. Saturday and Sunday. The dishes are as locally sourced as practical, the 24 taps pour Michigan brews, your first mimosa or Bloody Mary is $7, with $2 refills, and it all takes place in a historic ticketing office for a railroad. How can you improve on that? How about with an all-Sunday menu with breakfast and brunch classics that can be ordered until midnight?
When Mom and Dad are picking up the brunch check
Gandy Dancer 401 Depot St., Ann Arbor; 734-769-0592: If longevity is proof of quality, the big Sunday brunch at the Gandy Dancer has solid proof of excellence, as it has been going on for at least 20 years. It takes place in the gorgeous setting of 1880s Michigan Central Depot, a historic brick and granite structure converted to a restaurant almost 50 years ago. The rotating brunch menu can include made-to-order omelets, fresh Belgian waffles with bananas Foster, Cajun salmon, and carved roast beef and ham. A full bar ensures everybody starts the day with a smile. Brunch is served 10 a.m.-2 p.m. Sundays.